Let it be known that the kumquats are here.  Lots of them.  More than we know what to do with. 
We planted a kumquat tree as an appetite suppressant for my husband.  During "snack attack" moments, instead of opening the refrigerator, he wanders out to the front yard and eats a few kumquats.  (He also drinks grapefruit juice for the same reason).  The flavor is so powerful – that combination of tart and sweet – that he desires nothing for several hours after eating them.
But even the best plans suffer from burnout after awhile, resulting in an abundance of kumquats with no one to eat them (did I mention that I don't really like them?)  So I've scoured the internet to find a good way to sweeten them up a bit, making them more appealing and less like a diet pill.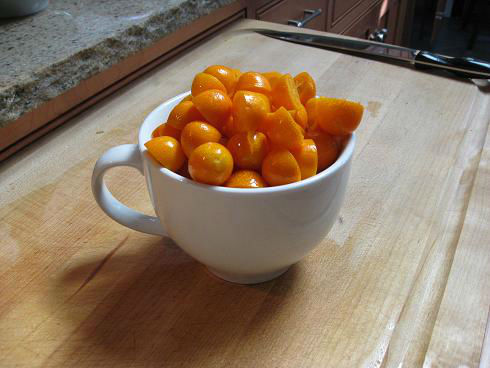 4 cups sliced kumquats in a giant mug
I found a plethora of recipes for candied kumquats and opted to try the simplest one that used the most kumquats.  This recipe comes from SimplyRecipes.com and was originally published by Garrett McCord of Vanilla Garlic:
Candied Kumquats Recipe
Ingredients
4 cups of roughly chopped kumquats (roughly 1-1½ lbs.)
1 cup of water
2 cups of sugar
Method
1 With a pairing knife roughly chop the kumquats.
Discard any seeds you can that are easy to get too, but they're edible
so don't fret if some get chopped up or stay in the fruit. Feel free to
leave any small kumquats whole.
2 Heat the water and sugar over high heat until it comes to a
boil. Simmer for 4 minutes. Add the kumquats and simmer for 10 minutes.
3 Drain the kumquats through a sieve set over a bowl. Return
the syrup to the pan and simmer for 5 minutes to reduce the syrup.
Combine the kumquats and 1/4 cup of the syrup together.
Serve or jar and refrigerate. Can be stored for up to two weeks.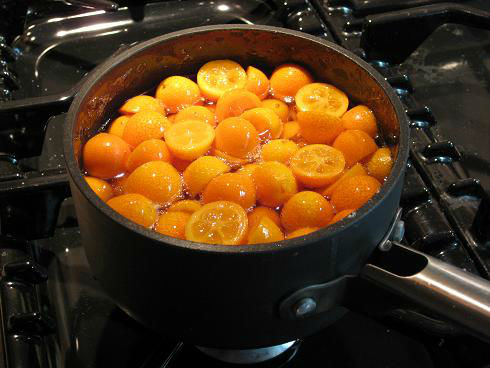 Simmering kumquats on the stove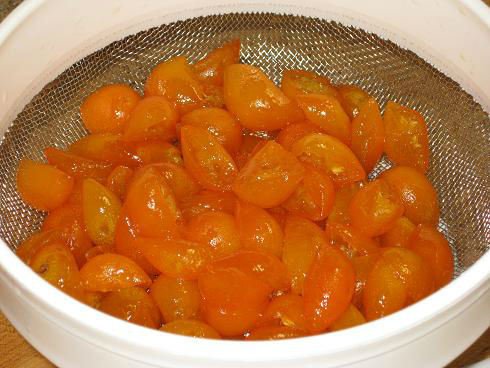 Glistening candied kumquats
After draining the kumquats, I put the liquid back on the stove to boil it down a bit.  The recipe calls for boiling another 5 minutes.  I wanted to get a really thick syrup, so I simmered it for 15.  That I got was still very thin, until I took it off the stove to cool.  Then it started to thicken into a marmalade.
When my husband got home, he popped a candied kumquat into his mouth and his eyes popped open.  Mission accomplished.  We spooned a bit of the syrup over the kumquats and some vanilla ice cream.  What a treat!