It's magical to come home after a vacation to find that the garden has not taken any time off.  We get used to looking at our gardens everyday, so we don't notice the changes as much as when we take a break and return to find a bumper crop waiting to be harvested. 
That's exactly what happened last month when we took a trip to Europe.  We came home to beets, kale, lettuces, Swiss chard and more.  In fact, we still haven't caught up.  (Now for those whose gardens are frozen or covered with snow, please don't unsubscribe!  I promise I'll talk about spring gardening when the time comes – but for now, it's time to brag a little…)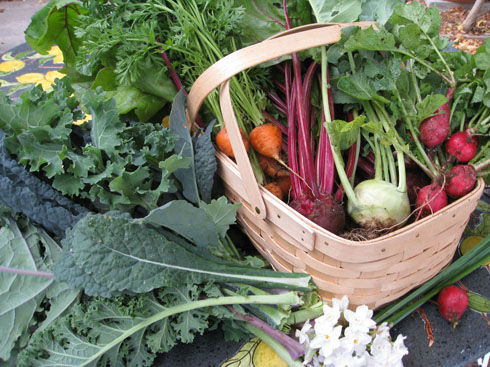 Left: Siberian, Lacinato, Red Russian and Vates Blue kales.  Right: Cherry belle radishes, kohlrabi, beets, Tonda di Parigi carrots.  Front: Paperwhite narcissus (yes, growing in November). 
Storing the harvest:
To store these great veggies, we soak the greens in water for about 20 minutes, then put them in a plastic bag with a paper towel on the bottom.  They last for weeks in the fridge after that.  We brush the dirt off the root crops and store them unwashed in a plastic bag in the fridge. Wish I had a root cellar!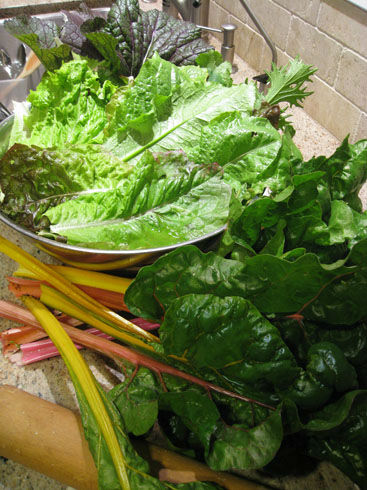 Rainbow chard, lettuces and several types of mustard greens
(and a ton of arugula, not shown) were harvested from the Test Garden
Eating the harvest:
I just discovered a recipe for Kale Aloo, and Indian dish that uses potatoes and kale for savory perfection:
Kale Aloo by Maninas: Food Matters
As for the beet greens, I'll be trying the recipe mentioned recently on the Gardenerd Tip of the Week Podcast:
Beet Greens with bacon (But I'll be making tempeh bacon first)
Salads – the dressing we use is homemade, but we recently tried a spice mix that Pensey's sells:
Pensey's Italian Vinegar and Oil Dressing Mix – It's a nice change, and is very flavorful.
Try these and see what you think.  While you're at it, share your harvesting joys with us here.