Sunday was the first day I was able to walk around outside without a jacket on.  In fact, I brazenly put on a tank top and walked to the farmer's market.  It was heavenly!  The spring sun is officially warming our skin and soil. The smell of that subtle change in the air lets us know, at least here in Los Angeles, that spring has finally arrived. 
We often take it for granted in Los Angeles, given that the weather's subtle changes often go unnoticed.  We are admittedly accustomed to consistent weather – sunny and warm all year round.  It took a specific event to shock me into awareness, even though I have the gardener's eye to the sky all the time.  I was walking along and was stopped in my tracks when I saw a huge yellow butterfly (to say "as big as my head" would only be a slight exaggeration) fluttering around a Pride of Madeira in a neighbors front yard.  See for yourself: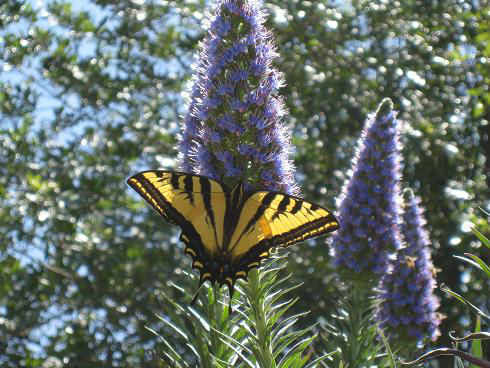 The plant – Pride of Madeira – is otherwise known as drought tolerant Echium Fastuosum, with large spikes of purple flowers that each range in height between about 9 – 12 inches.  The one in this picture is about 3-4 inches wide, so you can imagine what the wingspan is on this beautiful butterfly.
There is a lot going on in the garden right now.  Tomatoes are in and wrapped in plastic to keep them warm until things really heat up.  We're harvesting strawberries and asparagus (but not too many, as we're only in the second year with the asparagus).  The quinoa and haricot vert beans are sprouted, but not completely.  We'll be replanting this week.
We're making room for honeydew – an heirloom variety we haven't tried before: Golden Honeymoon from Backer Creek Heirloom Seeds.  We're also planting cucumbers and squash this week.  It's a very good time to be in the garden.
What are you planting in your garden this spring?  Share it with us here.