D. Landreth is the oldest seed house in America, and it's going out of business unless we help them.  The bank has seized the company's assets and in order to pay back its debt, D. Landreth is selling seed catalogs to raise funds.  Here's the scoop from their website: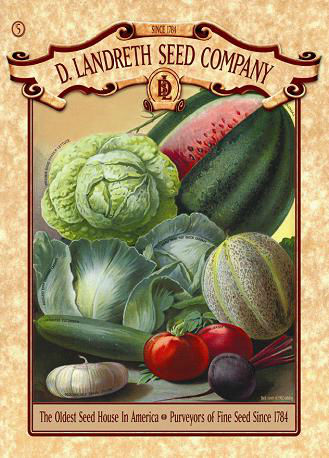 "On August 30, 2011 the Landreth bank accounts were frozen by a court
ordered garnishment because the company had failed to pay back some of
the debt it owed. The company learned of the garnishment on August 31,
2011. With no access to capital to pay operating expenses because of
the garnished accounts, the company could only survive for 30 days.
"On
September 1, 2011, we initiated a Facebook campaign to raise enough
money to retire all of our debt and raise capital for operating expenses
by selling 1 million catalogs. During the month of September, people
from all over America responded to our request to help save Landreth.
Orders came in from every state, from people as young as 16 and as old
as 97, from every race, color, creed and political denomination. People
purchased catalogs, other Landreth products and donated funds. The
incredible outpouring of support that has occurred has definitely bought
us a little more time – not months, but certainly a few weeks.
"
They aren't out of the woods.  In fact, they aren't even close.  They need to raise $1 million by the end of this month. As of October 17, 2011, they have raised $138K.
I have already purchased my catalog. Won't you buy one today and help out our nation's oldest seed company?  With all the GMO's out there, we need to keep our heirloom and open-pollinated seed companies alive and well.  Take a moment and order a catalog, some seeds or make a donation to help Landreth stay afloat.
Order a Seed Catalog (or 10) here!
While you're at it, check out their seed collections – tempting and beautifully packaged:
Thank you for pitching in to save this part of America's history!