One of the wonderful and often surprising things about being a blogger is that every once in a while companies send you free stuff.  They hope that you'll review their product and spread the word.  Let it be known, if it isn't already, that I never promote things that I don't completely believe in, and I don't get paid to wax rhapsodic about them. 
That said, I was delighted to find a Media Kit from Renee's Garden Seeds in my mailbox today, in which the company offered to send a few packets of seeds (of my choice) to try out this year in the garden.  Imagine my joy <hands rubbing together> to find some interesting heirlooms for the Gardenerd Test Garden: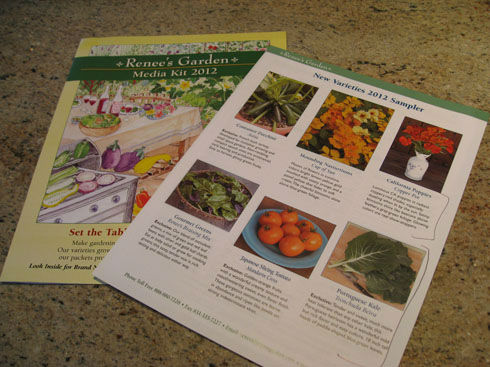 Gourmet Golden Beets – We've already established that I hate beets, but so many people have said that golden beets are less "beet-y".  So I'll give them a try. Plus they don't bleed, so it makes giving them away easier.
Portuguese Kale – Did someone say kale?!  Any time I can find another variety to add to the collection, I'm game.  I'm a little confused because the printed materials I received state that this is an heirloom variety, but the packaging on the website clearly says F-1.  Ordinarily I'm not inclined to buy hybrids (because the saved seed doesn't breed true to type), but I'm taking on chance on this.
Watermelon Radish – now that we've found a delicious way to roast radishes, there is a renewed vigor about planting them.  These are too beautiful to pass up.
Iris Candy Tomato – Okay, we already have way too many tomato seeds, but this one captured my heart.  A cherry tomato that is sweet but savory, with marbling of red and yellow.  I have my reservations about growing tomatoes in our coastal fog, but we'll give it a try.
Cinderella's Carriage Pumpkin – Unable to resist the romantic pull of a fairytale pumpkin, this one is on the list for 2012.  We'll see how it does up next to our delicata squashes and other favorites.
Renee's Garden Seeds doesn't have a printed catalog, but you can browse their website easily.  You can sort by heirloom variety, or any other category you wish.  We'll be adding Renee's Garden Seeds to our Links page later this month, and we'll report our findings on how each of these grow out this spring and summer.
Have you grown any of these varieties?  Share your experiences with us here.