I just got back from my plot at Ocean View Farms community garden.  It's seems that the heat wave has drawn everyone out into the garden this late afternoon.  As the cloud cover started to provide some relief from the 90 degree weather, the breeze actually did its job of cooling us off.
Today I planted out some Jalapeño peppers and Anaheim chili peppers.  I also planted out the eggplants that, along with their peppery friends had been sitting under grow lights for the last couple of months.  I'm hoping they will take off once they get established.
This weekend also marked the time when all the seeds that I planted a couple weeks ago should have come up.  Between birds and bugs, more than half of everything made it to this point, but there were some holes to fill.  I re-seeded the following:
Basil
Orach Mountain Spinach
Golden Chard
A few lettuces
Mustard Greens
I also decided to bet against the cucumber sprouts I transplanted out last week, since they aren't looking too good.  I planted a few seeds right next to the existing seedlings to see who wins.  I'll keep you posted on that one.
I like to plant the Mel Bartholomew way: make a hole with your finger, fill the hole half way with vermiculite, put in a couple seeds, cover with vermiculite.
Then I water it all in, both transplants and newly planted seeds, with a diluted drizzle of kelp emulsion.  All the plants seem to respond really well to it.
I also harvested a few things today, which always makes me happy.  The was a lone surviving broccoli plant from the gopher attack this past winter that, even though it was eaten down to a stump, somehow recovered and sent up a couple of small broccoli heads.  Those will be part of dinner tonight.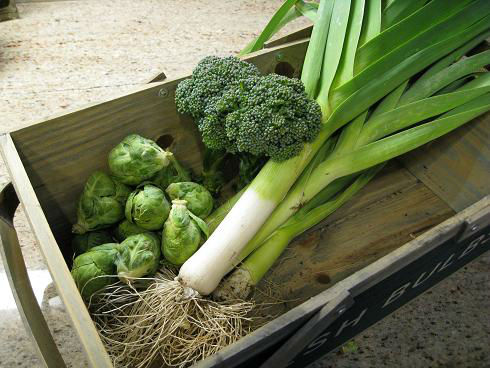 In the same basket went a handful of brussel sprouts and 4 leeks.  Despite the hot weather, I'm drawn to making soups this time of year.  Leek and potato soup is sounding mighty tasty right now.
What's growin' on in your garden these days?  Share it with us here.