Ocean View Farms (OVF) organic community garden hosts a tomato tasting for its members and guests each year.  I've never been able to attend in the past, but this year I was on site to sample over 65 tomato entries (such hard work!).
It's a blind taste test, and all varieties are places side by side, so this is strictly a "tasting" rather than an overall tomato competition.  Prizes, however, are still given out for the tastiest tomato.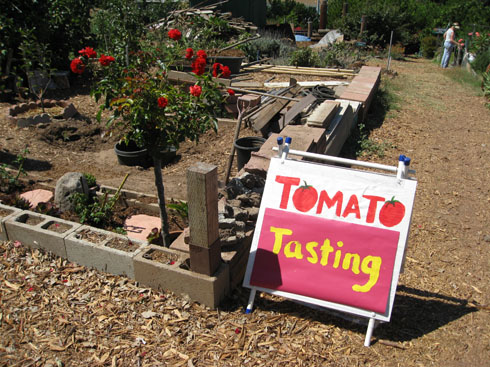 Signs welcome visitors to the tasting
OVF gardeners turned up to register their tomato hopefuls.  They came in all shapes, sizes and colors: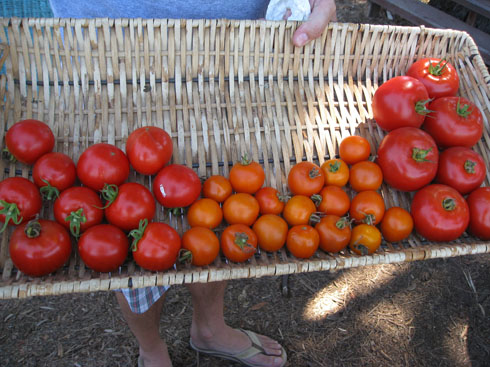 Last year's winner brought his basket of beauties, hoping to strike gold again
Each contestant's tomatoes were placed in a numbered bag and only the registrant would who the winning tomato belonged to.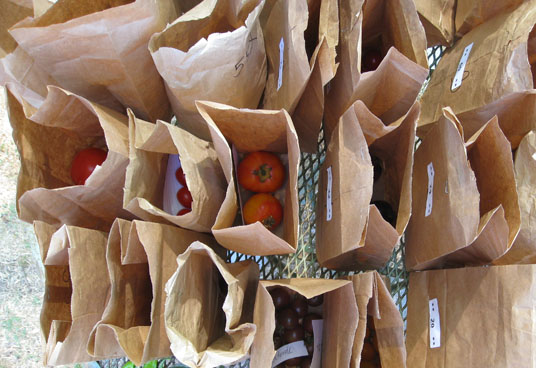 The tomatoes were then diced up on a plate (with their assigned numbers)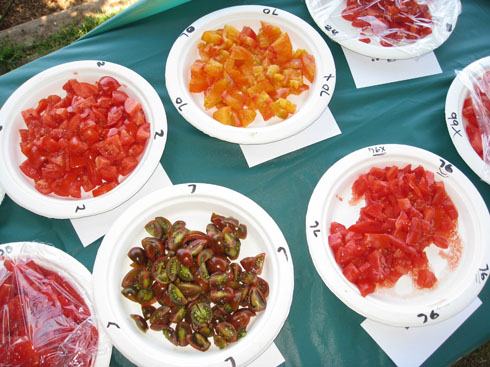 Then the tasting began.  Everyone was asked to grab a ballot and a toothpick and start tasting!

We tasted over 65 tomatoes.  Some watery, some tart, most delicious.
Hard to choose a favorite, but we were limited to voting for only one.
After ingesting all of those mystery tomatoes, a group of us decided that next year we want to divide the tomatoes up into categories – best cherry, best beefsteak, best salad, best plum, etc.  It was a challenge to choose because a sweet cherry tomato will outshine a savory beefsteak just about any day of the week.  Still discerning palettes did their best to choose the best overall tomato.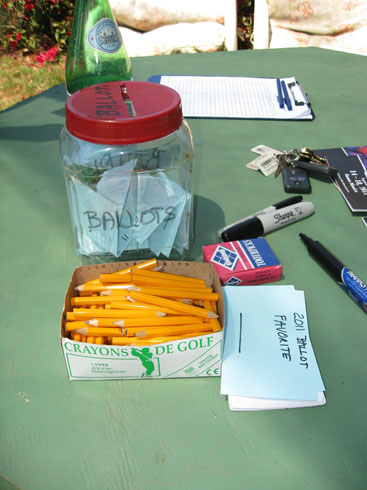 And the winners are…….
1st Place:  Black Cherry grown by Amanda Goodpaster
2nd Place:  Prudens Purple grown by Ulrike Mehler & Lynn Bossone
3rd Place: Hawaiian grown by Matt Kendall
4th Place (honorable mention): Champion grown by April Gaudette
I'm proud to say that all but one of these winners grew their tomatoes in Phase 4 – my section of the garden.  Way to go team!
So, it looks like Black Cherry is on the list of tomatoes to try out next year.  How about you?  Any new favorites you plan to try next year?  Post your favorites here.