Some of you may know that we bought the house we live in a couple of years ago.  It took almost a year to renovate, and we finally moved in last April.  Now that we've been living in the house for a year – and tackling indoor projects as well as building the raised bed garden, it has come time to give some much needed attention to the outside of the house – namely the front and back yards.
Before – the front yard – not that we've been trying to keep it alive or anything…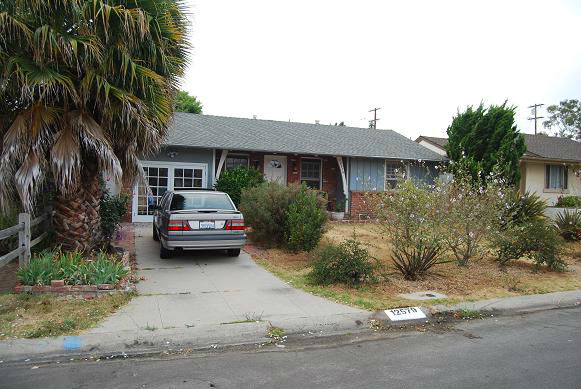 We have been scheming and planning for awhile now, and interviewing contractors.  We found a great landscape designer who could navigate the multitude of ideas between my husband and me – some of which didn't quite go together.  In the end Jack, our landscape designer, was able to unify our ideas and lay out a master plan for both front and back yards.  The plan?
In the front I wanted a small fruit tree orchard of 5 trees: So far we have decided upon a Meyer Lemon, a Valencia Orange, and a red plum – all of which currently live on the property already.  We'll see if they survive the transplanting in the fall.  The other two plants are up for grabs.  Any votes?  Post your comments below.
We want a curving pathway to the front door, and a water feature near the entrance.  We also wanted to decrease any lawn or ground cover, so we have a native plant ground cover surrounding the orchard area and the rest is densely planted with natives (not cactus – which yours truly doesn't like).
The back yard – let the destruction begin…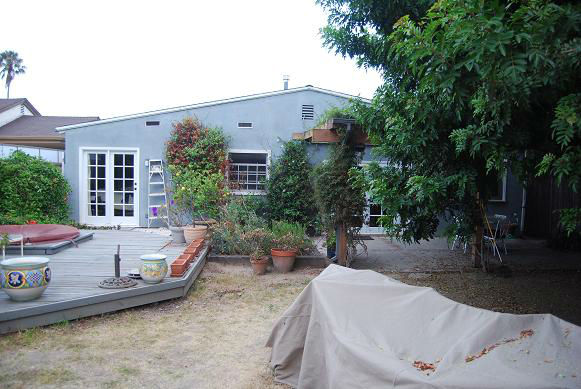 In the back yard, my husband wanted to create cozy little hidden areas for discovery throughout the yard.  I wanted to preserve its openness.  Jack was able to combine those two interests and came up with a great plan that has both.  It includes a table and chairs under our gigantic Brazilian pepper tree, plus a seating area tucked between two blossoming cherry trees (water feature included there too).
Our hot tub sits in a dilapidated wooden deck that needs to be rebuilt.  The plan is to reconstruct it out of Trex decking – a recycled product that uses wood pulp and reclaimed plastic packaging materials – to match the raised bed garden.
My husband has a terrific creative streak, and came up with an idea for a fire pit with a water element to it.  That's still in the works as to what that will look like, but we're close.  That will be a central focus of the back yard, with a curved bench around it for chatting with friends after dark.
So where are we now?  Smack in the middle of demolition.  I hear the jackhammer battering away at the concrete outside as I write this.  All the old foliage has been removed, the deck has been torn out, the existing hot tub teeters on its side, and suddenly the yard looks a whole lot bigger.
Removing all the plants in the front yard…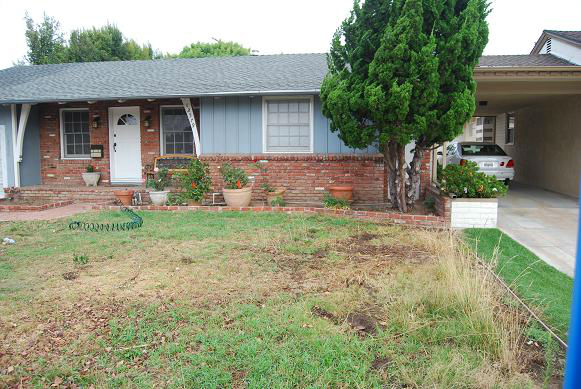 and the back…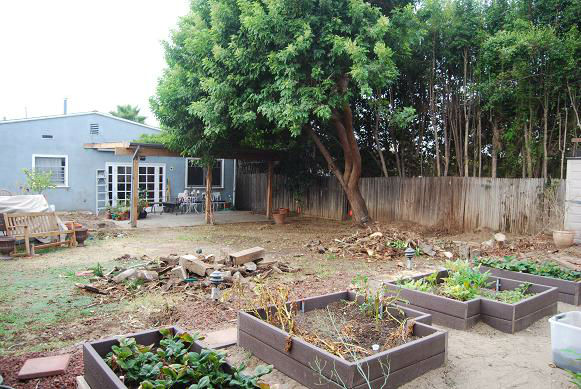 It's very exciting right now…stay tuned for more details.