A new client called to inquire about putting in a vegetable garden for her 2 1/2 year old son, who suffers from food allergies. She and her husband wanted to start growing the vegetables that he could eat and teach him where food comes from. 
Their modern home, designed and built by Jesse Bornstein Architecture, lent itself to clean lines and angles. As always, we wanted to design the garden to tie in with the house and its owners. The family planned to start small, since they were new to gardening, so we created a modern raised bed garden to get them on their way.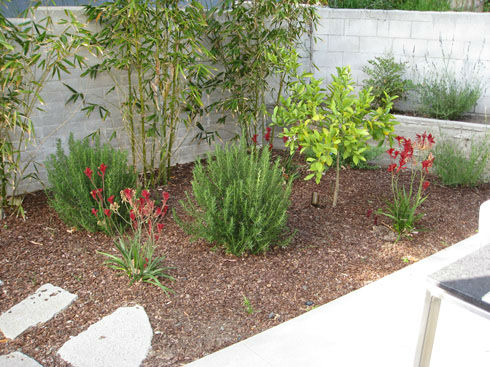 This is the area chosen for the garden, before our work began.
The plan was to relocate the kangaroo paw plant to another area of the yard, remove the rosemary shrubs (they already had 9 others on the property, so there would be no shortage of rosemary), and add blueberries, herbs and passion fruit vines along the retaining walls.
We determined that the raised bed would need to be special: a parallelogram to highlight some of the angles of the yard's modern layout. It also needed to be far enough away from the standard lemon tree (above right) that was planted when the owners' son was born .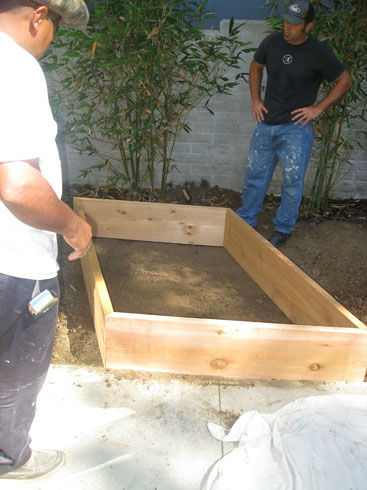 The bones of our new garden fit right into place
The eaves of the modern
house were lined with tongue-in-groove wood that didn't show any
hardware. We wanted the same for the family's raised bed.Josh Hover, a carpenter and general contractor with a knack for complex projects, took on the challenge of making an odd-shaped raised bed that when finished, would not show any nail holes. We used left over wood from the eaves to finish the outside of the bed.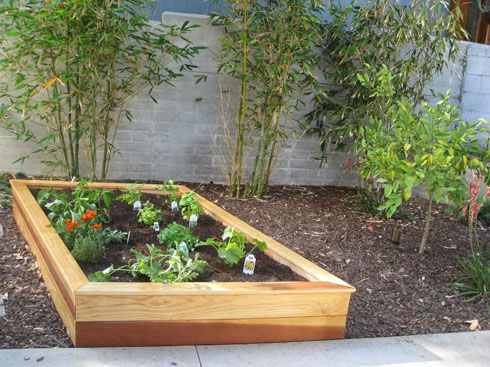 Finished with linseed oil and rigged with irrigation, this raised bed is ready to grow.
The human eye is better than the camera lens – we had a hard time capturing the parallelogram
shape of the raised bed in pictures.
I spent an afternoon planting with the family, watching the 2 1/2 year old repeat all of the plant names like an expert. They were all very excited about their new garden.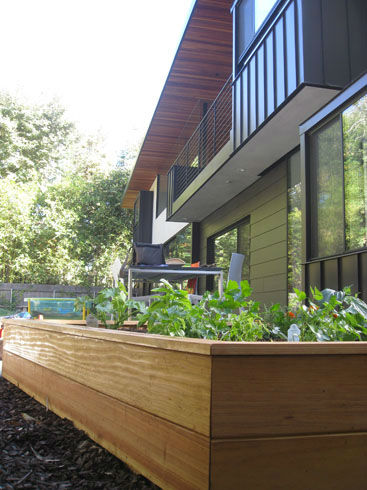 Note the eaves of the house above. We used the leftover wood from
that project to finish the raised bed.