If you like your books short and sweet then you'll love The Garden Seed Savers Guide: Easy Heirloom Seeds for the Home Gardener (Groundswell Books) by Jill Henderson. It's under 65 pages and gives you a basic guide to saving seeds for a range of crops, from lettuces to beans, from broccoli to squash.
After lessons in seed nomenclature, pollination, and isolation distances, Henderson organizes the book into plant families to address specifics about saving seeds across a species. She includes basic harvesting info (IE. the difference between fruit maturity and seed maturity), and what varieties within the species will cross pollinate with each other.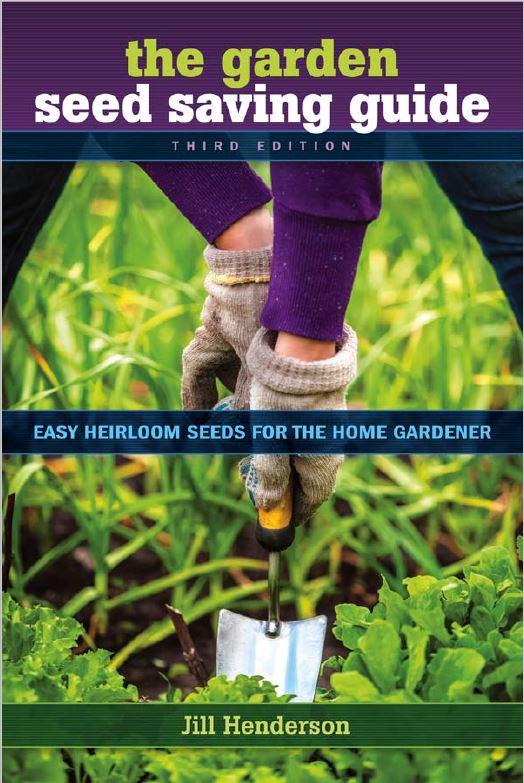 An Easy Read
As someone who is currently reading the Seed Savers Exchange's book, The Seed Garden, in all its overwhelming technical splendor, I can appreciate the simplicity of Henderson's approach. She outlines seed and seed-saving terminology the beginning gardener can absorb and offers nifty tricks like "alternate day caging", using a blender to more easily harvest eggplant seeds, and how to identify spinach leaf texture by seed shape (nerdy coolness right there).
The book is divided into Easy and Challenging seeds to save, and encourages local seed saving as a way to promote adaptability among our garden crops over generations. Henderson readily shares her opinion about GEs (genetically engineered crops) and Frankenfoods, too. Seed saving is, after all, part of the larger picture of seed freedom and food security.
Jill Henderson is a long-time contributor to Llewellyn's Herbal Almanac and a regular columnist for Acres USA magazine. Her weekly blog Show Me Oz is filled with in-depth articles on gardening, seed saving, homesteading, wildcrafting, edible and medicinal plants, herbs, nature, and more. In 2014 Jill founded Share the Seed, a nonprofit organization that encourages gardeners to grow heirloom seeds and supply them to others in need. Find The Garden Seed Saving Guide here.