Oh sure, I've got plenty of growing space in my raised beds, but sometimes that's just not enough.  Sometimes you have to take over the place. 
I feel like a warrior — or maybe a gold rush prospector; I've just made a minor land-grab in my own back yard.
Let me e'splain: I met up with Conor Fitzpatrick on the last day of Tomatomania, where I found him hocking his fantastic pre-fab raised bed called the MinifarmBox©.  We've been chatting for the past year about offering low cost options for pre-fab raised beds for my clients who have the do-it-yourself spirit.  I'm pleased to announce that we're now offering them in the Gardenerd store.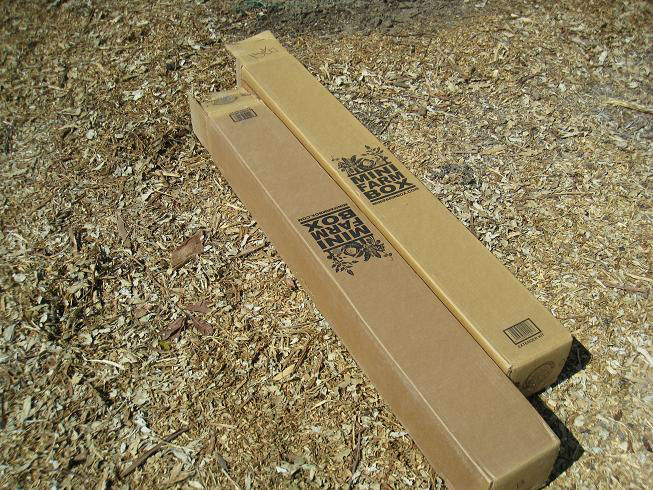 Of course, it's important to thoroughly test a product before one can brag about it online.  So Conor sent me a MinifarmBox©, and I set my sights on new territory where no garden has gone before.  Specifically, I targeted the space next to my husband's office that is supposed to be a seating area when we finally get around to re-landscaping our backyard someday.
For now, it's all mine!
The boxes came with cedar planks that had been finished with a coat of non-toxic linseed oil, metal pins, and instructions for assembly.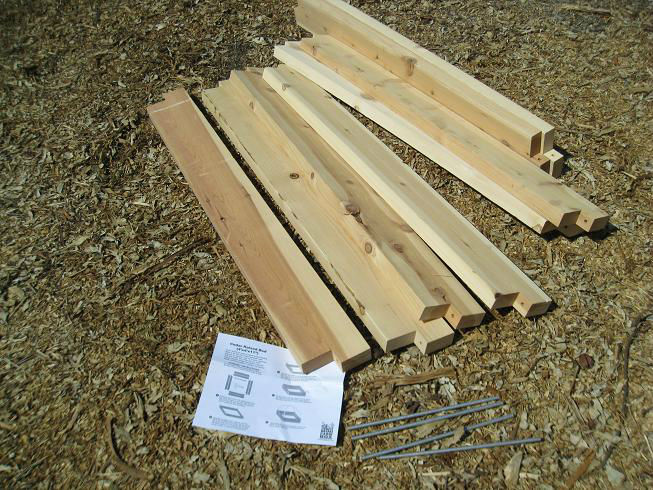 I had already started to double dig the space where I planned to put the raised bed (a Grow BioIntensive experiment that got side-tracked by the appearance of easy-to-assemble raised beds).  So I needed to level the area a little bit – that probably was the longest part of the task.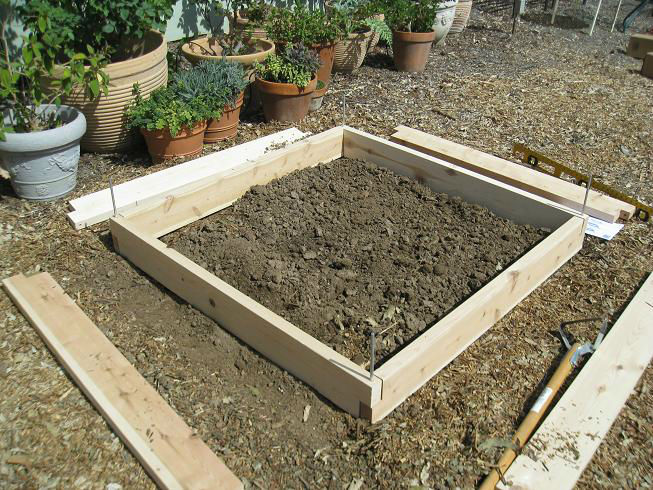 Assembly was simple.  You lay out the planks according to the diagram on the instructions and slide the pins in place in each corner for the first level.  Once that's done, you add the second level of wood and finish off by hammering the pins down if they are sticking up a little bit.
In about 20 minutes (would have been less if the ground had been level) I had the bed together and was scavenging the yard for compost, soil amendments and fertilizers.  I filled the bed with a mixture of coir, Bumper Crop, coffee grounds, home made compost, vermiculite, and Dr. Earth Vegetable fertilizer.
The next day I planted the tomatoes that were dying to get out from under the grow-lights and into the real world.  A week before, I somehow had the foresight to order some tomato ladders from Gardener's Supply and those luckily arrived the next day.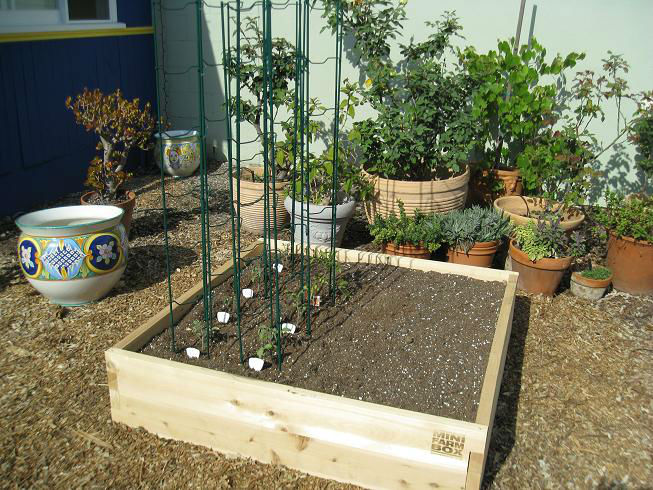 Still to come, I'll be planting some parsley and cilantro and maybe some squash – I don't know yet.  Easy-peasy!
So if you want to get your MinifarmBox©, check out the newest item in the Gardenerd Store here.