As most brassicas go, broccoli is pretty attractive, and cabbage conjures comforting thoughts of Irish stews and Asian stir-fry dishes.  There's one brassica, however, that makes people double-take when they see it on the shelves of the produce aisle: kohlrabi.
Kohlrabi looks something like a broccoli stem that had its molecules reorganized in the transporter (sorry, couldn't avoid the Trekkie reference).  It has leaves like broccoli, but instead of the long stalk, it has a bulb at the base of the plant from which the leaves protrude.  It's not a bulb vegetable, though.  In fact, some would say that it behaves more like a potato than broccoli when it's cooked.  I'm here to set the record straight.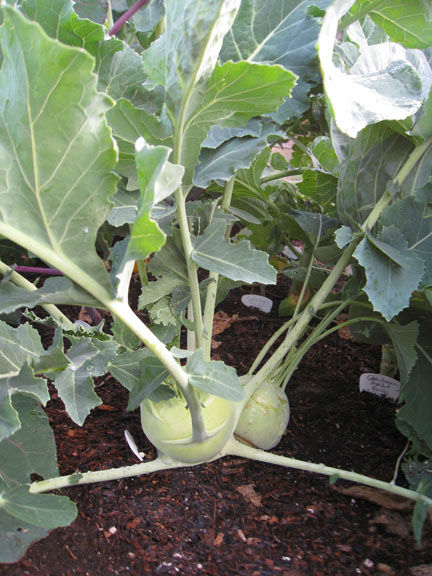 Two Kohlrabi growing together in the brassica patch
Kohlrabi, also known as the German turnip, was bred from the wild cabbage plant.  It is available in green and purple varieties and is included on the dinner table in the homes of Kashmir several times a week.
First of all, kohlrabi should be picked relatively small.  Allowing the bulb to get over 3 inches in diameter makes for tough eating – woody to be exact.  Peeling the kohlrabi is important. I know that some people peel broccoli stems, while others take the fibrous exterior for better or worse.  Believe me, you want to peel this.  Once inside, the flesh resembles the interior of broccoli stems, but cooks more like a diced potato.
You can steam it in chunks,  you can fry it in oil, you can saute it with other veggies, or you can eat it raw.  It's all good.  Here are a few recipes to play around with:
1) Roasted Kohlrabi – from the Veggie Venture
ROASTED KOHLRABI
Hands-on time: 10 minutes
Time to table: 45 minutes
Serves 4 (smallish servings since roasted vegetables shrink so much)

1 1/2 pounds fresh kohlrabi, ends trimmed, thick green skin sliced off with a knife, diced
1 tablespoon olive oil
1 tablespoon garlic (garlic is optional, to my taste)
Salt
Good vinegar
Set
oven to 450F. Toss the diced kohlrabi with olive oil, garlic and salt
in a bowl. (The kohlrabi can be tossed with oil and seasonings right on
the pan but uses more oil.) Spread evenly on a rimmed baking sheet and
put into oven (it needn't be fully preheated) and roast for 30 – 35
minutes, stirring every five minutes after about 20 minutes. Sprinkle
with a good vinegar (probably at the table so the kohlrabi doesn't get
squishy).
NUTRITION ESTIMATE
Per
Serving: 64 Cal (45% from Fat, 12% from Protein, 44% from Carb); 2 g
Protein; 3 g Tot Fat; 0 g Sat Fat; 8 g Carb; 4 g Fiber; NetCarb 4; 31 mg
Calcium; 1 mg Iron; 23 mg Sodium; 0 mg Cholesterol; Weight Watchers 1
point
RECIPE INSPIRATION
Adapted from Vegetables Every Day by Jack Bishop
2) Kohlrabi puree from Farmgirl Fare – scroll to the bottom
4 kohlrabi bulbs with leaves
2 Tablespoons extra-virgin olive oil
1 large onion, chopped
3 cloves garlic, minced
4 ounces cultivated mushrooms (I used Baby Bellas), quartered
3 Tablespoons cream (or milk, chicken stock, olive oil, or water)
salt and pepper to taste
1.
Trim the kohlrabi bulbs, peeling them if the skins seem tough. Rinse
the leaves (discarding any that are yellow) pat them dry, and coarsely
chop. Set aside. But the bulbs into 1-inch chunks.
2. Bring a
saucepan of lightly salted water to a boil, and add the kohlrabi chunks.
Reduce the heat and simmer until tender, about 15 minutes.
3.
Meanwhile, heat the olive oil in a skillet. Add the onion and sauté over
medium-low heat until softened, about 5 minutes. Add the garlic and
cook, stirring, another 1 to 2 minutes. Do not let garlic brown.
4.
Add the mushrooms and the reserved kohlrabi leaves to the skillet.
Cover, and cook 5 minutes. Then uncover, and cook, stirring, until all
the liquid has evaporated, 3 minutes. Set the skillet aside.
5.
Drain the kohlrabi chunks and place them in the bowl of a food
processor. Add the mushroom mixture and all the remaining ingredients.
Purée until smooth.
6. Transfer the purée to a saucepan and reheat over low heat, stirring, 2 minutes.
Makes 6 portions. (I love that they don't actually say it will "serve" six people, but that it does indeed make six portions.)
Or simply throw it into a soup.  I prefer to brown it first a little bit to bring out the savory flavors.  How do you like to eat kohlrabi?  Share it with us here?