Maybe I'm a little anxious. Maybe I'm just ahead of the game. Really, though, I think I'm just excited about the coming of spring to the point that I can't hold it in any longer.  See, I planted squash and cucumbers – I KNOW, I know… it's early… I can't help it.  It may still be blustery and chilly out there, but I've got a plan to make everything alright:
Cloches – home made cloches – will keep my cucurbits happy until the weather warms up.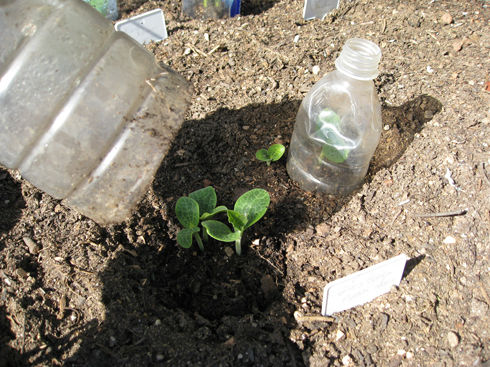 Acorn squash nestled under a homemade cloche
Here's the deal.  Cucurbits prefer to be planted in soil that is above 60º F.  In Los Angeles, the soil doesn't freeze over, so when I tested the soil temperature with my compost thermometer, it showed just above 60º.  YAY – the green light to plant!
One more reason to plant out early:  Cucurbits don't like to have their roots disturbed, so the seedlings that were growing bigger than their britches in seeding trays were getting cramped.   I had no choice…really.
Home made cloches are easy, especially if you have a bunch of plastic water bottles lying around.  Simply cut them in half, remove the cap, or cut an air hole in the bottom of the closed end of the bottle, and place them over your plants.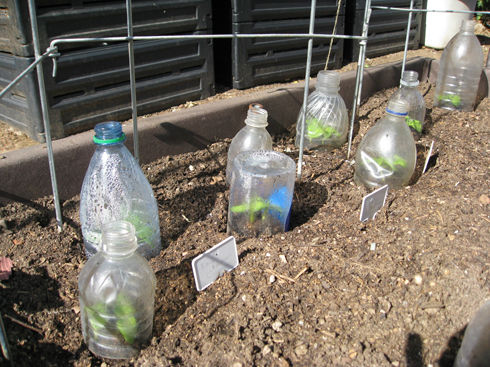 Early Russian and Lemon Cucumbers planted hexagonally along a trellis
Not only do cloches protect seedlings from winter chill with a mini-greenhouse effect, they also ensure that your seedlings won't be munched or torn out by critters.  Once they establish strong roots, the cloches come off, and everyone is happy.
You can find this tip along with others in Christy's Top 5 Organic Gardening Tips when you sign up on the Gardenerd website.