Plants can take you down memory lane. This week, my dear gardening friend and Master Gardener, Sarah Spitz, shares some of her plants and the memories they spark. Here's Sarah:
For almost thirty years, I have lived in a small, one-bedroom apartment, converted into a Santa Monica condo, where I put in some French doors off the bedroom and created a step-down brick patio with a lot of containers.
It's a tricky space; everything needs to be lifted up for sunlight, but it's jam-packed with edibles and some flowers and succulents. Roughly 8 tomatoes are about 5 feet tall right now, some producing good fruits. There's also stone planter box in front of my living room window, and some actual soil in front of the fence that hides my gated little yard.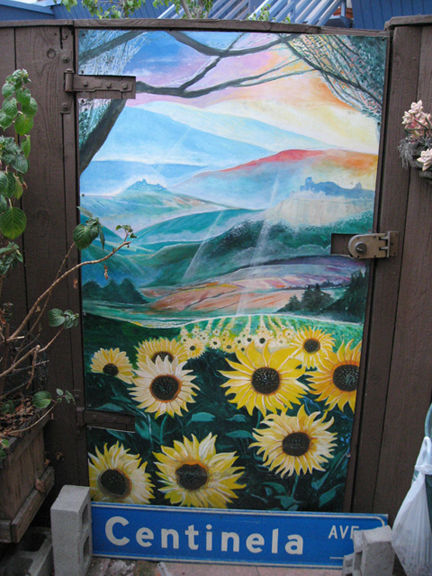 Sarah's Garden Gate (with a sign she swore she didn't steal).

When I water each day, I find myself musing on the history of the plants in my care…not just theirs, but mine.
Plants Change Lives
My mother used to say I had a "black thumb." Nothing I planted lasted very long. I never realized that containers required consistent watering and a little fertilizing nourishment every now and then. Now I can tell you that as a certified UC Cooperative Extension certified LA County Master Gardener, I take a heck of a lot better care of my plant life. People approaching my unit now say, oh yeah, it looks like a gardener lives here.
I'm glad Mom lived long enough to see me grow my own vegetables, which she loved to see and eat, stunned at my suddenly-greener thumb. Just thinking of that black thumb, I am reminded of a fern that she once destroyed, which got us into a horrible fight. The plant is gone, and she is too, but the memory lingers on.
That fuchsia against the fence?  In 1980 my life was upended, and I moved first to LA. I took with me what I call "the mother plant" of this fuchsia from my parents' house in the Valley, and brought it to Manhattan Beach as I embarked on a very short career selling South Bay real estate.
The fuchsia moved with me again to Santa Monica. The "original," planted in the corner of the stone planter, is gone, but not before I propagated it several times. It now has a permanent space against the fence next to my gate; one of its "babies" fully established in a redwood box inside that gate as well as another spot along the central wildflower walkway in our building, where I stuck a broken branch in the ground and it grew.
As I water my lovely tradescantia (a river-side plant with purple clustering flowers) in front of my place, I look at my Brunfelsia, aka "yesterday, today and tomorrow" — the one with flowers that are first dark purple, then pale blue, then white — and connect its name, Brunfels, to the brewery in Germany, belonging to a close family friend of my mother's that became the romantic hideout for dad and mom while she was getting divorced. The brewery owner never had children; when I was three, she offered my parents a million dollars to buy me!
Never Turn Down a Free Plant
My one remaining red gerbera daisy, that still self-seeds in its pot and throws up tall bright flowers pretty regularly, came from Summerday, a once-upon-a-time wine and art auction fundraiser that public radio station KCRW—where I worked for more than 28 years—threw for ten years at the stunning Pacific Design Center.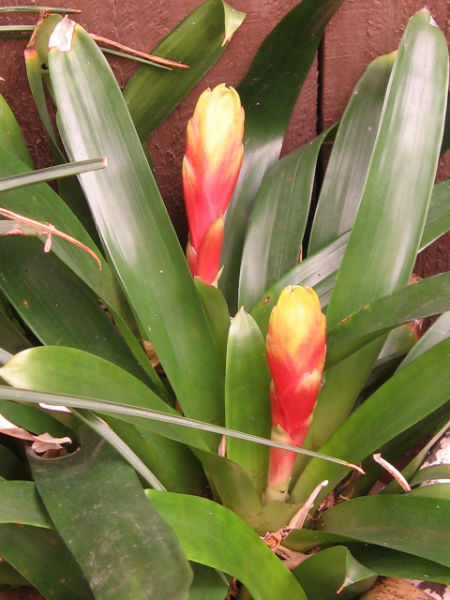 One of Sarah's gifted bromeliads.
Every one of my bromeliads stems came from another KCRW event, the "Archangel Donor Brunch" which took place at Maple Drive restaurant. There was a small potted bromeliad on each table as a centerpiece. I'd take one, or sometimes two, home with me. Since then they've been divided multiple times and continue to produce exotic looking flowers.
Yes plants can take you down paths of the mind. I'll keep them, and the memories they spark, as fresh as I can for as long as I can, as I pull out the hose for another morning's spray.
Sarah Spitz recently retired as Publicity Director of KCRW 89.9 where you may have heard her encouraging voice during pledge drives. She gardens in Los Angeles, CA and is involved in all things gardening.