Since we planted squash very early this year (in order to get the plants established by the time June Gloom set in) we are already set to harvest some of our winter squash.  Our Golden Pippin Acorn squash and most of our Delicata squash plants have withered, leaving behind golden fruits that will store through winter.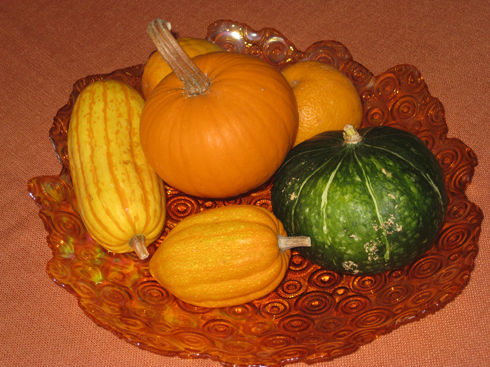 With pumpkins, it's easy to know when to harvest – just let the vines turn brown and crispy, then pick your pumpkin.  Not all winter squash is that simple.  For example, I've been reading about gardeners who have picked acorn squash too soon and have reported that it taste horrible.  There are a few tell-tale signs to help you make good harvesting decisions when picking Delicata and Acorn squash:
Thumbnail Test – Winter squash is ready to pick when the skins can not be pierced with your thumbnail.  Summer squashes (like zucchini and yellow crookneck) will easily yield to a thumbnail, but winter squashes have a thicker skin, which makes them good for long storage.
Withered Vines – The vines and leaves on winter squash will turn brown and dry up, leaving behind a trail of squash that are still attached.  The stems will break easily or crack if you try to lift the squash.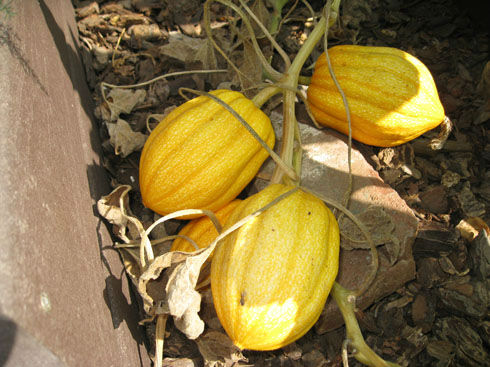 This Golden Pippin Acorn is not quite ready to harvest.  Note there is still some yellow coloration to the stem.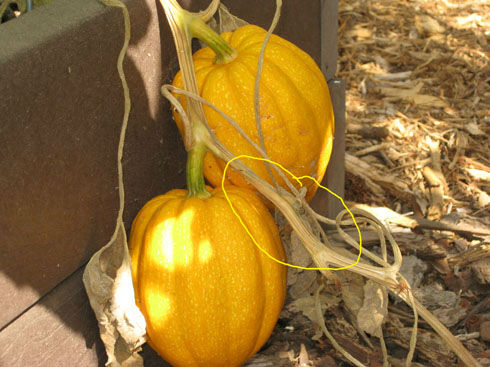 These acorn squash are basically ready to harvest, since the stem is dry, brown and withered.  It will crack easily.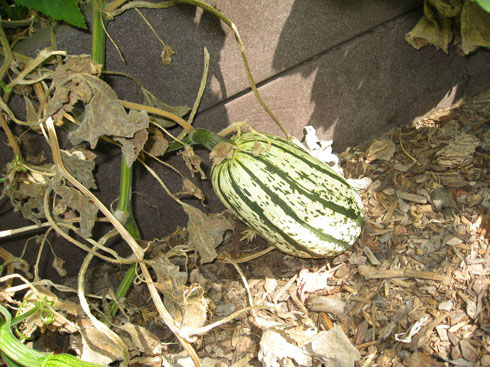 This Delicata still has some time to go, even though the leaves have died back.  The stem is still green and the squash is bright.  The cream color will change when it is ready.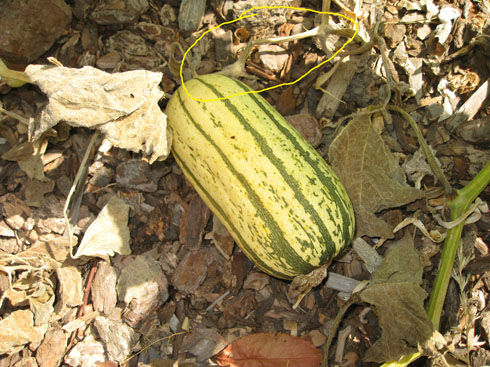 The yellow circle indicates dried vines – this squash is ready to pick.  The background color has yellowed a little and orange flecks are seen in some places.
Harvesting tips: Cut squash with pruning sheers, leaving at least one inch of stem on them.  This apparently increases their ability to store longer.  Use any squash that show signs of cracking or softening right away, but if it's too far gone, bury it or compost it, and you will likely get a surprise volunteer next spring.
One of the reasons why I grow Delicata squash is because it's unusual looking. When ripe the cream background and deep green stripes will be tinged with orange.  The other great thing about Delicata is that it can be eaten without peeling the skin.  What a time-saver!
Note: Acorn squashes are usually green, so it's easier to know when to harvest those – when the skin has turned deep green, and the underside has changed color from yellow to orange.
Curing: All winter squashes need to cure for a few days.  You can cure your squash by leaving them in the sun for a few days, or bring them indoors and keep them in a warm area to allow the skin to harden further.  After that, you can store them for months!
What's your favorite squash to grow (and eat)?  How is your squash doing this year?  Share your experiences here.