Right about this time of year, I start to chuckle as I walk through my garden.  As I look down at the happy, perky, green leaves of my lettuce, arugula, mustard greens and cilantro, I think of how lucky we are to be able to enjoy vegetable gardening in cooler weather.  Just yesterday I was looking out over the clear blue sky towards the ocean and, as I often do, said to myself with a smile, "God, we're spoiled."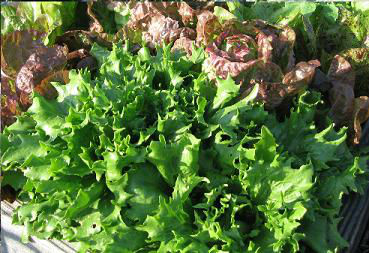 Admittedly, this is all I've ever known.  I've always had trouble relating to gardening books that are almost always written for places where the garden shuts down in fall, and snow falls to the ground over winter.  In a land where the bulbs start poking their heads through the soil in October, it doesn't make sense to "lift and store" them for winter, does it?
Still, nature and most gardening books have conditioned us to believe that flowers bloom in spring, or at least they're supposed to.  I'm still scratching my head that it's November and I just picked the first blossoms of my paperwhite narcissus yesterday.  They sit in a vase on my kitchen table with a combination of curly parsley and lime scented geranium, which came as a result of cleaning up my herb garden yesterday as well.
I thinned out the lettuces and spinach this week, and took the thinnings home to add them to the collection of arugula, mustard greens and basil that I picked earlier in the week.  These delicate seedling discards are going to make a tasty salad this weekend.
Nasturtiums are starting to spread as a nice ground cover throughout my flower patch, even though the nearby dahlias have decided to give up the ghost.  We also have a bounty of volunteer calendula that have sprung up around the perimeter of the garden.  In another month they should be flowering their bright orange blossoms to keep us cheery during December.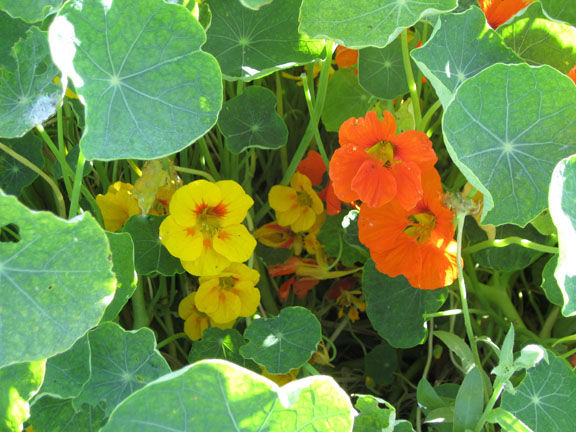 When I button up the flannel shirt I wear out into the garden, I know the season's change has indeed arrived.  Still, it's nice to know that we can continue to enjoy the land even though winter fast approaches.
What's growin' on in your garden this month?  Share it with us here.