'Tis the season to harvest cabbage, and we've been on a campaign to find tasty uses for it this month.  Our crop consists of Vertus Savoy cabbage (with seeds from Bountiful Gardens).  It grew well in Southern California, and it was a delight to finally be able to grow an open-pollinated variety of savoy cabbage (hard to find).  
Here is another savory and delicious way to incorporate this healthy brassica into your diet.
Caramelized Onion and Savoy Cabbage Chowder with Thyme – Vegetarian Times Magazine (September, 2011)
The first thing to do is make the croutons – and then keep yourself from eating them while you make the rest of the dish.  Cut up 8 oz of rustic bread (we used homemade wheat bread, but it calls for ciabatta) and drizzle with 3 TBS. oil and  2 cloves minced garlic that has been cooked for 3-4 minutes.  Bake the cubes for 15 minutes until brown in a 350º oven, then push them all together and sprinkle with 1/3 cup shredded Swiss or Gruyere.  Bake until the cheese melts.  Cool on a baking sheet far, far away from you.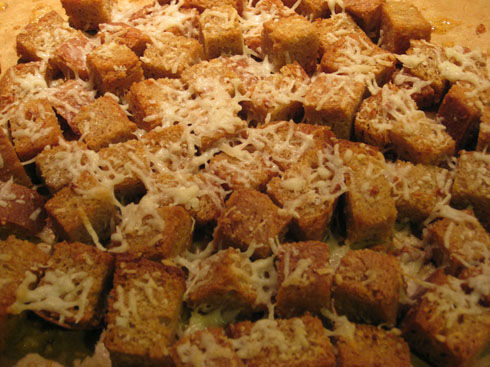 Irresistible cheesy croutons make this dish extra special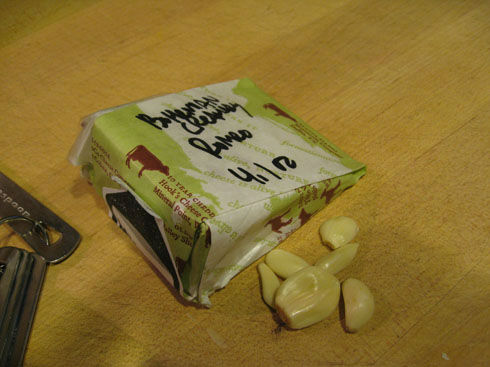 We used Romeo cheese from Bohemian Creamery that we got from Milk Man Cheese Services at the Mar Vista Farmers' Market.
The rest comes together very easily.  Combine 1/2 cup apple cider, 1 Tbs. soy sauce and 2 tsp. vinegar in a small bowl.  Saute the cabbage in 1 Tbs. olive oil and 1 Tbs. butter for 5 minutes, season with salt, then transfer to a bowl.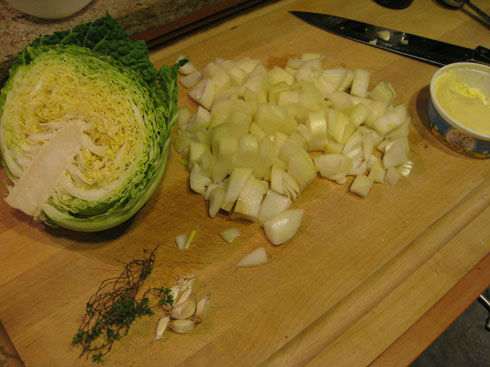 The ingredients are simple and highlight the cabbage harvest
Next it's onion time.  Use the remaining oil and butter in a dutch oven (or medium stock pot) to cook 3 large diced onions until softened. Then cook for another 18 minutes until the onions are golden brown.  Add garlic and thyme and the apple cider mixture. (The liquid will loosen the brown bits on the bottom – we want those!) Bring to a simmer and cook for one minute.
Add 12 oz. diced cabbage and 5 cups of water, bring to a boil, then reduce heat to a simmer.  Cover the pot partially and cook for 15 minutes.  Serve topped with amazing cheesy croutons and a little extra thyme.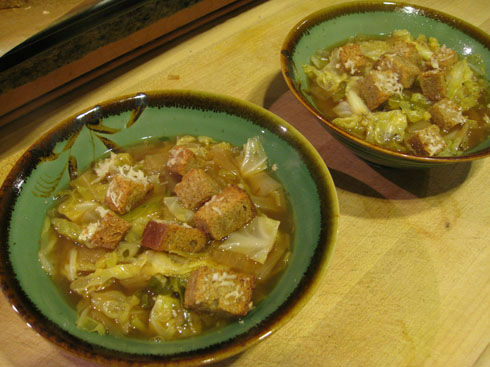 The result was a delicious, filling soup that showcased our savoy cabbage harvest.  Perfect for these remaining winter days.
Do you have a favorite cabbage recipe?  Share it with us here.