A while back I mentioned that I was planting a new heirloom variety that I'd never grown before.  Well, today the first harvest took place of said heirloom plants.  Dragon tongue beans are making quite a show in the garden, right next to the "Maxibel" haricot vert beans. This morning, as I harvested the first batch of both types of beans, I realized that I have been missing green beans all winter long.  There's something so delicate and special about them.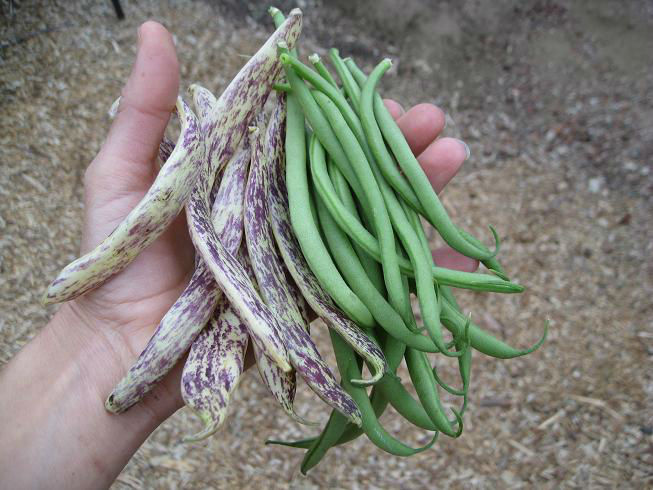 Dragon Tongue Beans have purple marks that disappear when cooked.  Maxibel haricot vert beans are tasty and crisp
It may be a little on the early side, but harvesting beans really bring in the feeling of summer.  Of course, with summer comes cooking – all that is harvested must be eaten or preserved (or shoved into your neighbor's mailbox when they're not looking), right?  So, in case you are afraid to plant too many green beans (or try an interesting heirloom variety) there are plenty of recipes to help you enjoy your green beans this season:
https://crossroadscommunityfarm.com/recipe/dragons-tongue-beans-with-garlic/
Dragon's Tongue Beans With Garlic
2-3 cups of beans (it's hard to measure beans. I used the quantity pictured above.)
water for steaming
2 tbsp olive oil
1 clove crushed and chopped garlic
1handful of fresh basil, chopped (or 1 tbsp dried)
salt and pepper
Steam beans for five minutes until yellowy and not very speckled.
Combine all other ingredients, except salt and pepper, in a bowl and add beans. Toss to coat.
Season to taste with salt and pepper.
Summer Bean Salad
Beans – a couple of cups, washed, trimmed and cooked until tender crisp (steam or nuke for 2–3 minutes)
Feta cheese, crumbled
Red bell pepper, sliced thinly
Red onion, sliced thinly
Chopped herbs; I used the basil and parsley I grew, but you can use any combination
Radishes, cut into matchsticks
Extra virgin olive oil
Vinegar (I recommend white, wine or cider vinegar over balsamic, but use what you like)
Sea salt
Cracked black pepper, to taste
Toss all ingredients together, season with salt and pepper to taste. Let chill for about 30 minutes before serving to let ingredients mingle and set.
Bean Saute Recipe
a handful of fresh beans (mine were dragon tongue beans)
2 potatoes, diced
1 onion, diced
a handful of fresh basil
10-20 cherry tomatoes, halved
1/2 cup pine nuts
2 T olive oil
Salt and Pepper
Preparation:
Boil potatoes in water until soft. Remove from water and put beans in boiling water for about 2 minutes. Drain.
Meanwhile, saute onions and pine nuts in olive oil over medium heat until pine nuts are toasted and onions are translucent. When potatoes  and beans are finished cooking, add to onions and nuts. Add tomatoes and basil in and cook for about one minute longer. Season with salt and pepper.Time: 20-30 minutes
Serves: 4
From Seriouseats
Dreana's Lemon-broiled Green Beans

1/4 pound green beans, ends trimmed *
1 teaspoon olive oil
1 teaspoon freshly squeezed lemon juice
1/16 teaspoon sea salt
Ground black pepper to taste
Procedure
1. Set toaster oven or regular oven to broil. Line a  baking pan with parchment paper. Add beans and toss with oil, lemon juice, salt, and pepper.
2. Broil for 7-11 minutes, tossing once or twice,until beans blister and are tender. Serve immediately.
* Author's Note: Instead of green beans, you can use yellow wax beans or dragon tongue beans, which may be purchased in whole foods stores or at farmers' markets. Dragon tongue beans have a flat shape and light yellow base with purplish streaks. You may also substitute with asparagus; be sure to adjust cooking time accordingly to cook until just tender and retaining fresh green color.
And lastly,
From Tastytrends – a super simple recipe!
Dragon's Tongue Beans
2½ cups Dragon's Tongue Beans
2 tbsp olive oil
5-6 cloves crushed garlic
1 tsp dried basil
Salt and black pepper to taste
Steam the beans for 3-4 minutes, then immediately toss with the remaining ingredients and serve.
Do you have a favorite way to prepare green beans?  Share it with us here.