Scott Daigre began his tomato passion at Hortus Nursery back in the day, when gardeners would flock to Hortus's annual Tomatomania seedling sale. Once Hortus closed its doors, Scott took on the task of continuing the tradition, offering heirloom and hybrid tomato seedlings at Tomatomania events all over Southern California. Now Tomatomania is on the East Coast as well, and Scott has a new book to share with tomato lovers all over the world.
TOMATOMANIA, A Fresh Approach to Celebrating Tomatoes in the Garden and in the Kitchen is full of helpful information for new and veteran tomato growers alike. Scott has decades of experience growing hundreds of different tomato varieties, and he's compiled all his tips in this book along with beautiful photos. Scott has agreed to share some of his top tips with us here at Gardenerd.
Take it away, Scott!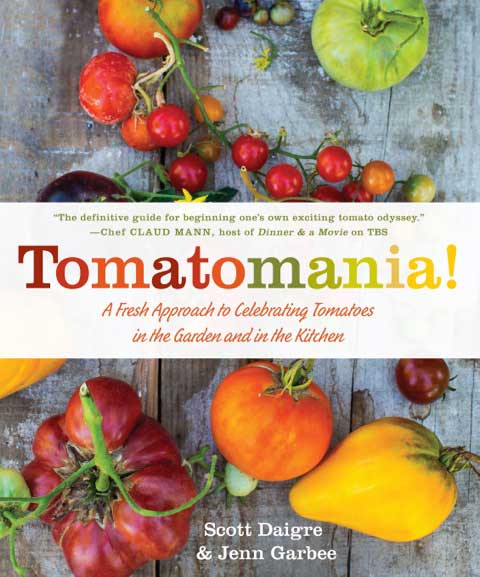 5 Keys to a Great Tomato Season!
Sure, when you're a farmer there are many things you must attend to in a given growing season – even when everything goes right! But there are 5 key things that can get you off on the right foot or inevitably ensure a successful season in the tomato garden:
Move the garden!
Planting in the same spot each season invites problems. Bugs that like tomatoes and diseases that affect them may also be set up in your chosen garden area. Outsmart the bad guys by practicing rotation planting.  Maybe you can plant in containers this year? Good farmers know this is a must each season. Amend liberally in your new spot to get the garden in gear.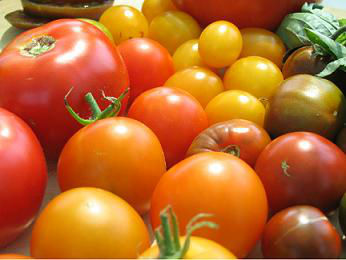 Develop a Strategy
Yes, a strategy.  What do you want to eat? What will the kids eat?  When do you want to harvest?  Can't deal with a huge plant? All this can be dealt with as you choose seedlings.  Pay attention to the label and know what all those instructions and guides mean!
Do you want an heirloom or a hybrid? "Days to Maturity" helps you chart your harvests, so when do you want to pick?  A Determinate plant is shorter, stockier and produces more or less at one time. Indeterminate plants are larger and they produce more regularly throughout the summer.  Which is right for you?
Dig Deep
Tomato roots run deep, so get that started when you plant.  Dig a deep hole! Take off the lowest leaves and plant deeply in a well-amended planting hole (yes, even some of the stem!) leaving only 3-4 inches of the plant above the surface.  Take off leaves that will be buried. Stem portions that are buried will root quickly and strengthen your seedling.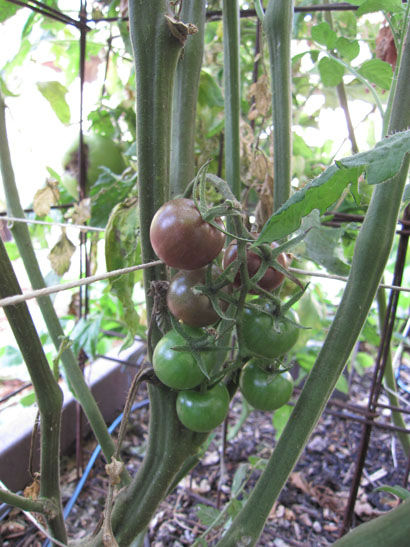 Water and Feed Wisely
Soak every 3, 4 or 5 days for the first few weeks, depending on your soil type, as it's not super hot yet!  Watch your seedlings and give them only what they need; water deeply and infrequently! As the season progresses the plant will inevitably yellow in places…more water won't fix that.  Avoid watering too much.  Too much water dilutes taste.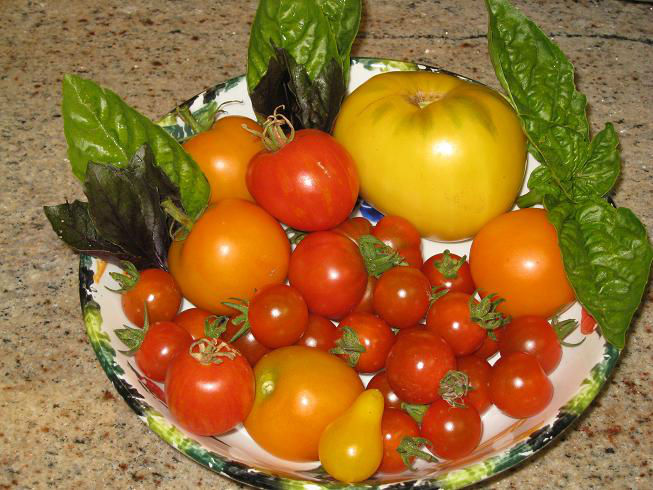 Pick and use your crop when the fruit is actually RIPE!
Sounds simple enough but we do mess this up.  When is a black tomato ripe?  You must know that the fruit is colored up and softening – that's when it's right. Cherry tomatoes are the hardest to predict.  Wait until they practically fall into your hand!
I hope that helps you have the best season ever!
Pick up a copy of Scott's new book, Tomatomania! and get growing, everyone!