I love these kinds of questions:
"I was unable to attend to my garden for a few weeks and some of my
chard, salad greens and cilantro plants shot up and are close to
flowering. I've never collected seeds before, but I'll try.  What do I do
with the plants afterwards? Keep or remove them?  Thanks, Nazie"
Nazie, thanks for writing in.  Before we talk about what to do with the plants, let's start with a few seed saving tips.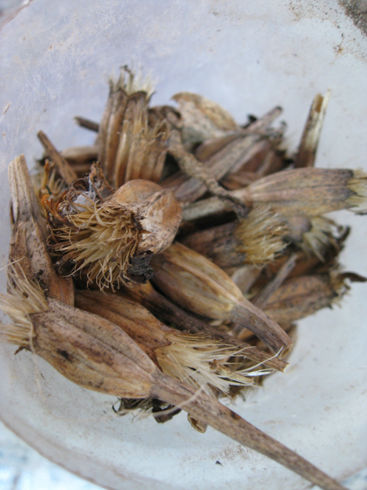 Seed heads from Golden Guardian Marigolds
Are they open-pollinated?  If you grew the lettuces, chard and cilantro from seed, it's very likely that you will know (or can find out from the seed packet) whether the varieties you have grown are hybrids or open-pollinated types.  You can save the seeds from open-pollinated and heirloom (which is also open-pollinated) varieties with confidence, but seeds saved from hybrids don't reliably breed "true to type".  That means that plants grown from saved seed from a hybrid may not look like the original plant did.
If you purchased plants from the nursery, chances are high that they are hybrid varieties.  Check the plant tags for information.  Nurseries are selling more heirlooms and OPs these days, but they rely on tried and tested hybrids to hold up in stockyards.
Now for some isolation – you can save seeds from just about anything, but some plants are easier to harvest than others.  If you have several different varieties of lettuces growing, you will want to choose just one variety to let bolt to seed.  Otherwise you risk cross-pollination with the other varieties growing.  The same goes for chard.
You can isolate the different plants by placing paper bags over the seed heads, or cut down the plants you don't care to save.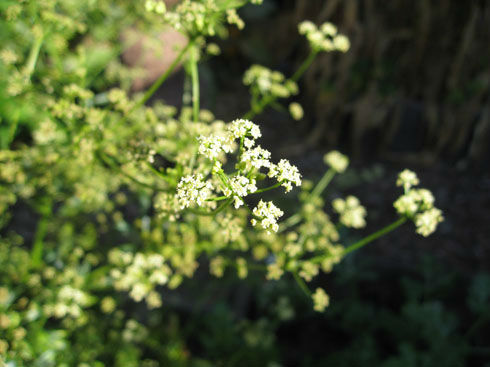 Celery flowers prior to seeding seed. 
Now what about the plants?
Cilantro and lettuces are annuals, meaning they won't come back next year, so they can be pulled and added to the compost bin.   Swiss Chard, while it has been known to last for over a year, is still basically an annual, so that can go too.
The good news is that these plants re-seed themselves pretty readily.  For example, if you allow your cilantro to go to seed, it attracts beneficial insects as it flowers, then the seeds drop and start growing again after awhile.  You'll have cilantro sprouting all over!  It's not always where you want it, but you can transplant the seedlings to a desired location once they have true leaves.
In my own garden I have a very happy volunteer (it came up on its own without my planting it) Swiss Chard and scads of volunteer arugula in my garden.  I haven't planted alyssum, calendula or nasturtiums in years, and yet they repopulate my garden every fall and spring.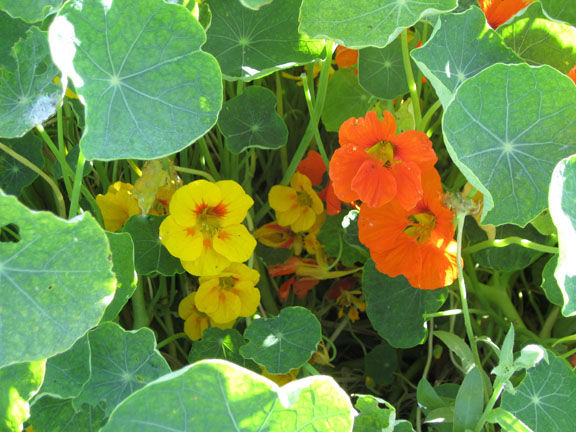 Nasturtiums volunteer every year in our garden
So to sum up the answer – pull the plants after they go to seed, and save the seeds that you want as long as they are OPs or heirlooms.  Isolate the ones you want and cut the seed heads off the others.  That should do it!
Thanks for writing in.
Hey fellow gardenerds – what seeds volunteer in your garden each year?  Share your favorites here.