The folks at Hisea recently offered to send me a pair of their boots to review. The decision was tough, given all the options they offer, but in the end I chose the Mid-calf Barn Boot. It seemed like the best fit for both gardening and chicken chores.
One of our daily tasks here at Gardenerd HQ is to clean out the chicken coop. This inevitably leads to an appointment with the jet setting on the nearby hose before returning to the house. My main reason for choosing the Hisea Barn Boots – minimal tread.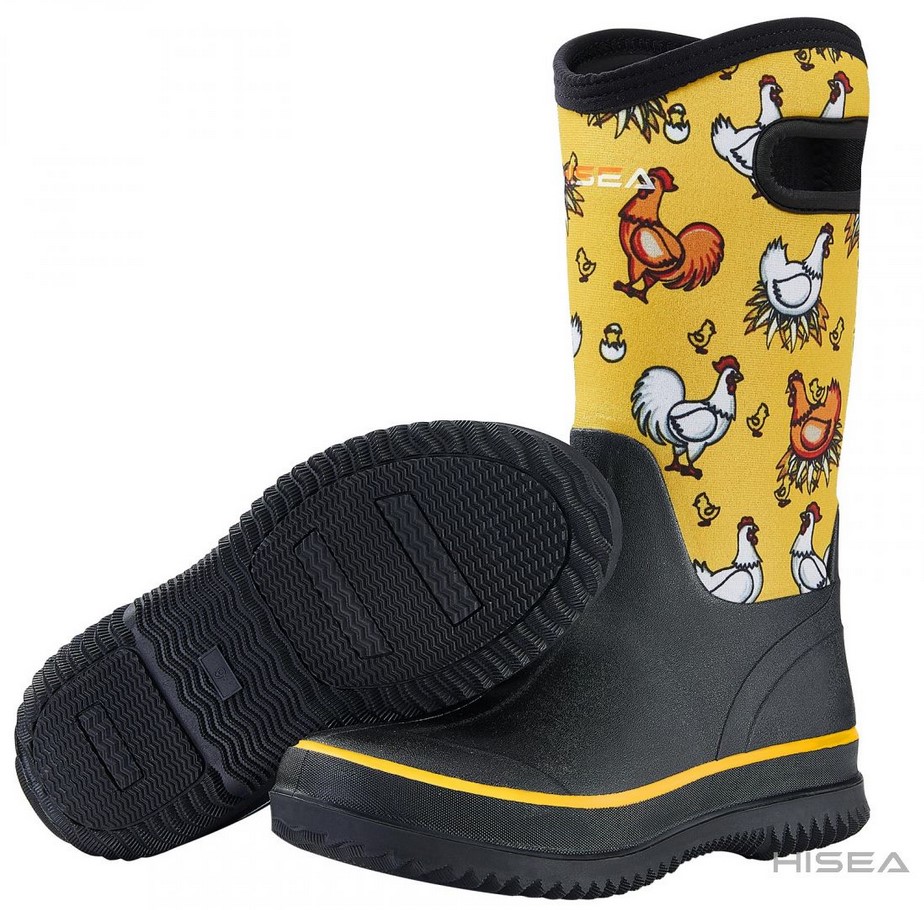 Unboxing the Barn Boot
The box arrived quickly and with minimal packaging.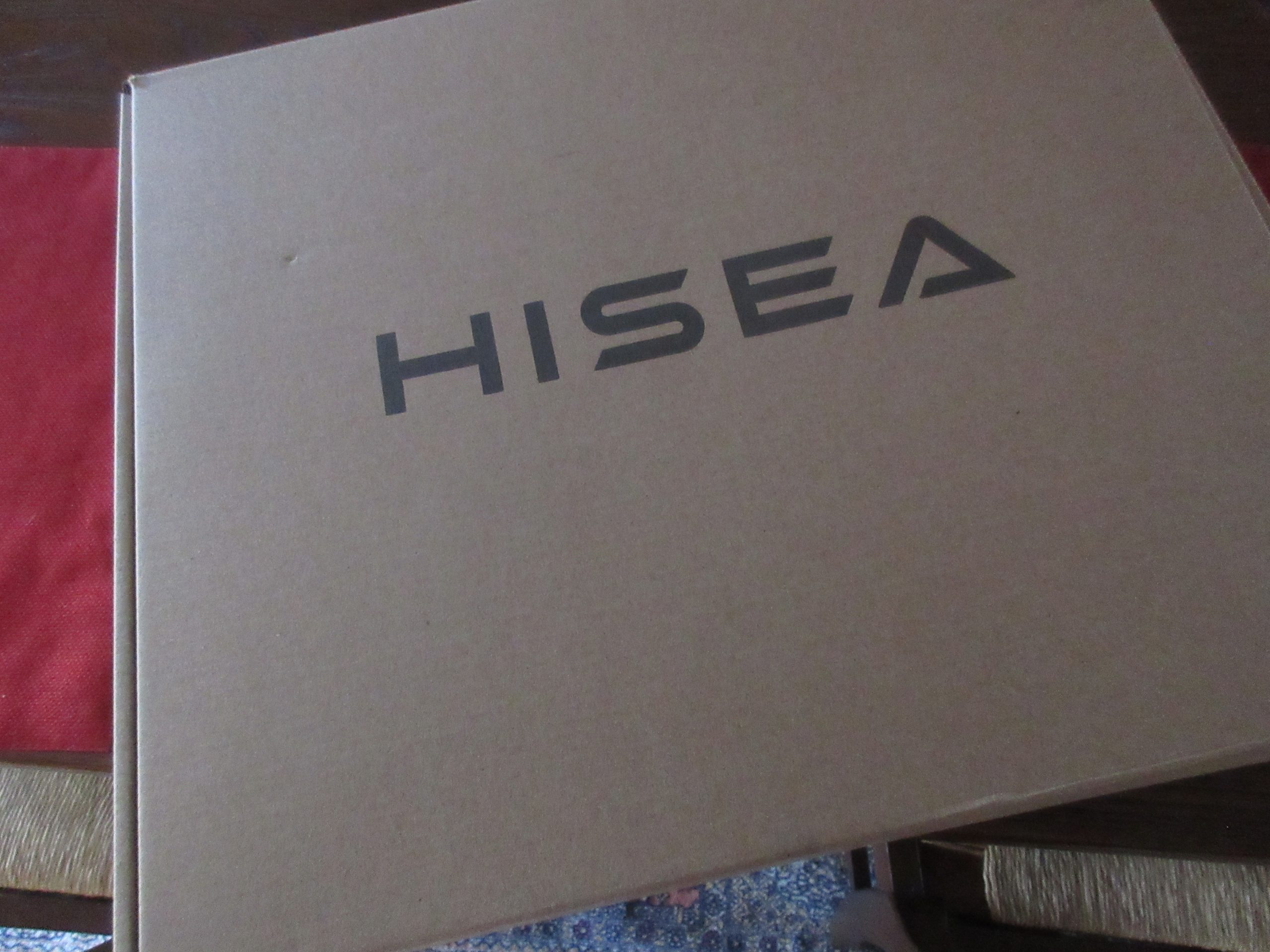 I tried them on and they fit with enough room to take them on and off without using the nifty handles on the top. I was delighted by the hands-free experience. Next it was time to test them out in the wild.
Testing the Hisea Barn Boots
Next was the chaffing test.
Most garden clogs chafe at the back of the heel, but these didn't. And having inherited a near-total lack of calf muscles (I generally look like someone wearing two buckets while walking around in boots) these didn't ring like upside-down bells on my legs as I tromped through the garden.
It's also a bonus that the first thing the hubbie said when he saw me walking around in them (in my bathrobe no less) was, "There's something kinda sexy about those." So the boots passed not only the chaffing test, but the visual appeal test as well.
Oh, and these boots bend at the ankle, making it easy to work on in-ground or low raised beds. That was a plus for me.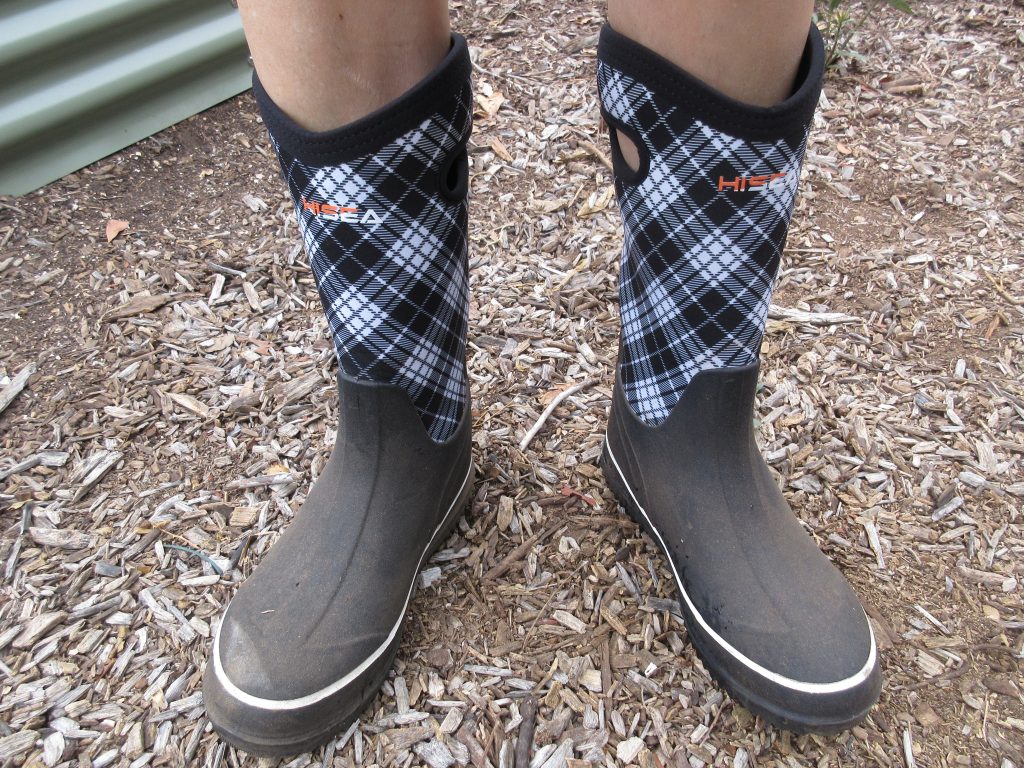 Lastly, the hose test. It was easy to clean these low-tread boots off under the jet spray of a garden hose. And having the mid-calf coverage means no splattering or runoff on my skin.
Caveats?
As with anything made from synthetic materials, the interior environment causes bare feet to become sweaty. And therefore the spongy insoles tend to come out along with your foot. Socks are an easy fix for that, or I suppose you could glue them in place if you don't plan on washing them down the line. I imagine these boots will keep any gardenerd warm in wintertime, too.
I ordered a size 7 and they fit with room for very thick, warm socks, and came on and off easily. A house guest tested them on her size 7 1/2 feet and they fit her too. But you're on the cusp of a mid-size and want to wear socks, you might want to size up to an 8.
Bottom Line
So far these boots are working out well for me. I recommend them, especially if you have livestock or muddy patches in your garden. You may opt for something with more tread in some cases, but Hisea has boots for every occasion.
Get yours in an array of pattern options here.