We cook from the garden around here. Whatever is coming in from "out there" determines the meal of the day. Since collard greens are finishing up, we needed to find a recipe to showcase them. Enter Sandy's Great Lentil Soup with Collard Greens.
The recipe comes from a cookbook that's been in my collection for many years: Simply Natural: All-time Favorite Recipes from Kitchens of North America's Best Natural Foods Restaurants, by Les Sussman and Sally Bordwell. (BTW – it's the same cookbook where you'll find my favorite Chocolate Zucchini Bread recipe).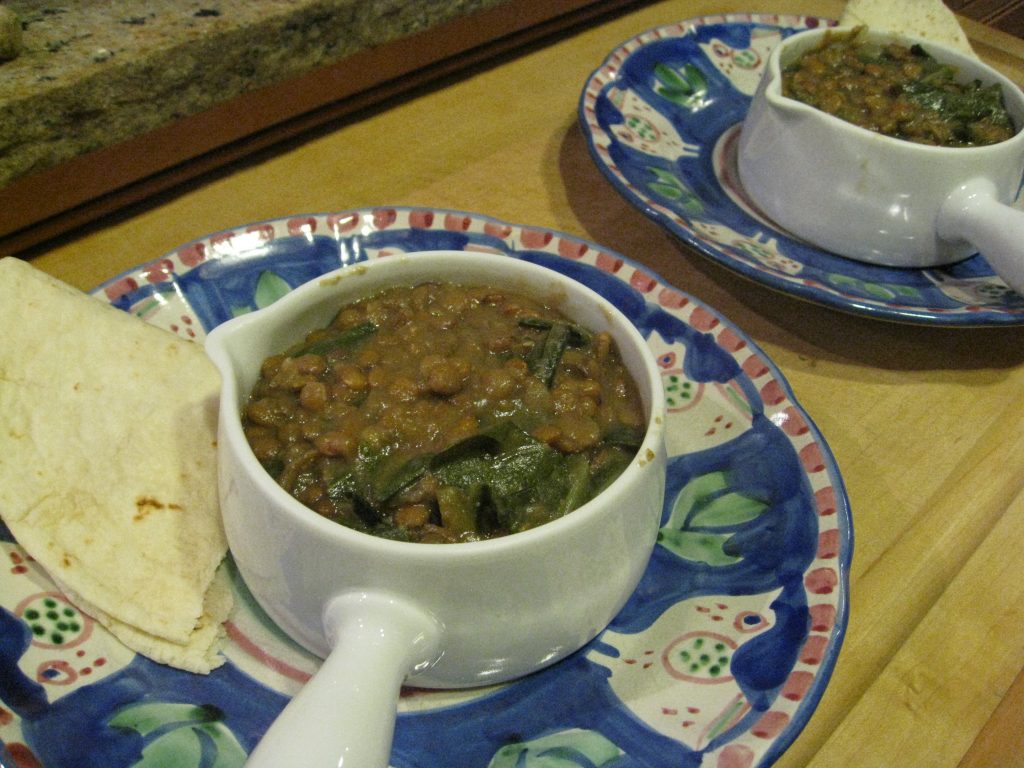 Sandy's Great Lentil Soup with Collard Greens
Ingredients
2 tablespoons to 1/2 cup olive oil
2 large onions, diced
2 1/2 cups dried green lentils
About 8 cups water
2 teaspoons cumin seeds
Salt and freshly ground pepper to taste
1 head fresh garlic, separated into cloves and peeled
1 to 1 1/2 pounds fresh greens (spinach, collard, turnip, etc.; a combination is best), well washed, stemmed, and chopped
Plain yogurt or sour cream, homemade salsa, and minced fresh cilantro for garnish (optional)
Directions
Spray a medium skillet with vegetable-oil cooking spray. Heat oil (more is tastier; less is saner in terms of fat grams) over medium heat and sauté onions until very soft.
Transfer onions to a soup pot and add lentils and water. Bring to a boil, reduce heat to a simmer, cover, and cook until lentils are soft- about 1 hour.
Add cumin, salt, and pepper. Scoop out a ladleful of soup and puree it in a blender with garlic. Return lentil puree to soup. Bring to a boil, drop in greens, partially cover, and simmer for 10 to 15 minutes.
Taste and correct seasoning. Garnish with a dab of yogurt or sour cream, some salsa, and some cilantro, if you like.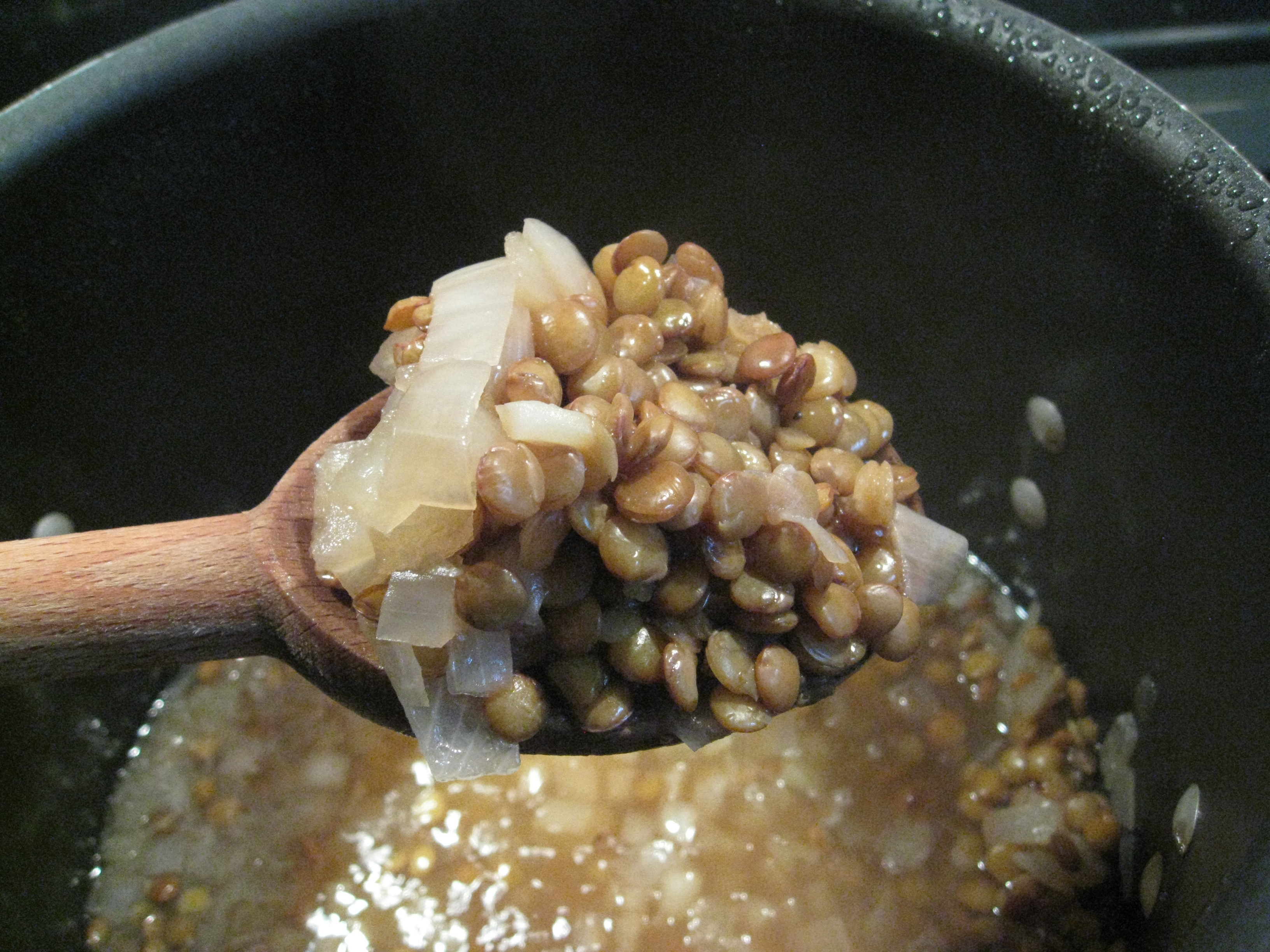 Notes from our kitchen:
1) We opted to use the stock pot in which we were going to make the soup to cook the onions. Why dirty up another pan? It worked just as well.
2) Our lentils cooked in a little more than 30 minutes. With the additional cooking time required for the collards, we left the lentils a little under cooked, so when the recipe was finished they were completely cooked.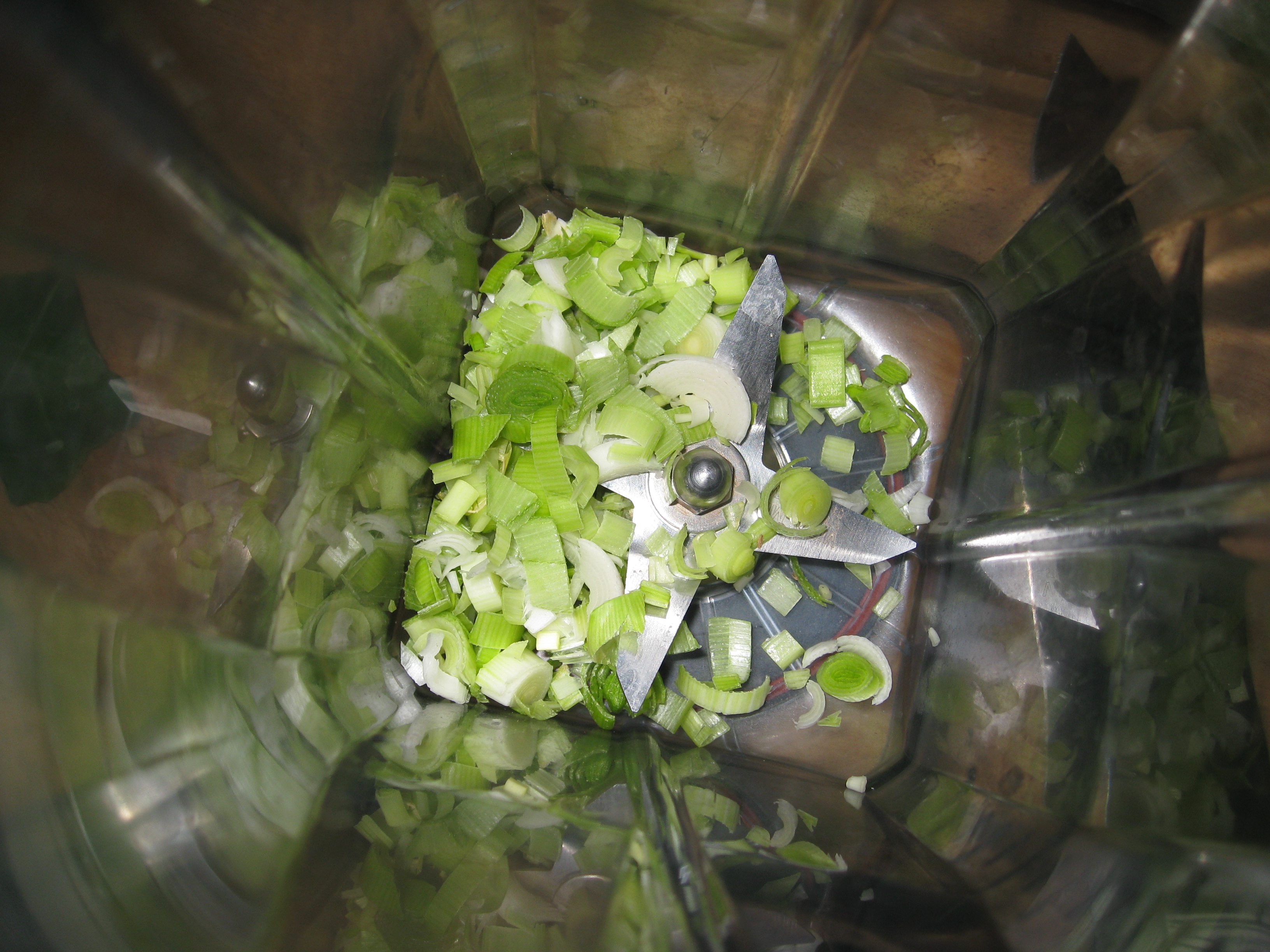 3) We've run out of cured garlic for the season, but we had a fresh stem of young green garlic on hand from a produce exchange. When chopped up, it roughly equaled the amount needed for the recipe.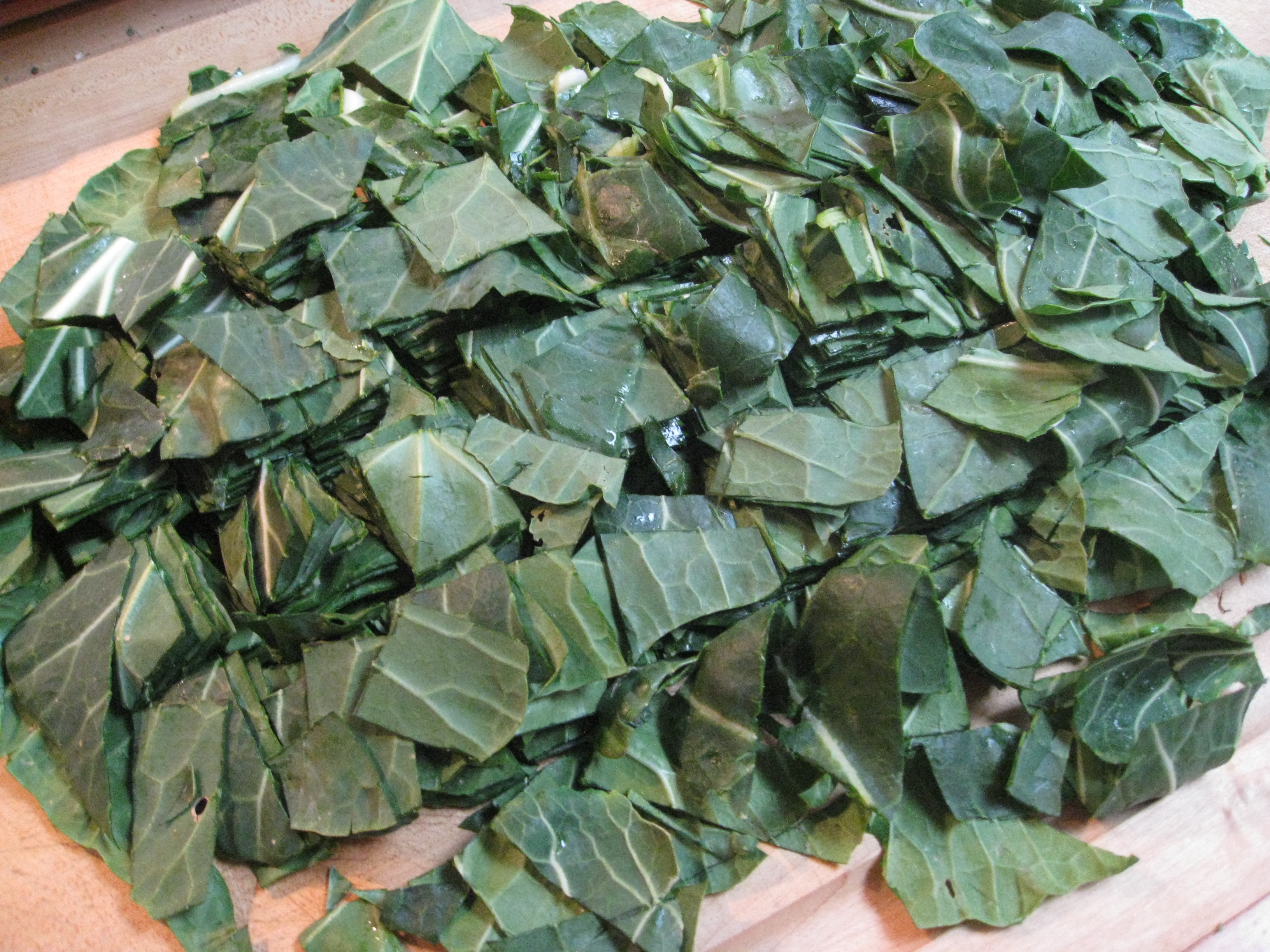 4) We chopped our collard greens into 1″ pieces. Since they take a little while to break down, you might consider chopping them smaller. We ended up cooking the collards for 15 minutes and probably could have gone a little longer, but we were hungry!
This recipe yielded a meal (with refill) for 2, plus 4 left over servings for another day. Hey gardenerds, what's your favorite way to cook collard greens? Post your tips and tricks below.