Cooking from the garden is one of the most satisfying treats any day, but this Herbed Summer Squash and Potato Torte pushes that satisfaction to the next level. With all the ingredients (except for Parmigiano, olive oil, flour, and salt) coming from the garden harvest, it's the perfect dish for a summer evening picnic. Plus the recipe makes a double batch, so you can serve a crowd or save some for later.
from Bon Appétit, June 2001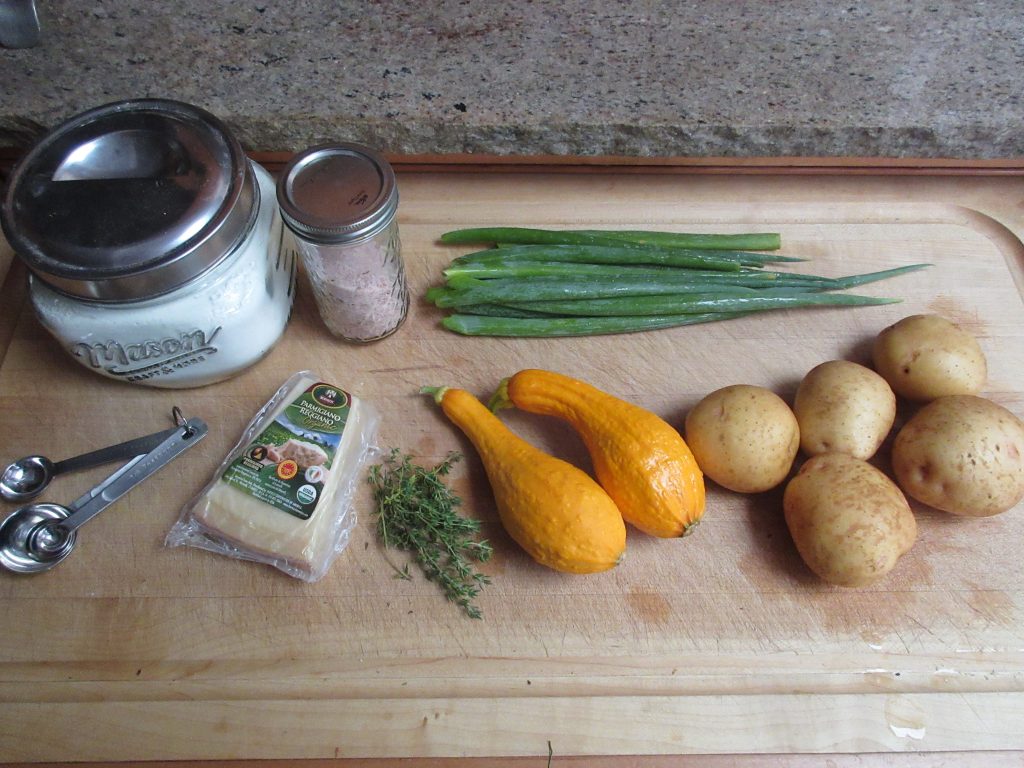 Ingredients
1 bunch green onions, thinly sliced (we used just the green tops to make it Low FODMAP)
1 cup grated Parmesan cheese
2 tablespoons all purpose flour (can use gluten-free flour)
1 tablespoon chopped fresh thyme
1 1/2 teaspoons salt
3/4 teaspoon ground black pepper
2 pounds Yukon Gold potatoes, peeled, cut into 1/8-inch-thick rounds (use a mandoline – we left skins on)
12 ounces yellow crookneck squash, cut into 1/8-inch-thick rounds (also, the mandoline)
6 teaspoons olive oil
Method
First, prepare your ingredients. Slice 1 bunch of green onions, 2 lbs. potatoes and 12 oz. yellow crookneck squash. Grate 1 cup parm.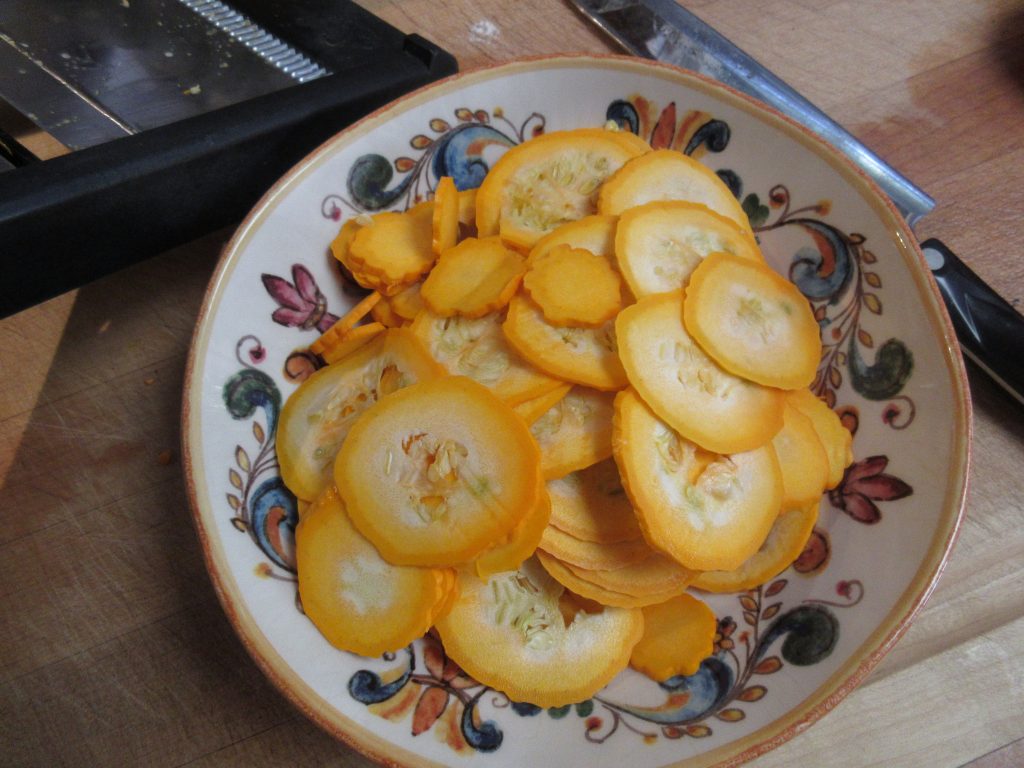 In a bowl, place the 1 cup cheese, and green onions (reserve 1/4 cup green onions for later). Add 1 TBS thyme, 1 1/2 tsp salt, 2 TBS flour. Then mix it all together.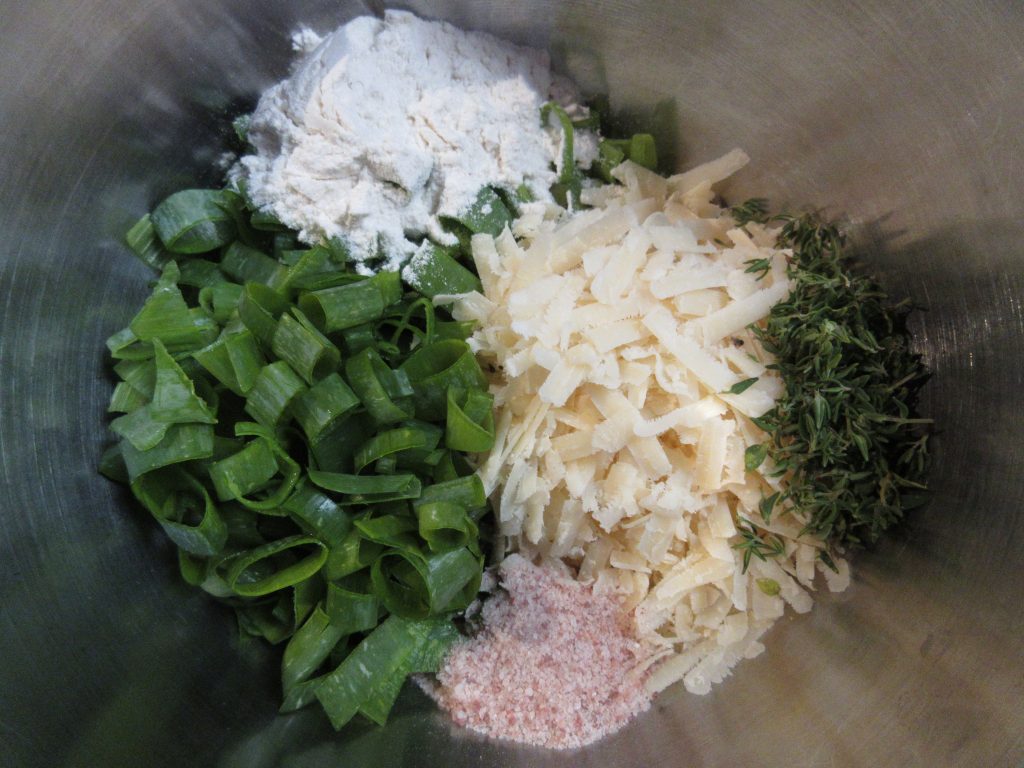 Next, preheat the oven to 375ºF and butter two 9″ round cake pans (the recipe calls for 8″ pans but we have 9″ pans. Works great and doesn't overflow or leak).
Assemble the Torte
Now begins the layering: in concentric circles, slightly overlap 1/6th of the potatoes in the bottom of the first pan. Repeat this with 1/4 of the summer squash rounds on top of the potato layer. Drizzle with 1 tsp olive oil and sprinkle 1/6th of the cheese mixture on top.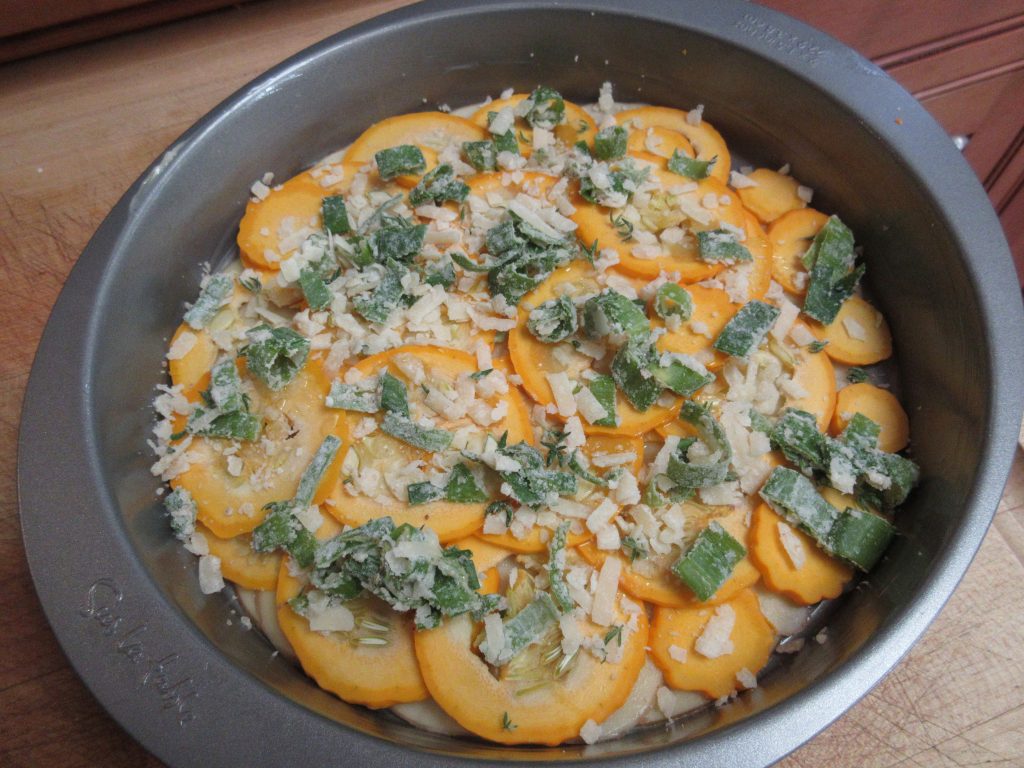 Repeat the above instructions once more: potatoes, squash, oil, cheese mixture. Then top with another layer of potatoes and another 6th of cheese mixture. Use a wooden spoon to press gently to flatten the torte.
Now repeat this process with the second pan: potatoes, squash, oil, cheese, and so on. End with potatoes and cheese. Press to flatten.
Bake the Summer Squash and Potato Torte
Cover both pans with foil and bake at 375ºF for 40 minutes. Then uncover the pans and bake an additional 25 minutes until the potatoes start to brown and are tender.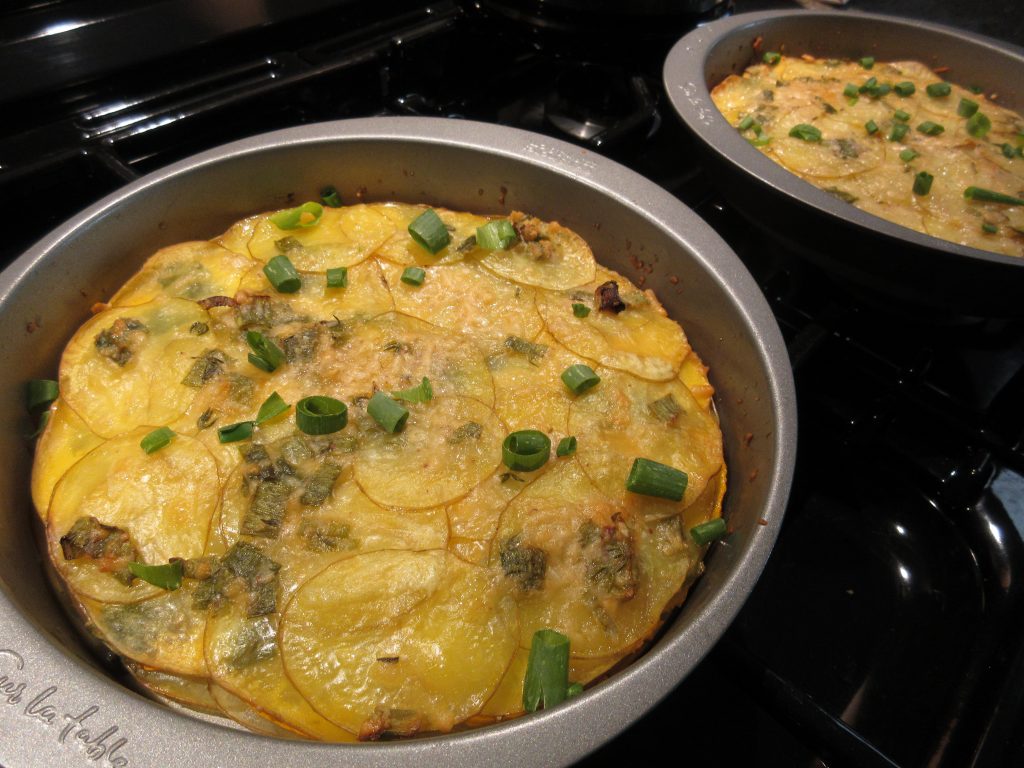 Top each pan with the remaining 1/4 c reserved green onions when it comes out of the oven. Let cool slightly and cut into wedges or quarters (let's be real, you'll want a quarter of this torte all to yourself, maybe more).
Mangia!
Serve with a salad and some home grown corn on the cob, or other delicious side dish from the garden.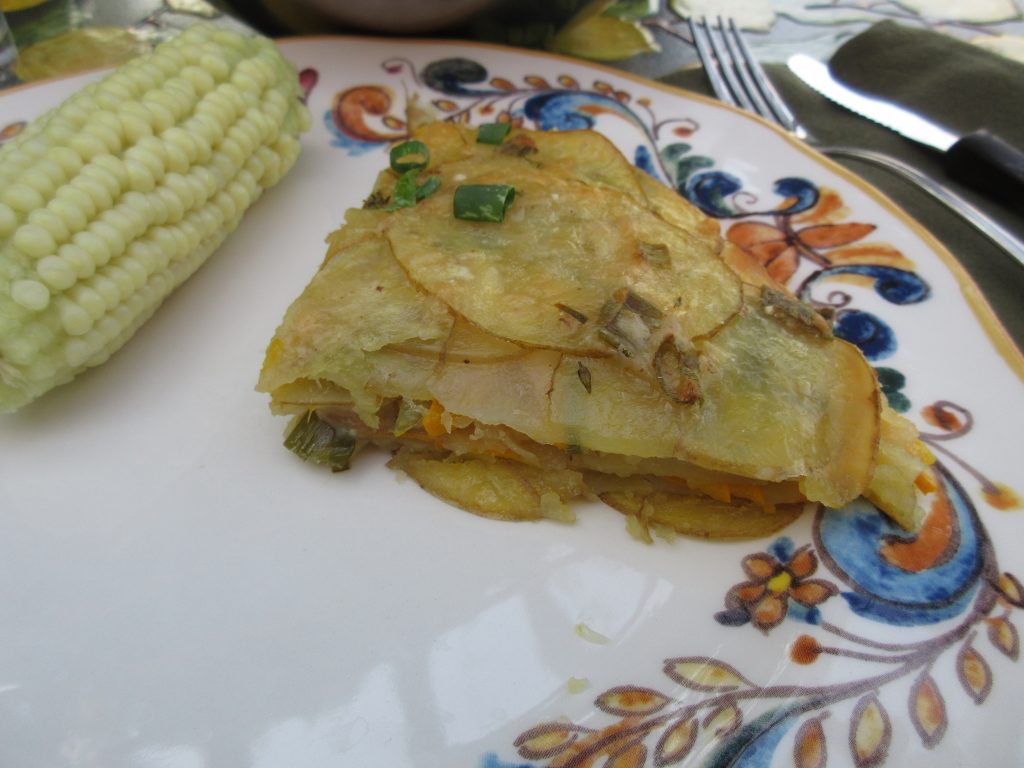 You can make this recipe with zucchini or any other summer squash you prefer. Try multicolored potatoes too! Save the second pan for tomorrow for lunch or a quick reheat for dinner. Enjoy!