If you've been reading this blog for awhile, you'll have noticed by now that Rose Elliot is one of my favorite cookbook authors. She excels at combining minimal ingredients for maximum flavor. With its promise of "30 minutes or less," her Vegetarian Fast Food cookbook has been my go-to reference for quick meals since the early 90s.
Since we recently harvested Listada di Gandia eggplant from the winter garden, we wanted to showcase it, rather than blend it into a stew of flavors. Rose's recipe for Crisp Fried Eggplant with Parsley Sauce was perfect.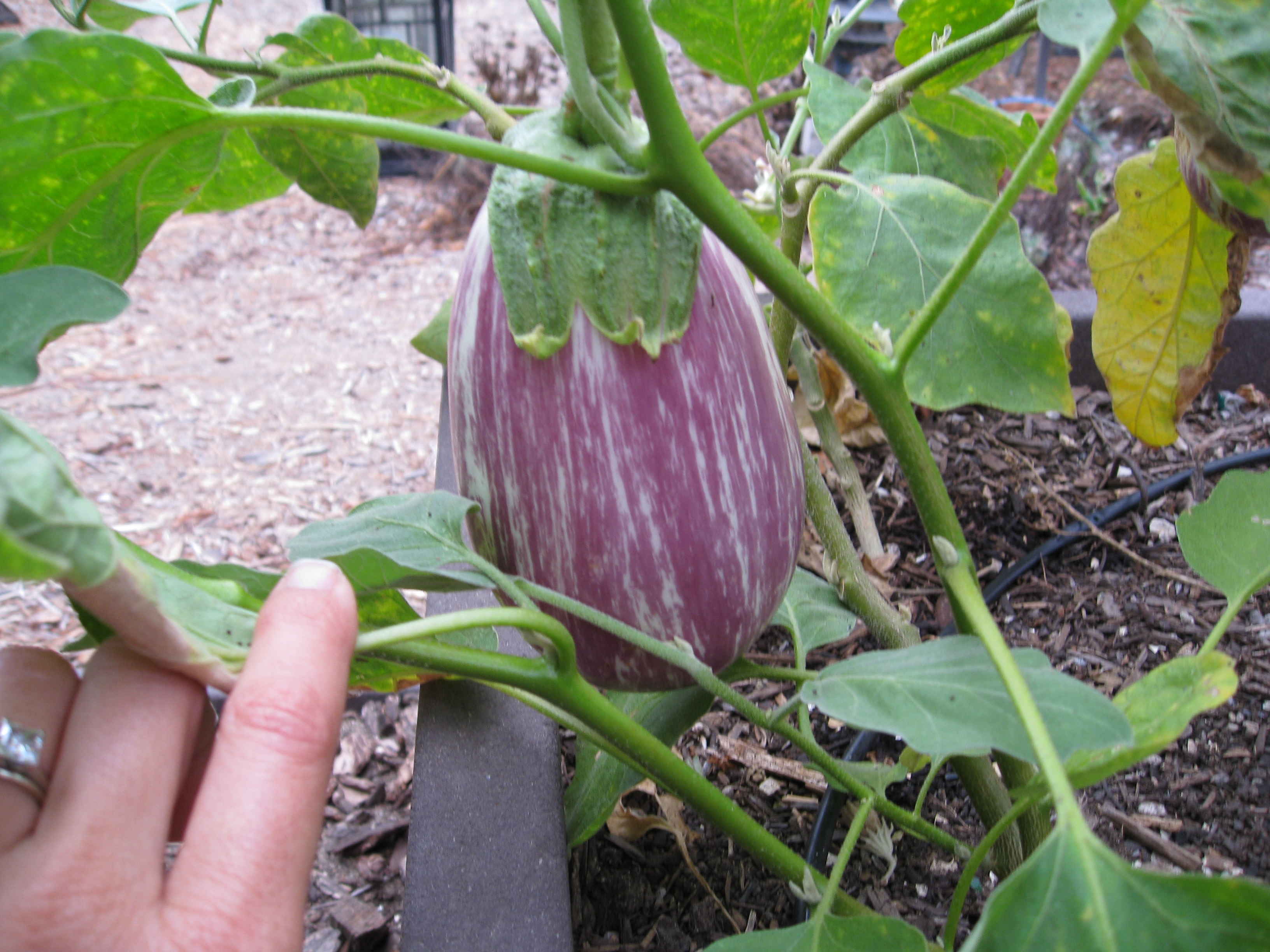 Crisp Fried Eggplant with Parsley Sauce – by Rose Elliot
1 medium eggplant, about 8 ounces (we used 2 smaller fruits to equal the weight)
1/2 cup ground almonds
1 tsp. chopped fresh dill
1 egg, beaten (we used Egg Replacer for allergy issues)
Light olive oil for frying
Fresh dill for garnish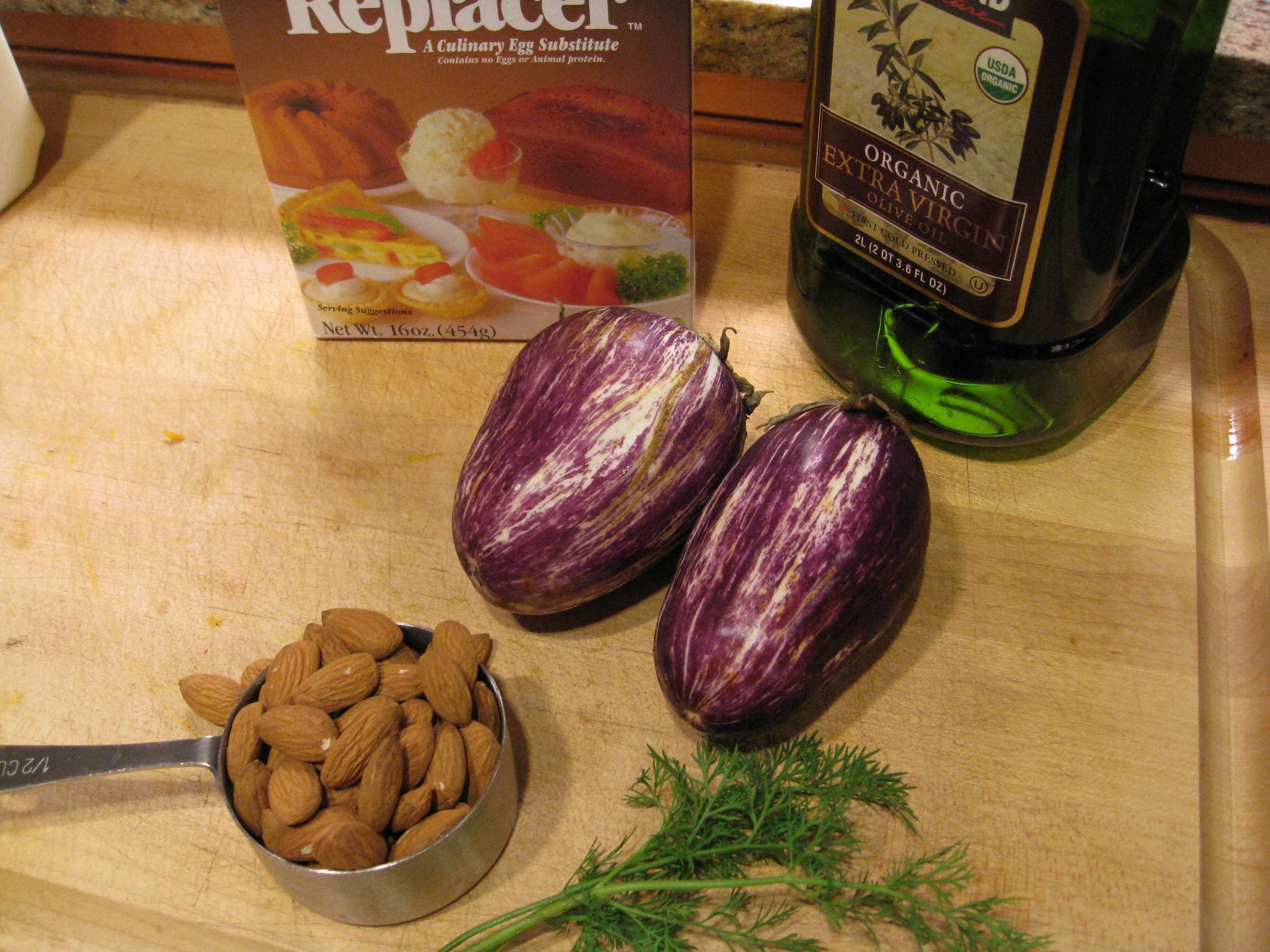 For the Parsley Sauce
2 Tbs. butter
2 Tbs. flour
1 1/4 cups milk
4 Tbs. cream, optional (we left this out, wasn't needed in the end)
2-3 Tbs. chopped fresh parsley
Salt and pepper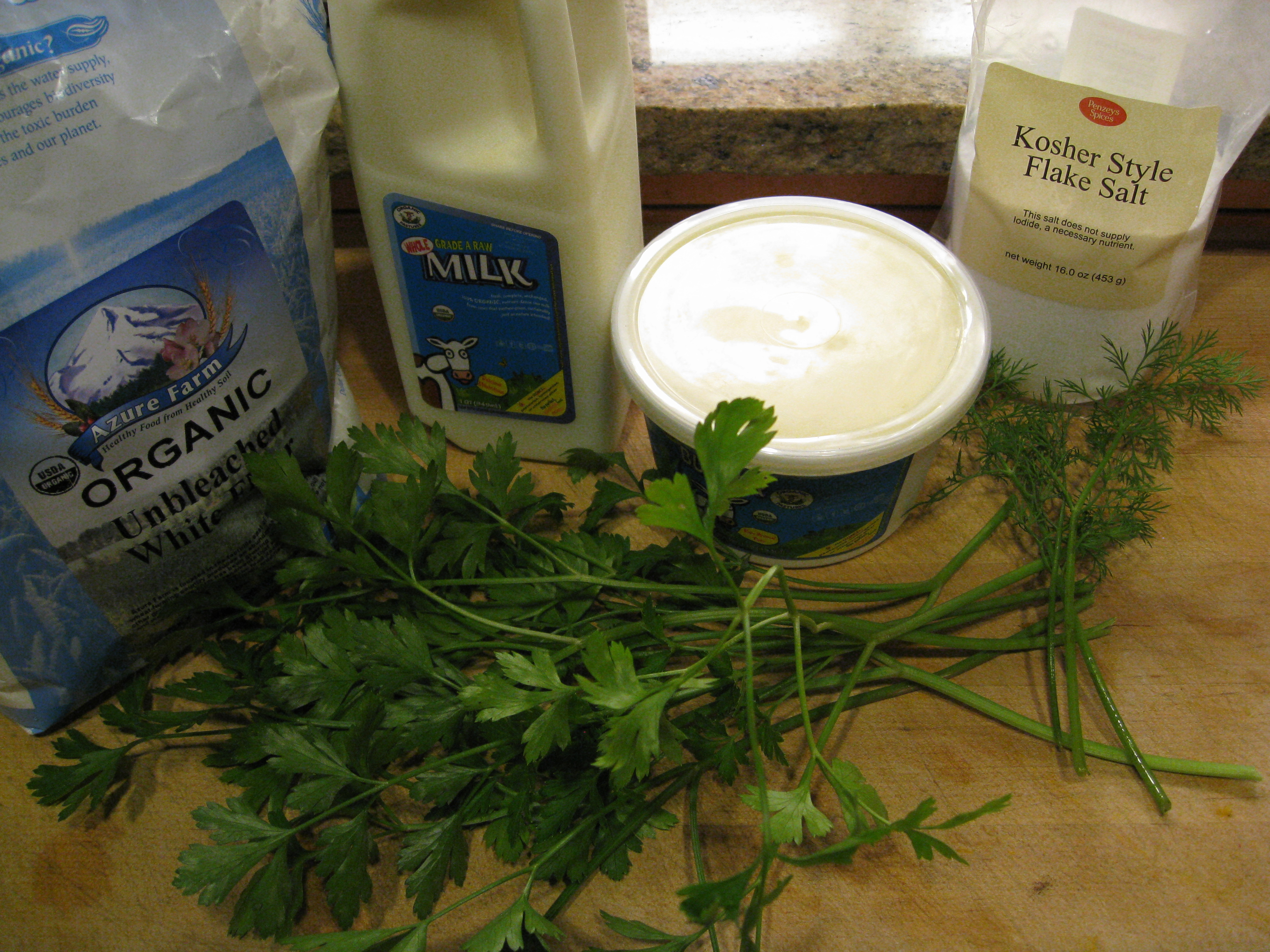 Method:
The instructions say to make the parsley sauce first, but we found it became thicker as it sat waiting for us to make the rest of the meal, thus no need for the cream, so take this as you wish.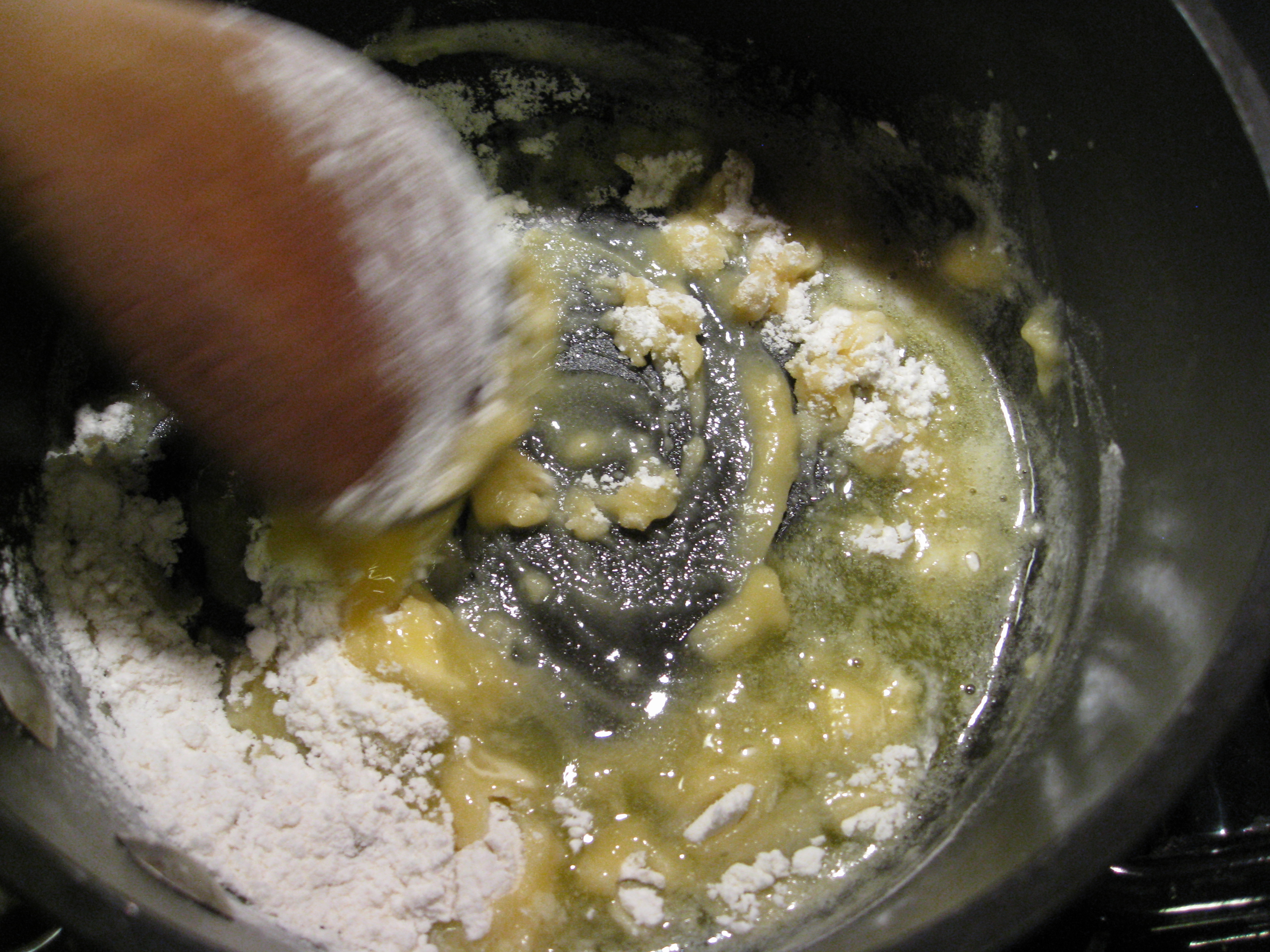 In a saucepan, melt butter over medium heat, and mix in the flour until smooth and frothy (it will bubble). Add half the milk, wisking to combine. We added a little bit at a time to ensure a smooth mixture. Add the rest of the milk (again, a little at a time), stirring vigorously until smooth and thick.
Simmer over low heat for about 7 minutes, stirring occasionally, then add the cream if you're using it. Stir in parsley and season with salt and pepper.
To make the eggplants
Wash eggplants and cut off stems, then cut eggplants into 1/4 thick slices lenthwise (we prefer ours a little thicker) and sprinkle with salt and pepper.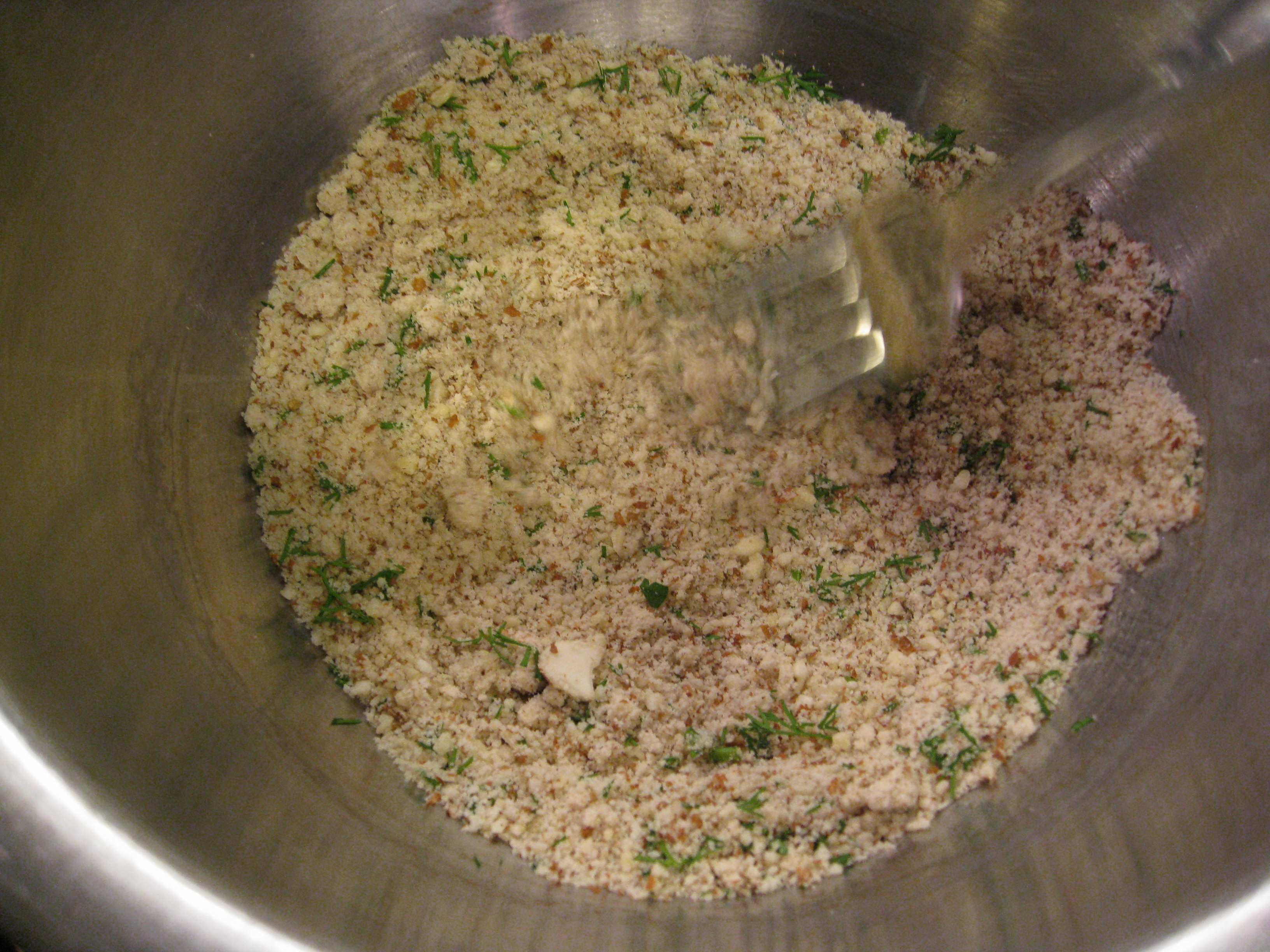 Mix ground almonds with dill. Add in some salt and pepper, then pour the mixture onto a flat plate. Dip each eggplant slice into the egg, then coat on both sides with almond mixture (press into the plate to ensure it sticks).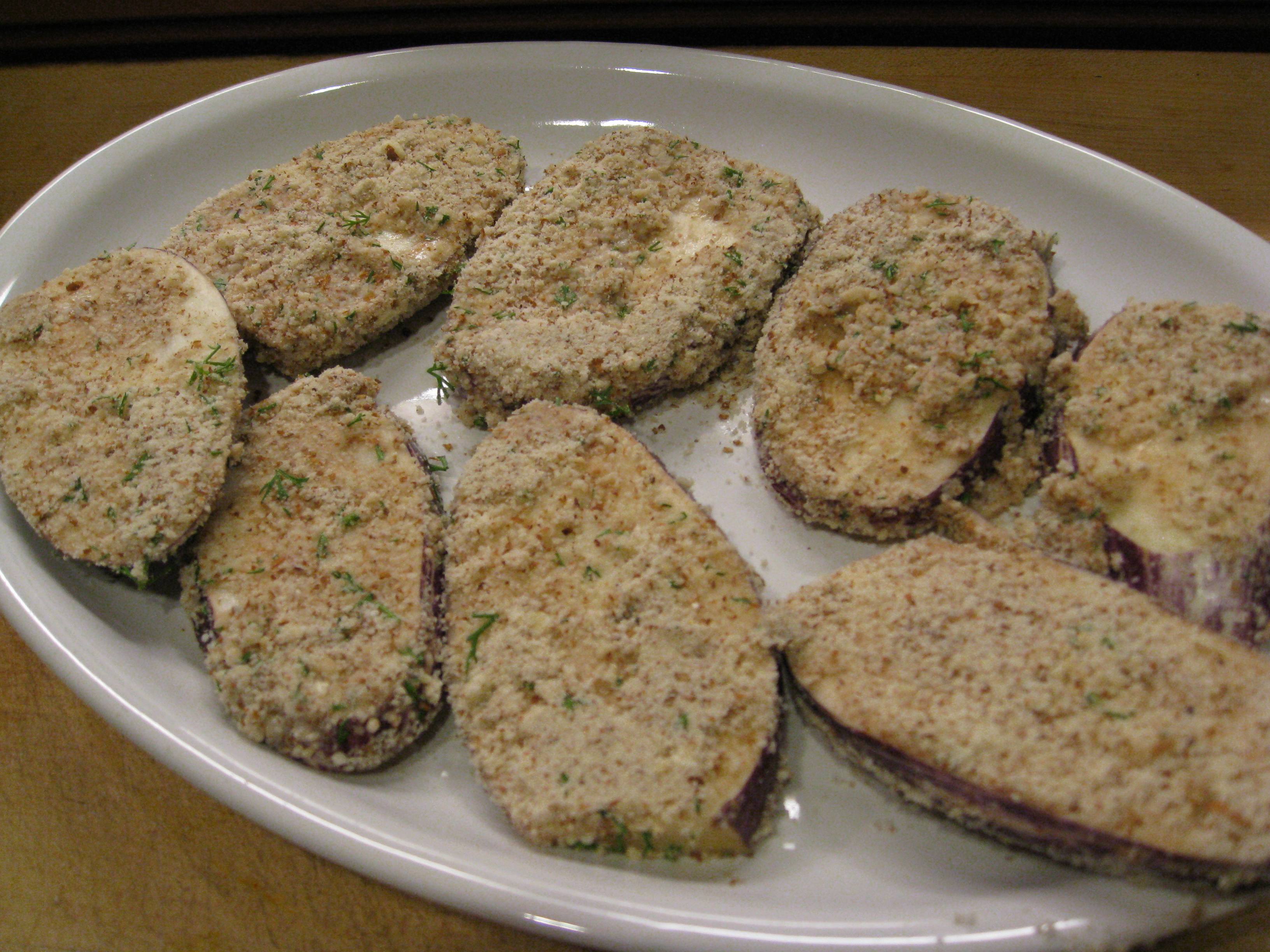 Now to cook: Heat oil in a large skillet and add eggplant slices in a single layer. This may take several batches, but we were able to get them all in one large pan because our eggplants were relatively small.
Cook them about 4 minutes on either side until they are golden and tender inside. If you are cooking in batches, place them under a low broiler to keep warm until you're finished. Drain on paper towels, then serve thusly: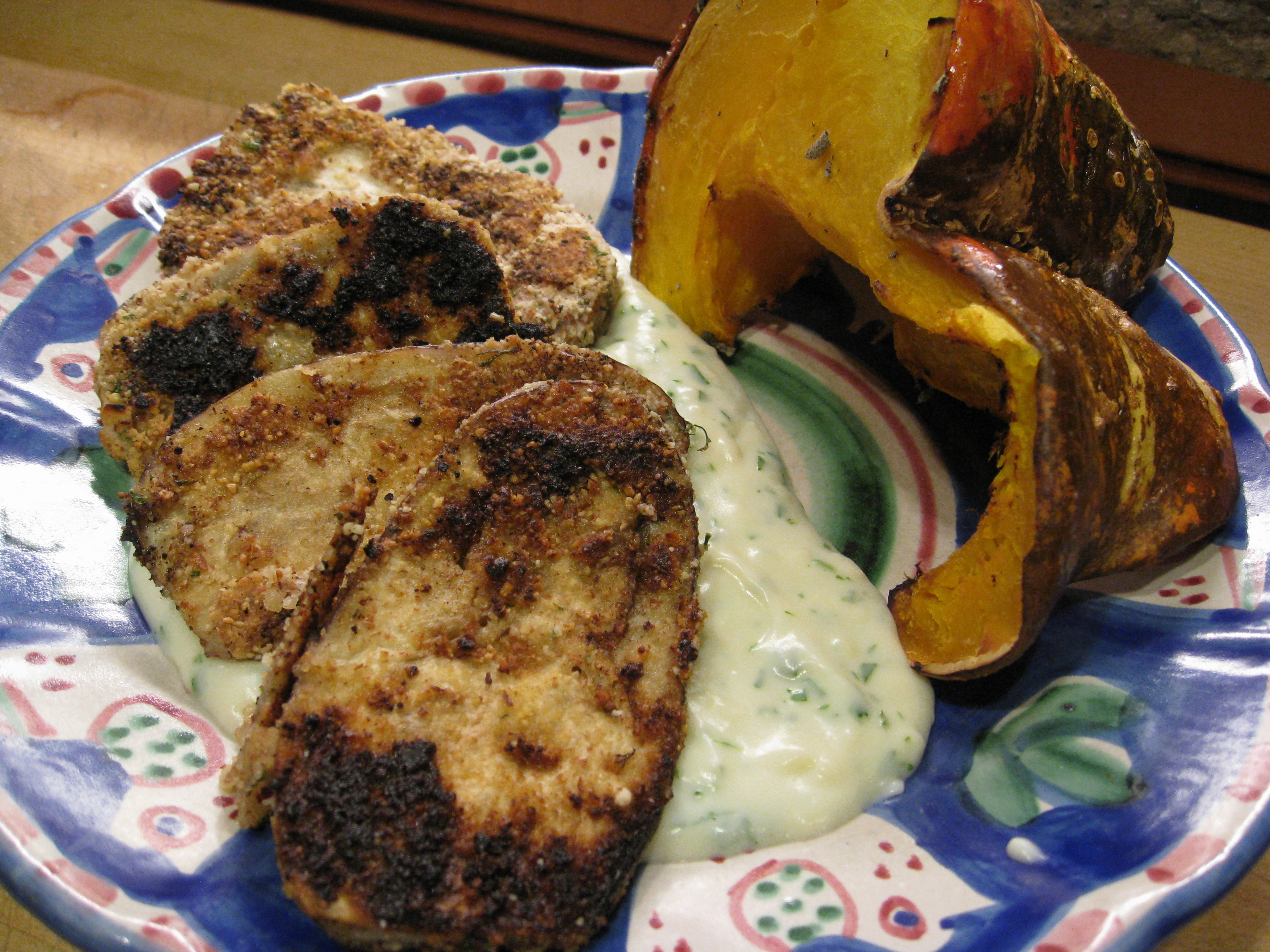 Spoon parsley sauce onto a plate, then add several slices of eggplant on top. Serve with winter squash or another warming winter side. We chose big chunks of roasted Turban squash to accompany our dish. Rose features Rosti with Scallions as her side.
We might have walked away from the pan at the wrong moment, so our eggplants went beyond "golden." They were still delicious, and the parsley sauce made for great dipping.
So, even though it doesn't look anything like Rose Elliot's cookbook photo, it still highlights the flavors of home-grown eggplant and fresh parsley.