Italians believe that San Marzano tomatoes are the only tomatoes for making sauce. I'm Italian, and I've made sauce with just about any tomato I can get my hands on, but this year we grew San Marzano tomatoes for the first time. So there will be sauce.
I grew up watching my mother make my grandmother's recipe for tomato sauce. It took no less than 3-5 hours. She often used canned tomatoes, one of the few canned products we bought. Some years, we went to a local farm on U-pick days. "We're here for about 25 pounds," mom would say toward my brother and me in the back seat of her Buick. Inevitably, we'd come home with over 100 pounds. We'd spend the next day or so canning tomatoes so she wouldn't have to buy them, and so she could make fresh sauce any time of year.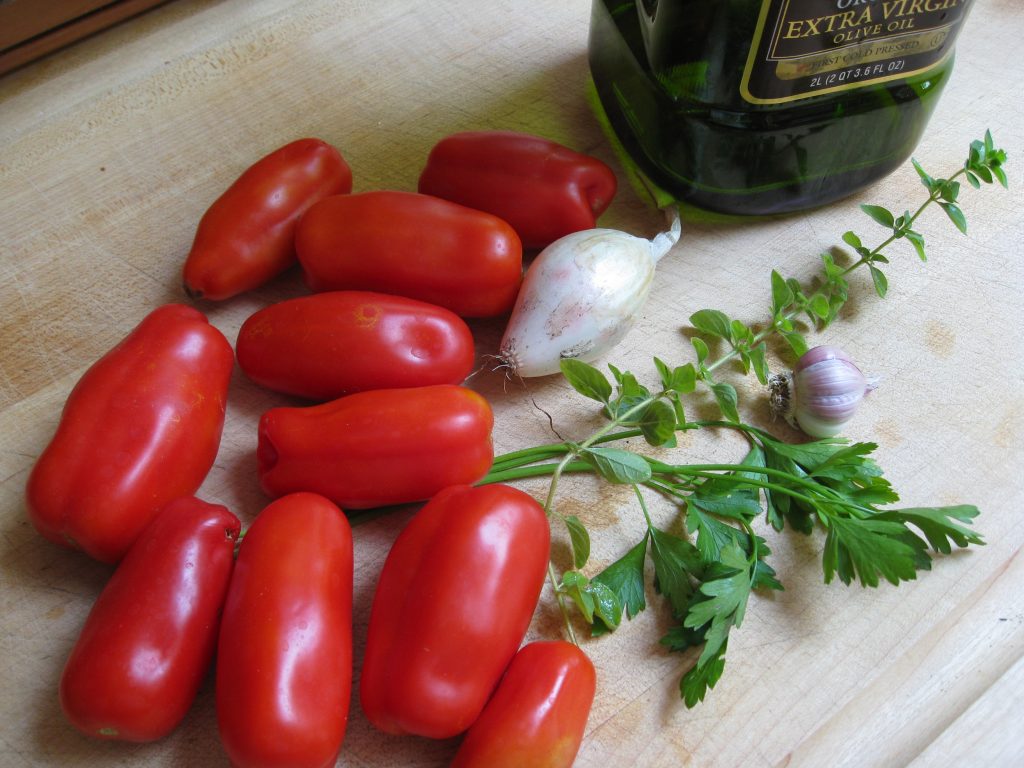 Scouring the interwebs for a good recipe yielded only recipes for canned San Marzano tomatoes. Even my grandmother's recipe used canned tomatoes. After searching for awhile, I found a few fresh tomato recipes to draw from and decided that I would let my genetics determine the recipe. How hard can it be?
We harvested as many San Marzano tomatoes from the one plant we grew (this is going to be a small batch). About a pound. We broke open a fresh garlic bulb and smashed 3-4 cloves. Grabbed a freshly harvested small onion from the table outside, and snipped a sprig of oregano and a few stems of parsley. Basil would come later, added at the end.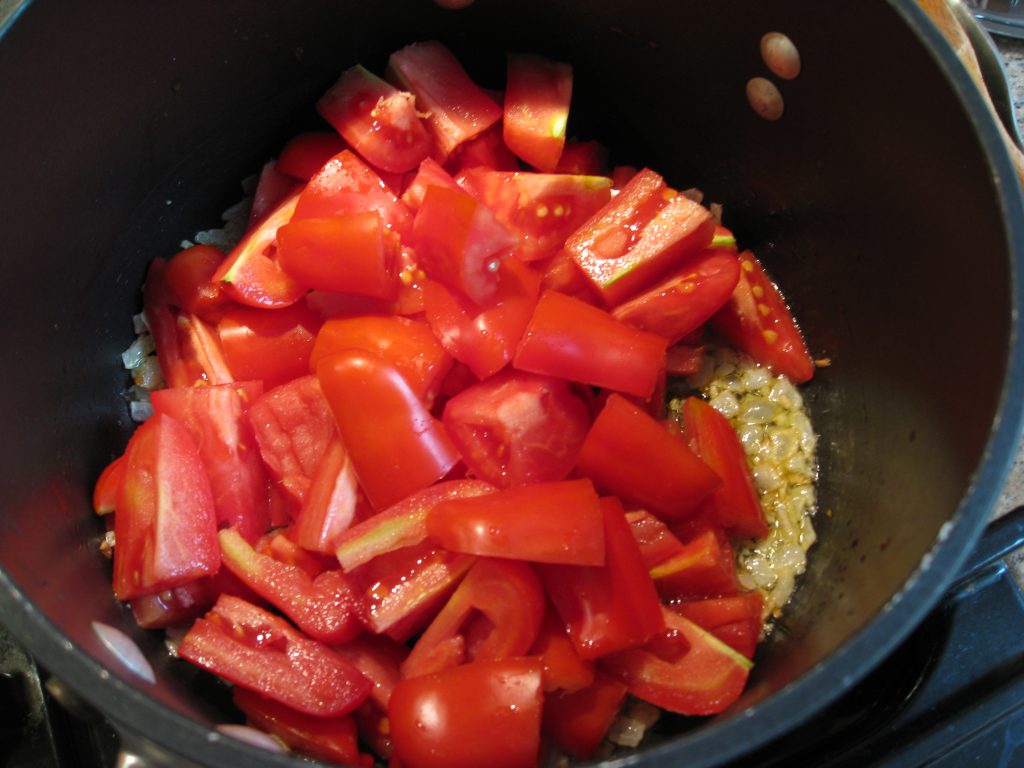 Marcella Hazan (rest in peace) breaks convention and says you don't need to peel or de-seed your tomatoes. I'll run with that. We threw ours in quartered, after cooking the onion and garlic for about 7 minutes (onion first, then garlic in the last minute to prevent burning).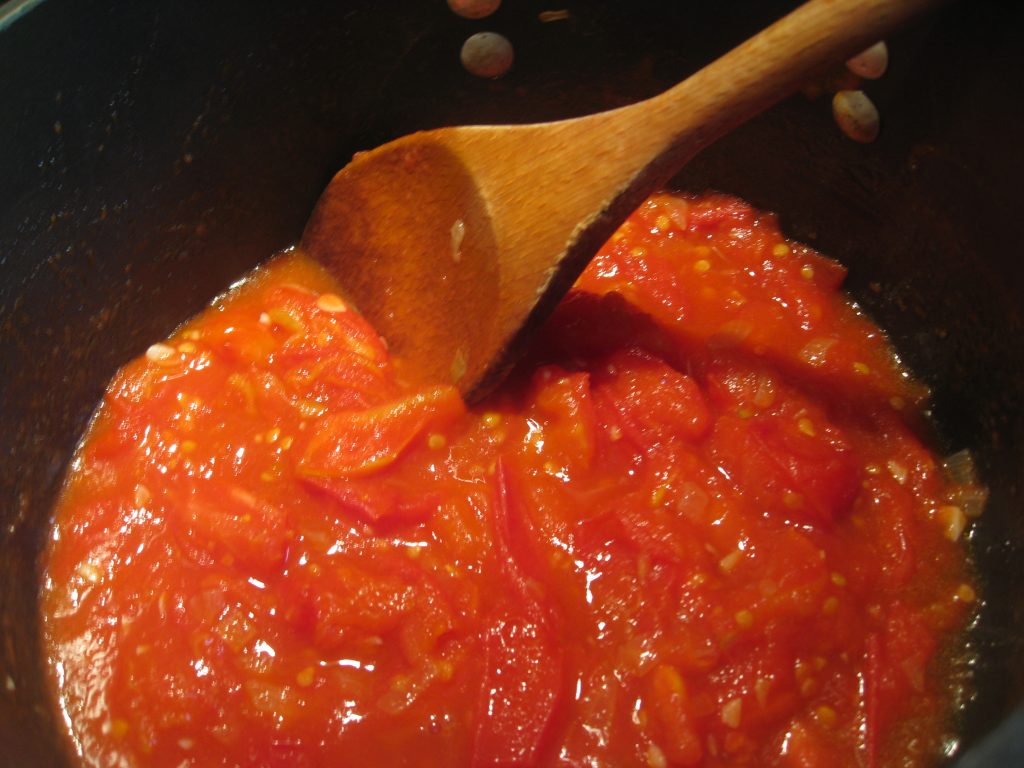 After about 10-15 minutes on a low simmer, we added the fresh parsley and oregano. Fresh herbs are best added toward the end of cooking to preserve their fresh flavors. Toss in a little salt, simmer for another 5-10 minutes, and you're done. We decided to hold off on basil, and add it fresh to whatever we were making with the sauce later on.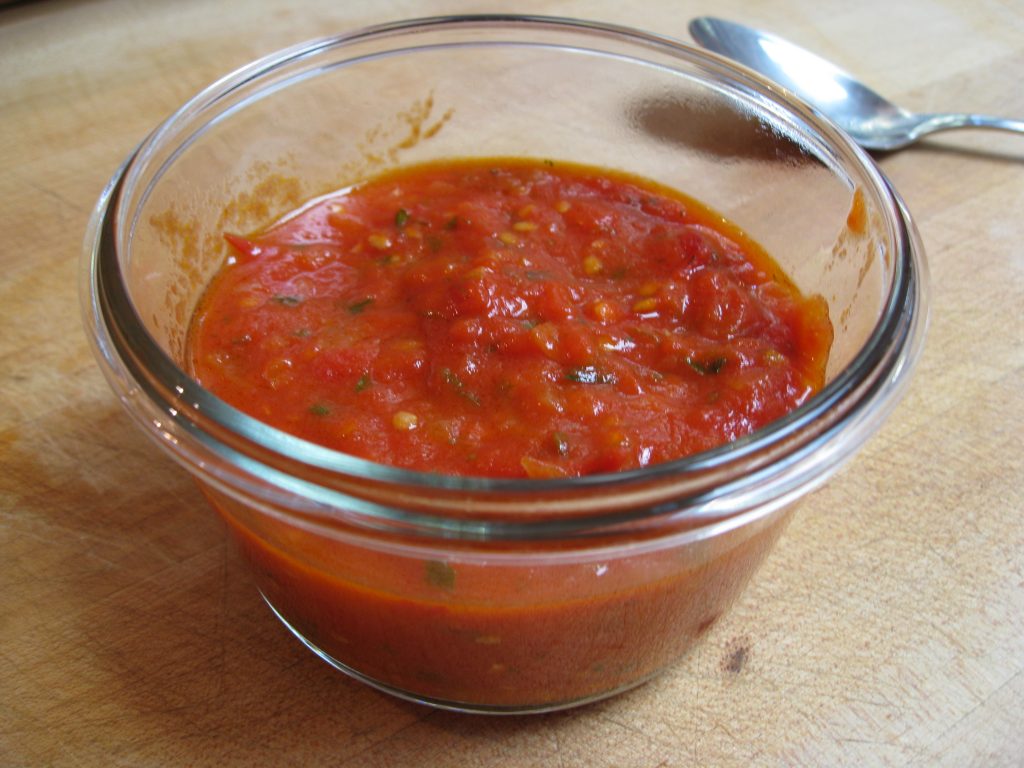 We skimmed off some of the tomato skins to make it more appealing to the masses. What was left but to taste-test?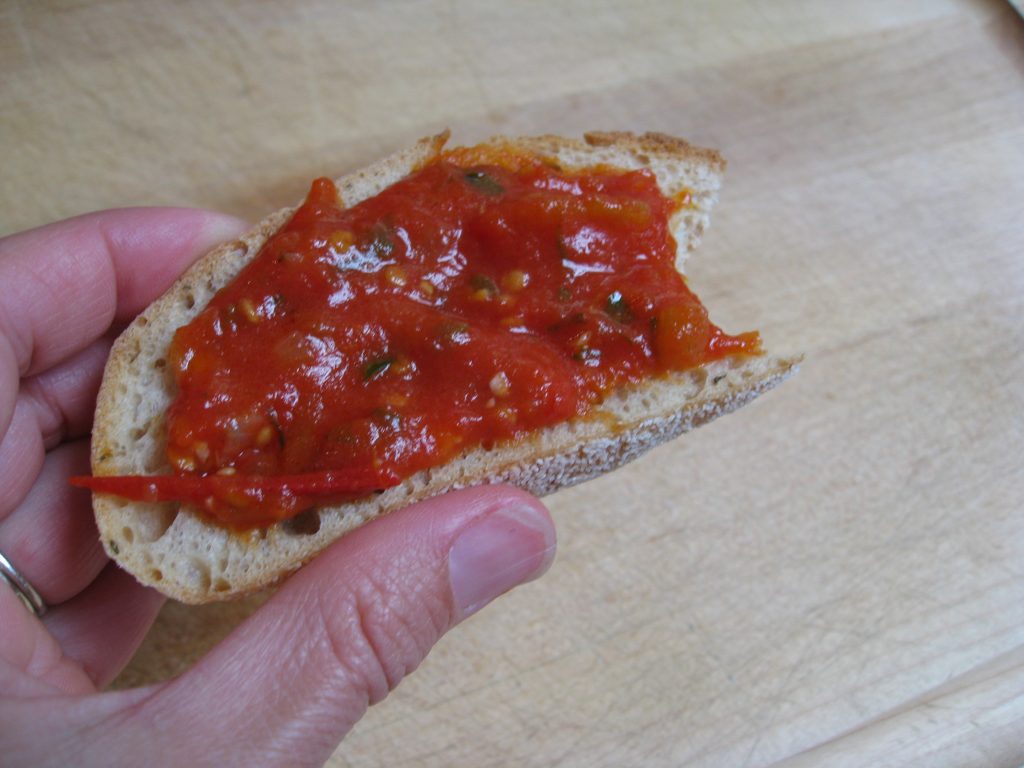 Yum! This sauce can be frozen or canned for later use. In the end, we froze it and used it on pasta at a later date. Delicious!
Quick San Marzano Tomato Sauce
1 TBS organic extra virgin olive oil
1 small onion, chopped
3-4 cloves garlic, minced (or 1-2 large cloves, to taste)
1 pound San Marzano Tomatoes, quartered
1 sprig fresh oregano, finely chopped
2-3 sprigs fresh parsley, finely chopped
1) Cook onion in olive oil over medium heat until slightly golden. Add garlic and cook, stirring frequently, for another minute.
2) Add tomatoes, stir and bring to a boil, simmer until reduced – about 15 minutes
3) Add chopped herbs and simmer another 5-10 minutes until sauce is thick. Skim out some of the skins if desired. Add fresh basil if you want. Enjoy!