If you haven't discovered the new Gardenerd Tip of the Week Podcast format, now's your chance. This week's guest is Barbara Spencer of Windrose Farm. We interviewed her at TomatoBration at Ocean View Farms Organic Community Garden awhile back about her farm, and we asked about her tomato-rearing process. Barbara shares her tomato tips for raising healthy tomatoes with Gardenerd listeners.
Barbara Spencer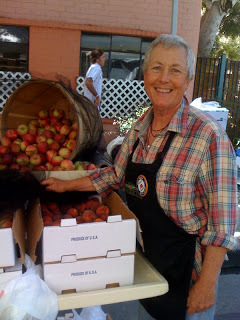 This Week's Tip
We're not going to reveal the awesome tip Barbara shared on the podcast this week, but we'll give you a hint: it solves fungal infestation issues on tomato plants. Listen to find out!

Subscribe to the Gardenerd Tip of the Week Podcast to hear great tips from experts in gardening, bee keeping, homesteading and more. Find our podcast on iTunes, Stitcher, Google Play, Overcast, Podbean and probably a bunch more.
We publish a new Tip of the Week Podcast every 2 weeks. Learn from great gardeners and homesteaders as Christy casually chats with guests about stimulating topics. Apply those tips to your garden and every day life. Knowledge is power. Let's learn together!