Now that we've finished combing through the pile of seed catalogs that came in the mail over the holidays, we've made our list of new seeds we'll be planting this spring. It's a Gardenerd tradition to share our new seed favorites for each year. Let 2015 be no exception.
Several of our selections came to us via seed saving:
Marina di Chioggia
David King at the Seed Library of Los Angeles handed out wedges of Marina di Chioggia squash last summer for gardeners to take home and eat, if we promised to bring back the seeds for the Library. We may have kept a few for ourselves in the process.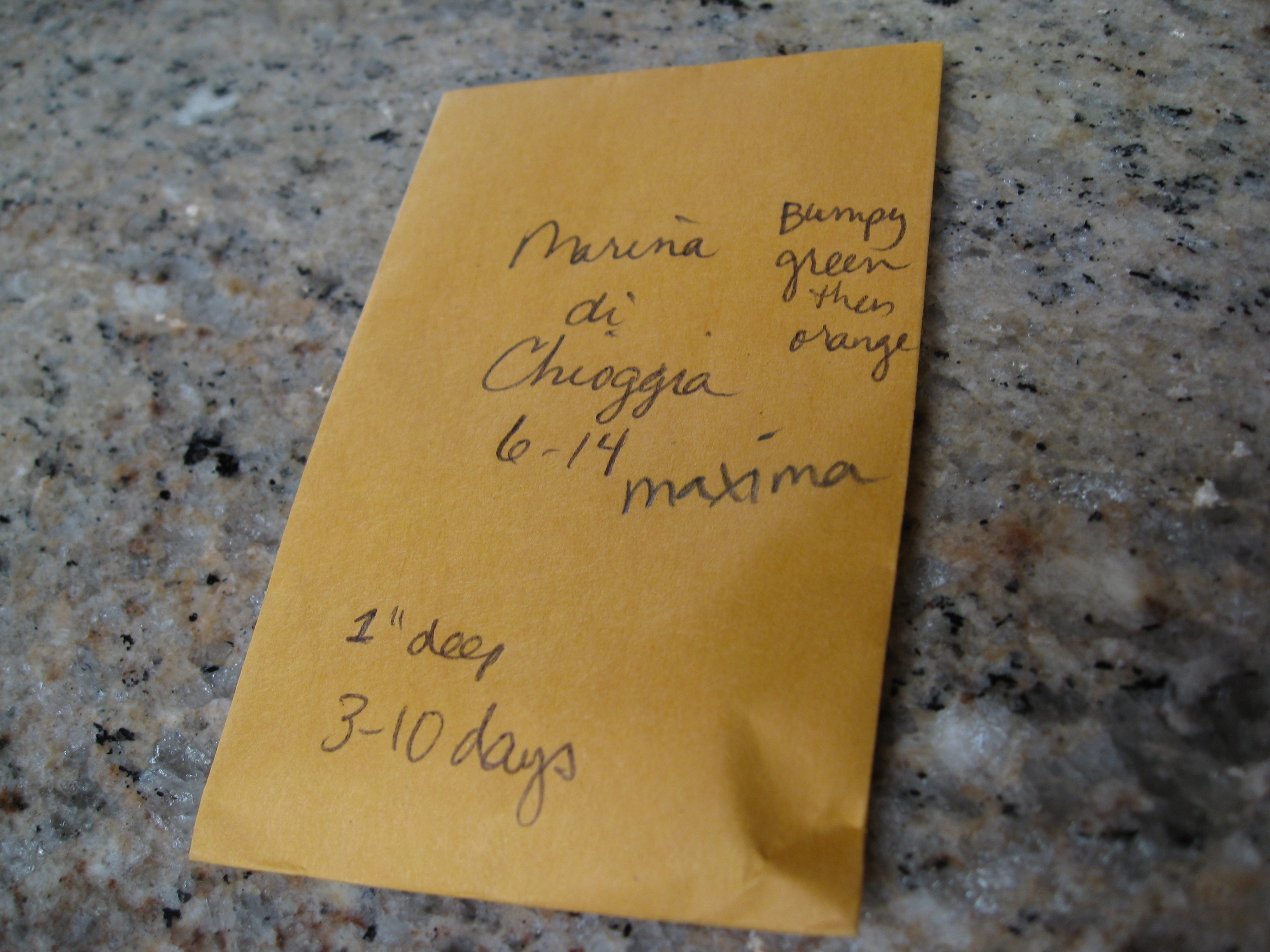 Turban (or Turks Cap) squash
We also saved seed from the Turban squash we pilfered from the Heirloom Expo last September. We have no idea how it was grown (whether varieties were mixed in the field or not), so the seed may be the result of cross pollination. We'll have to wait and see if it grows true to type.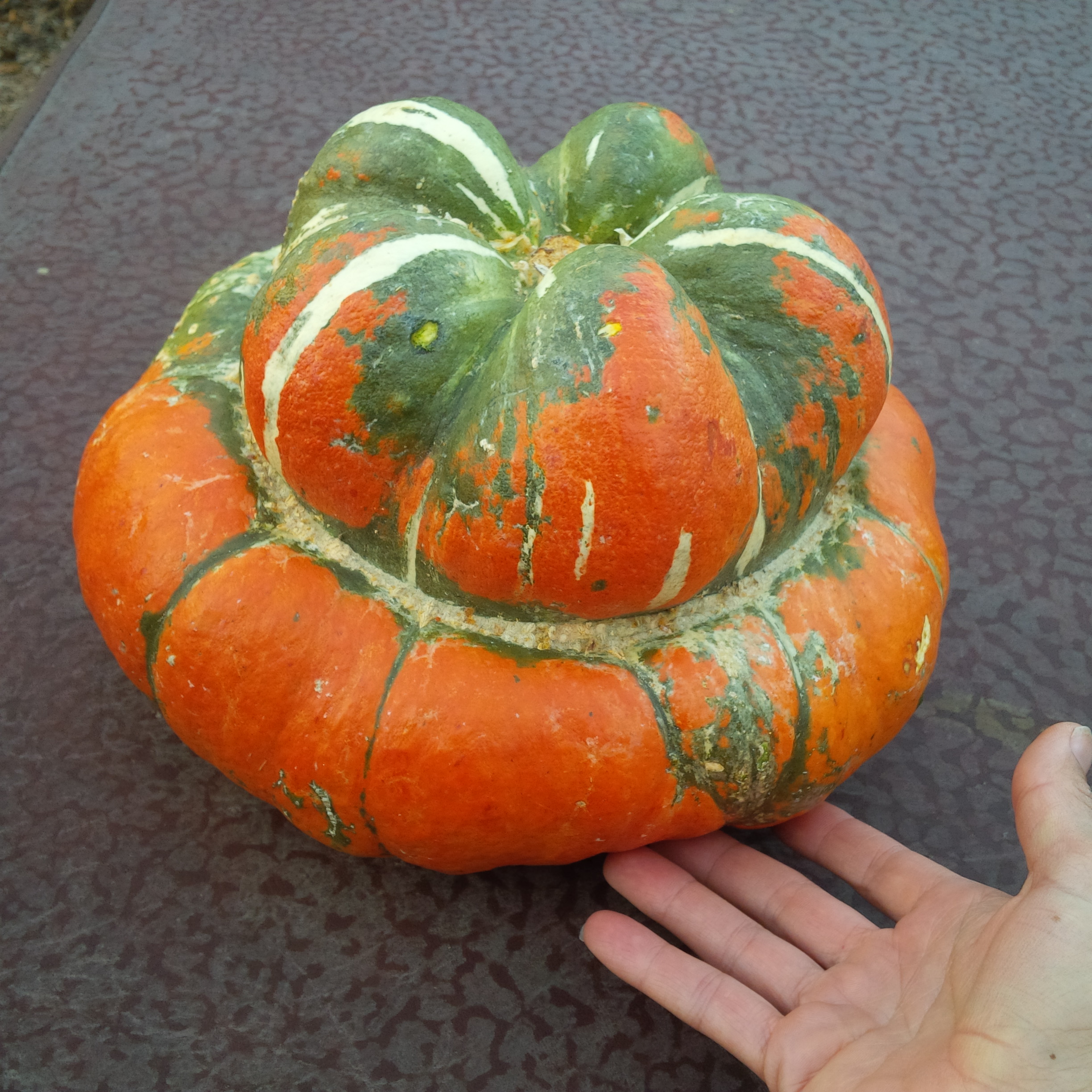 Aunt Molly's Ground Cherry
The last saved seed came to us from our friends up north, Dave Ledoux of Back To My Garden in Canada. He sent us Aunt Molly's Ground Cherry. I didn't even think we could grow ground cherries here in SoCal, but apparently there have been successes in the area, so we'll give it a try.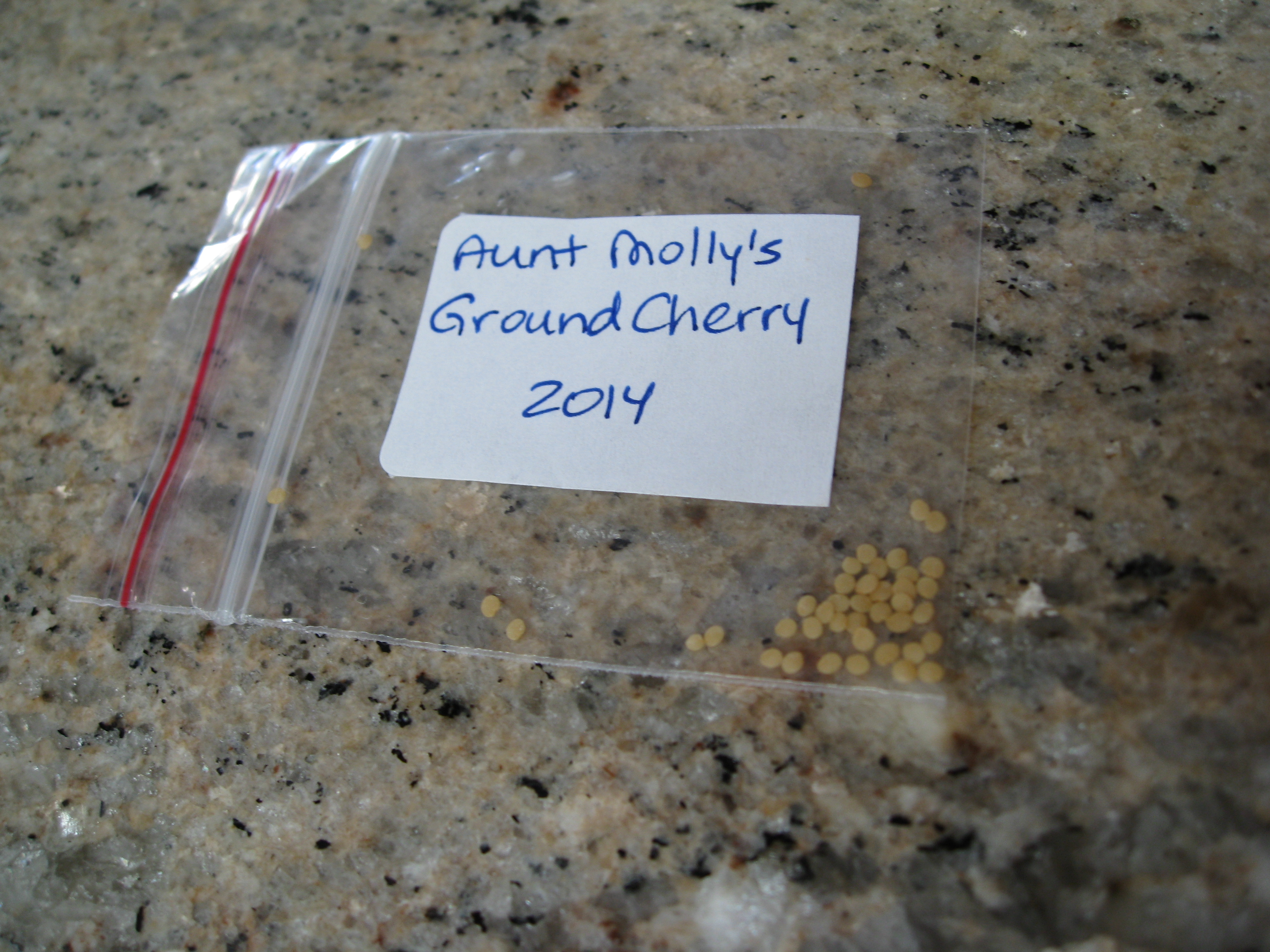 Our next selections came from our time in Seed School with Native Seeds/SEARCH last February. Not only did we pick up some loofah seeds that we'll be growing out this year, we also fell in love with several other varieties:
Tohono O'olham Cow Peas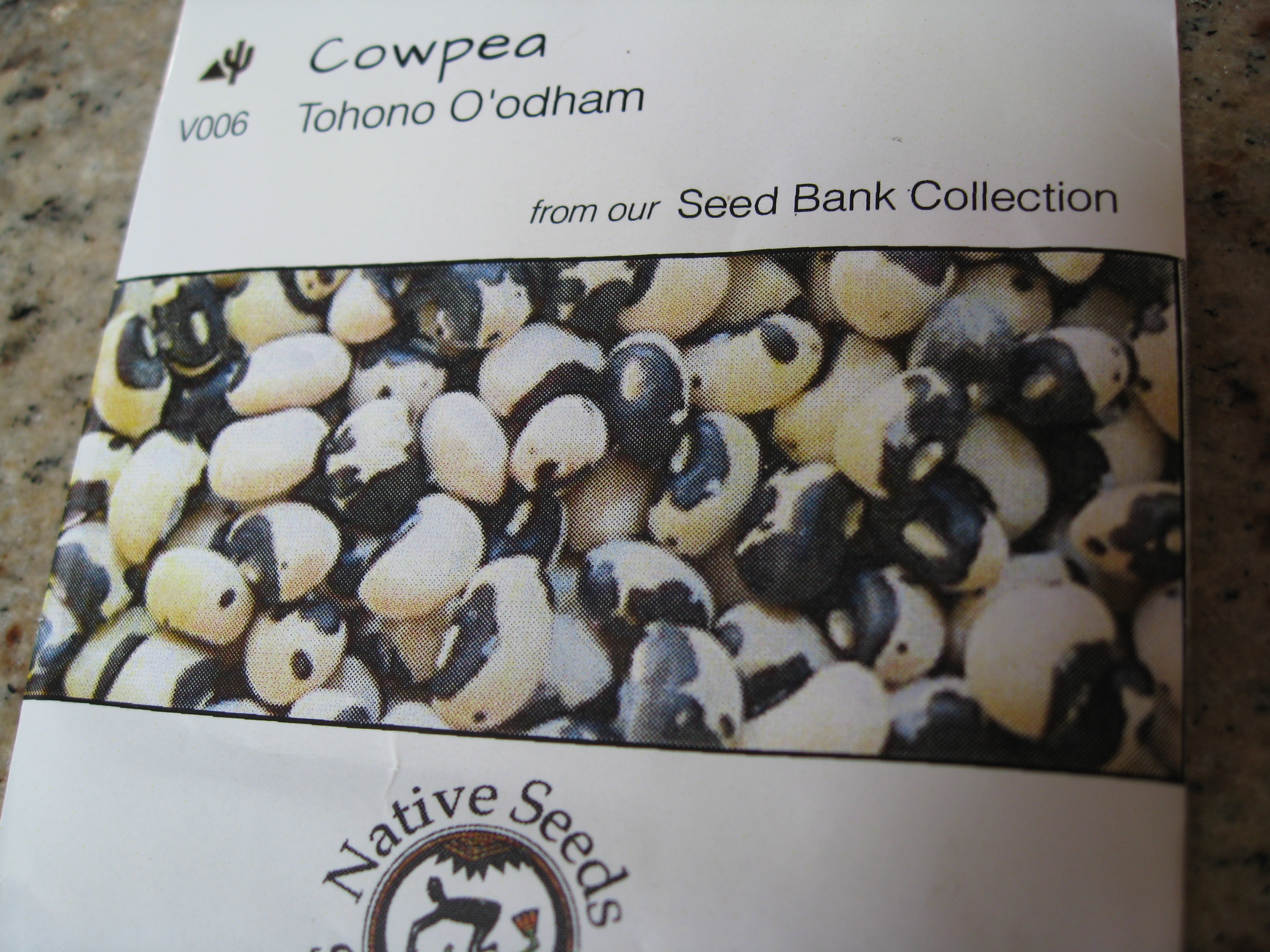 We've never grown cow peas before, so this will be a first.
Silver Edged Pumpkin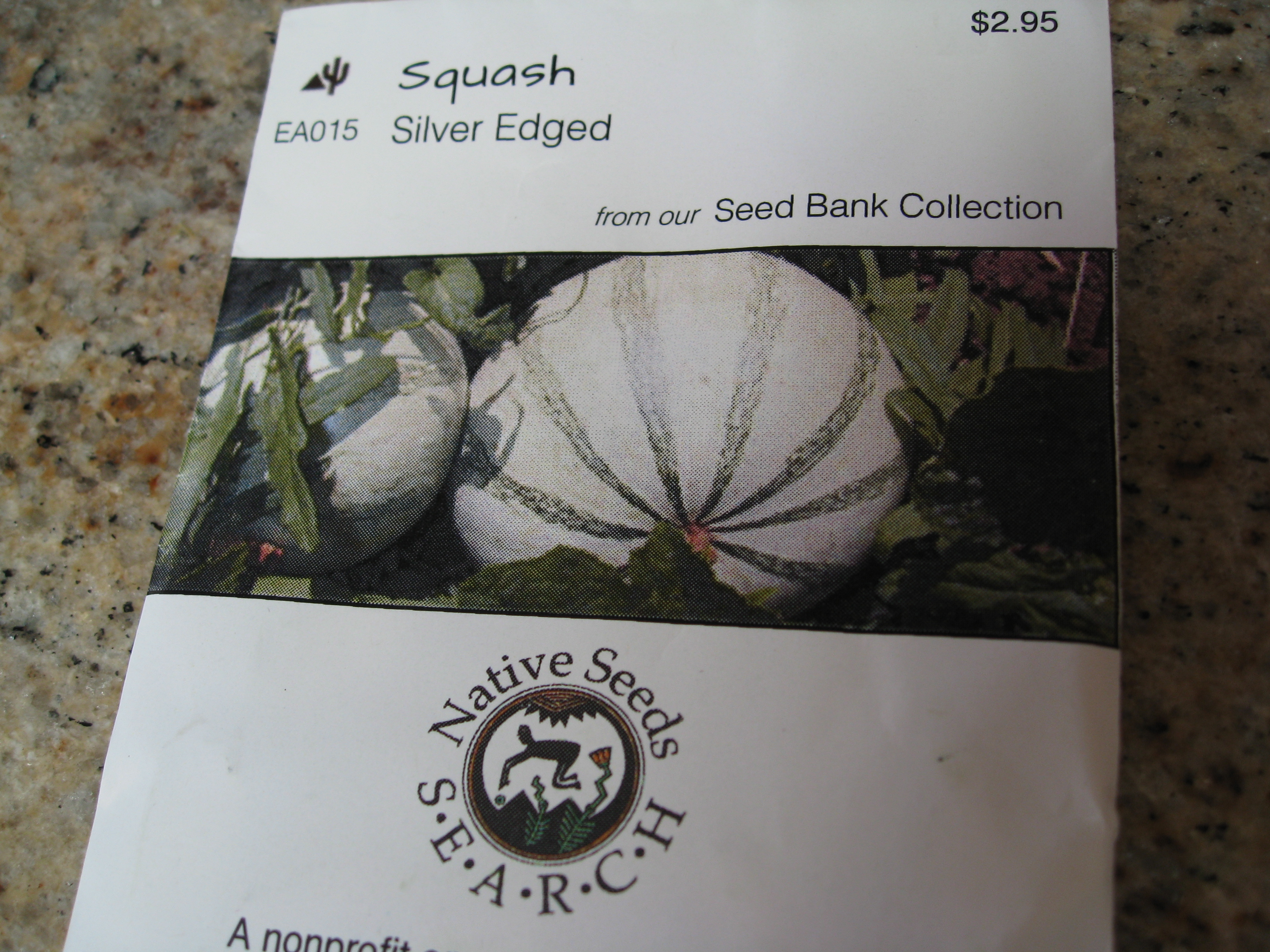 The seeds are literally edged in silver. So beautiful!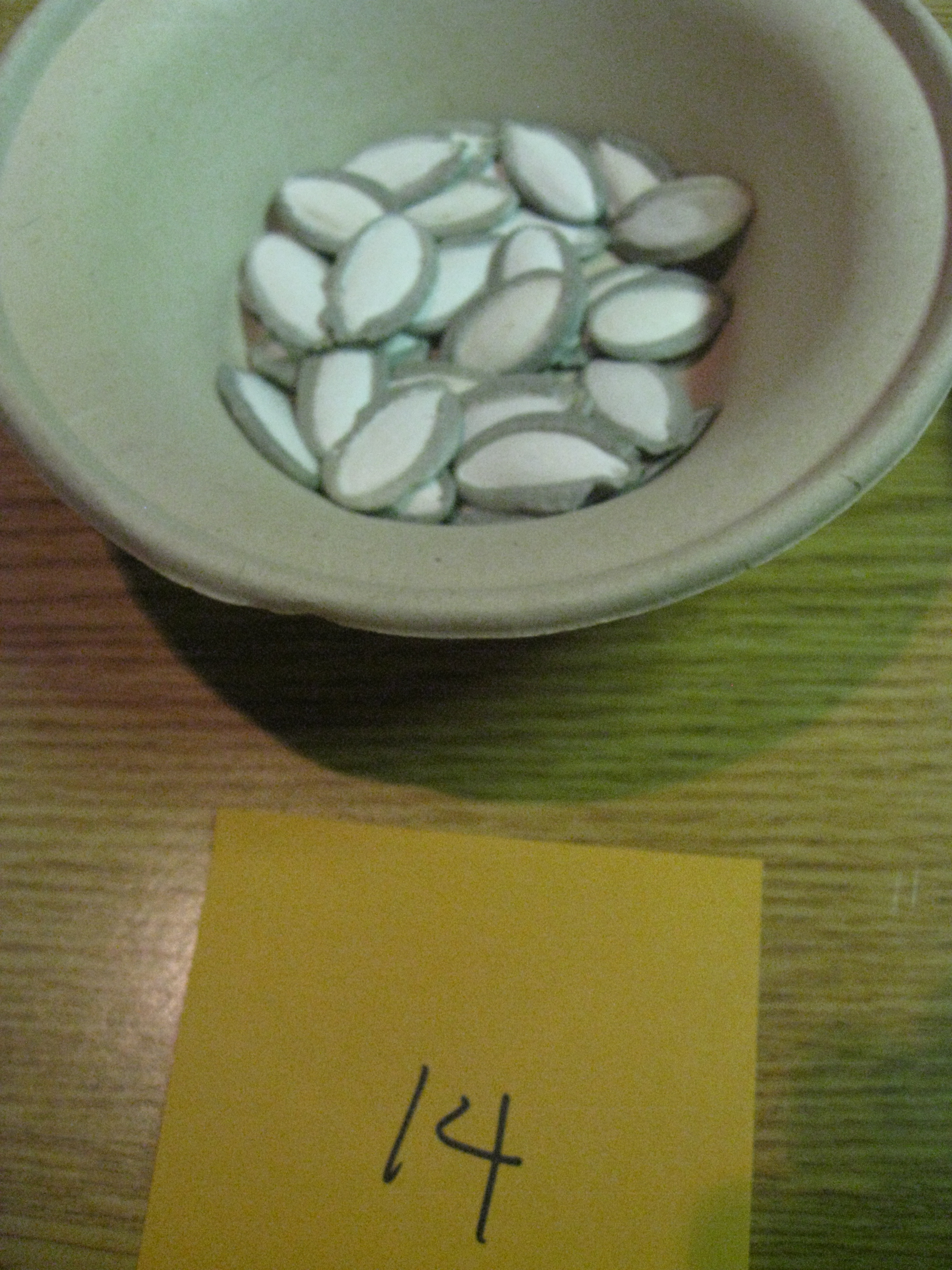 Mrs. Burns' Lemon Basil
This seed has a history, as it comes from the mother of one of the founders of Native Seeds/SEARCH. Those who have grown it rave about it, so we're ready to give it a go.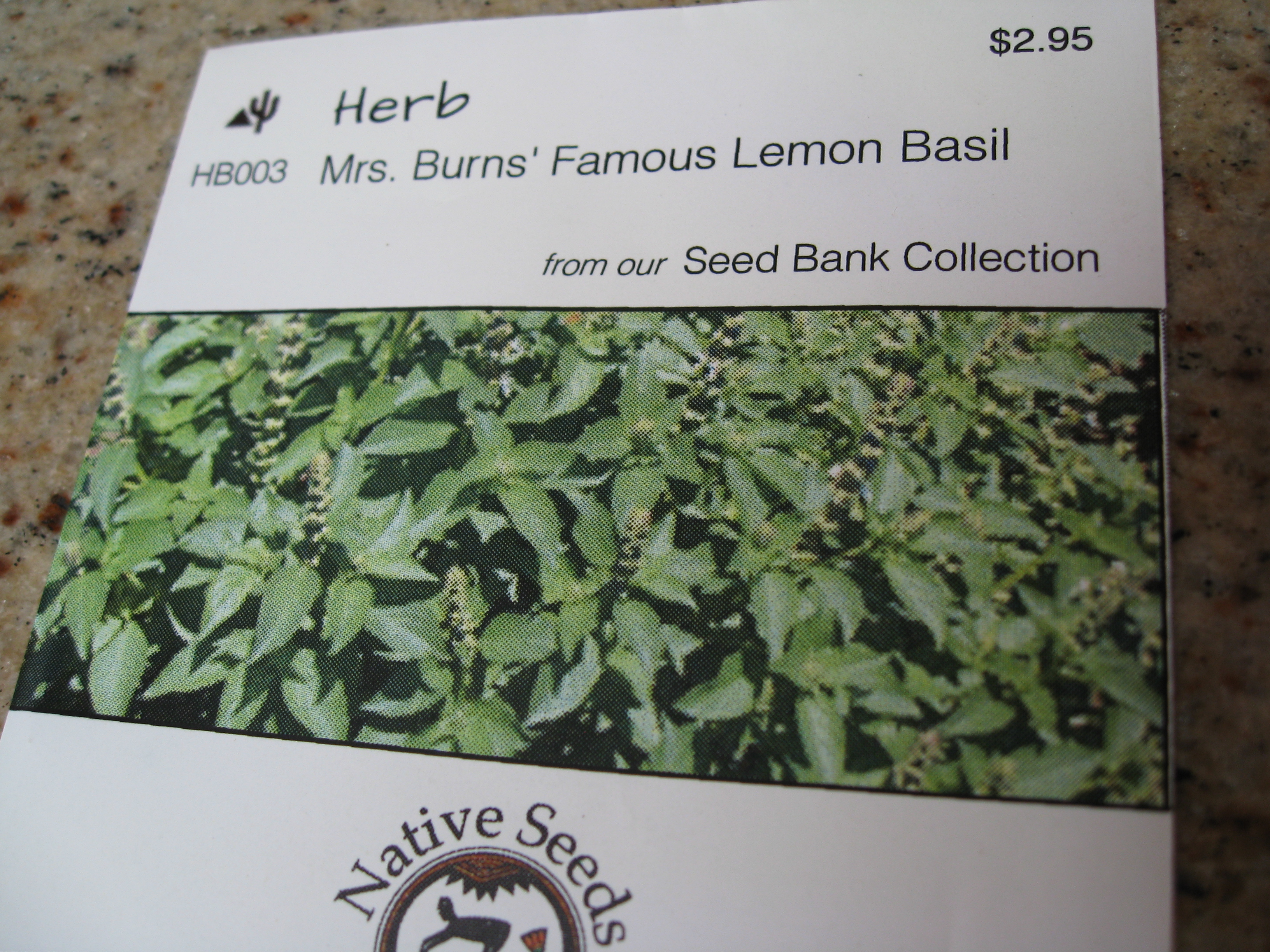 Platinum Cucumber
Seeds of Change was one of my early favorite seed companies as a new gardener (before they were purchased by M&M/Mars several years ago). Still they carry some heirlooms you can't get anywhere else. They sent a new introduction this year, a white-skinned, open pollinated Platinum Cucumber. Since we try to grow 4 varieties each year, this fits in nicely to our plans.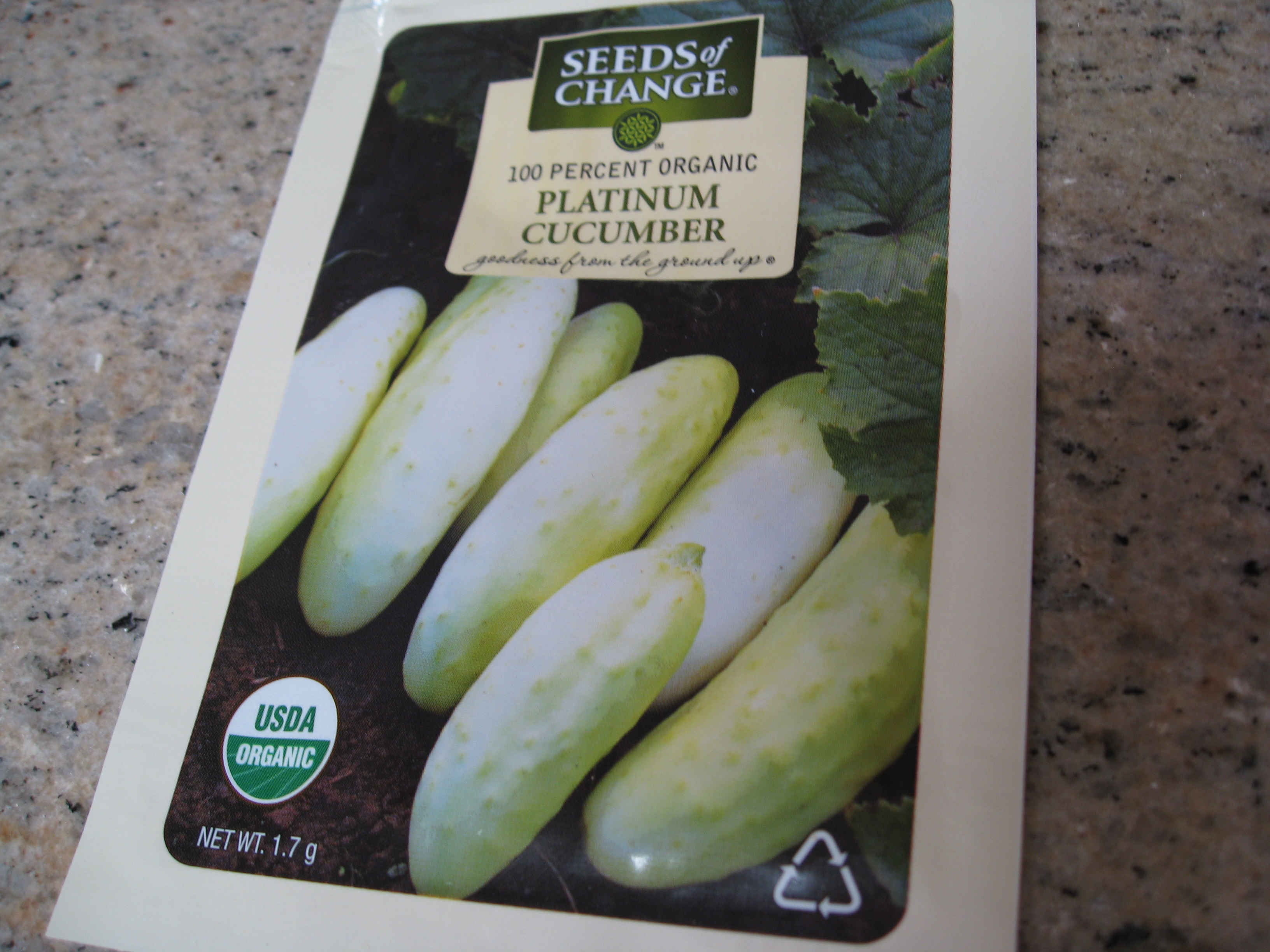 Country Gentleman
As for corn, we're holding off on growing Glass Gem popping corn until next year, since our pantry is full of Dakota Black popping corn from last summer's harvest. This year, it's sweet corn: Country Gentleman. Yes, it's one of the oldest heirloom corn varieties around, and we probably should have grown it by now. So many options, so little space! This year we're biting the bullet (such a hard one, believe me).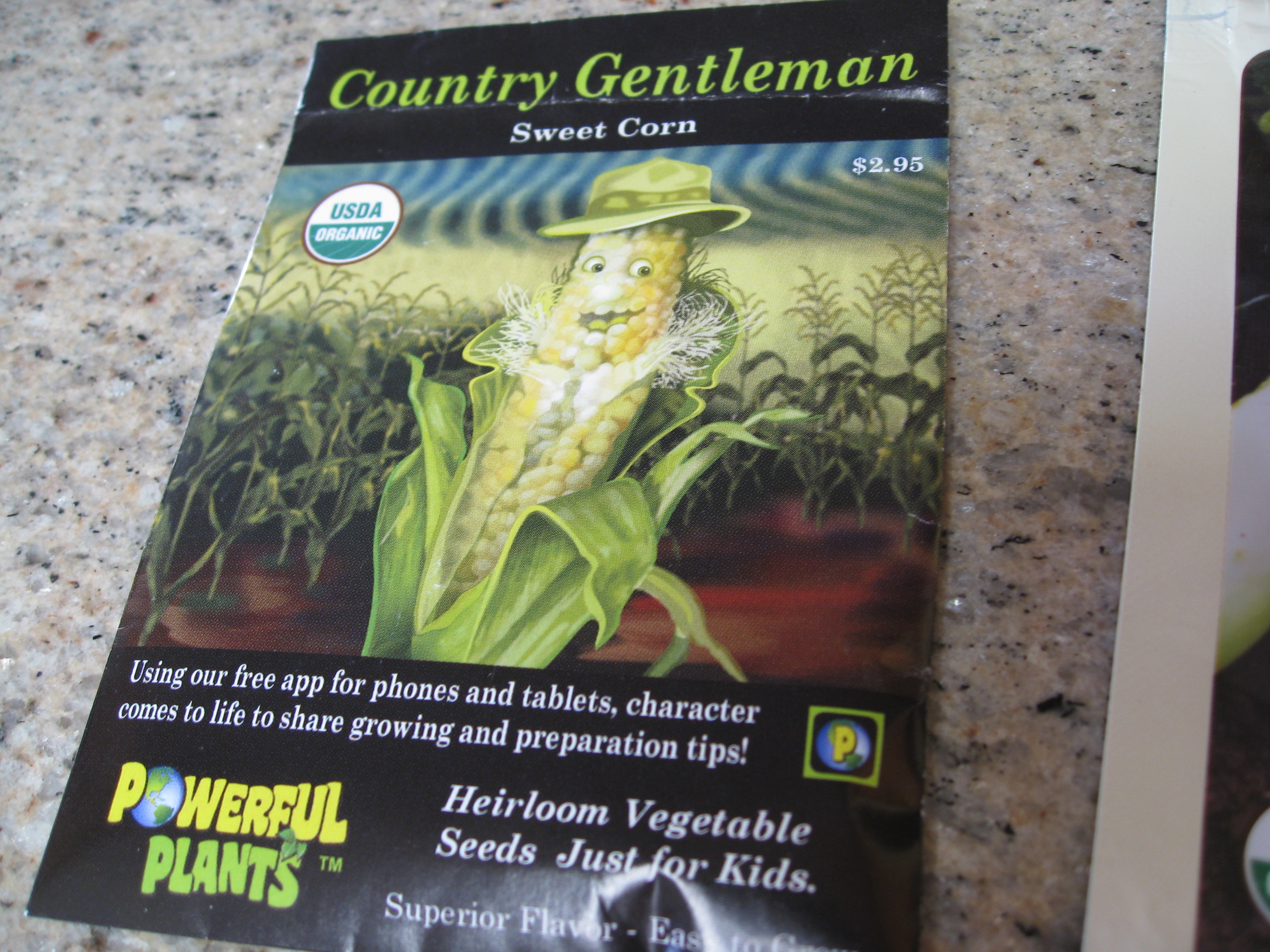 This particular seed came to us from Powerful Plants, a new company with an interactive children's book that teaches kids about specific plants and their healing or other "powerful" properties (think aspirin from willow trees, and good eyesight from carrots, etc.). The book is clever, in that you download a free app and point your phone at the book, bringing the characters to life on the page. The story follows a carrot who has been kidnapped by a scientist who wants to genetically engineer the carrot to produce more abundantly. While we completely agree that kids need to learn about our food system and the hazards of GMOS, we found it a bit heavy-handed with the messaging. The book teaches kids to be judgmental and hate Big Ag companies and scientists, rather than teaching kids the non-judgmental tools for persuasive argument to educate people toward different choices. We believe there is a huge difference between the two that will make or break our future Earth, and our next generation of farmers. We'd like to see that in Powerful Plants' next book.
Anywho…back to seeds.
Roman Candle Tomato

We couldn't have a list of favorite seeds without including something from Baker Creek Heirloom Seed Catalog. We picked up a packet of Roman Candle tomato seeds at the Heirloom Expo. (edit: Baker Creek Heirloom no longer carries the Roman Candle, but Tomatofest does)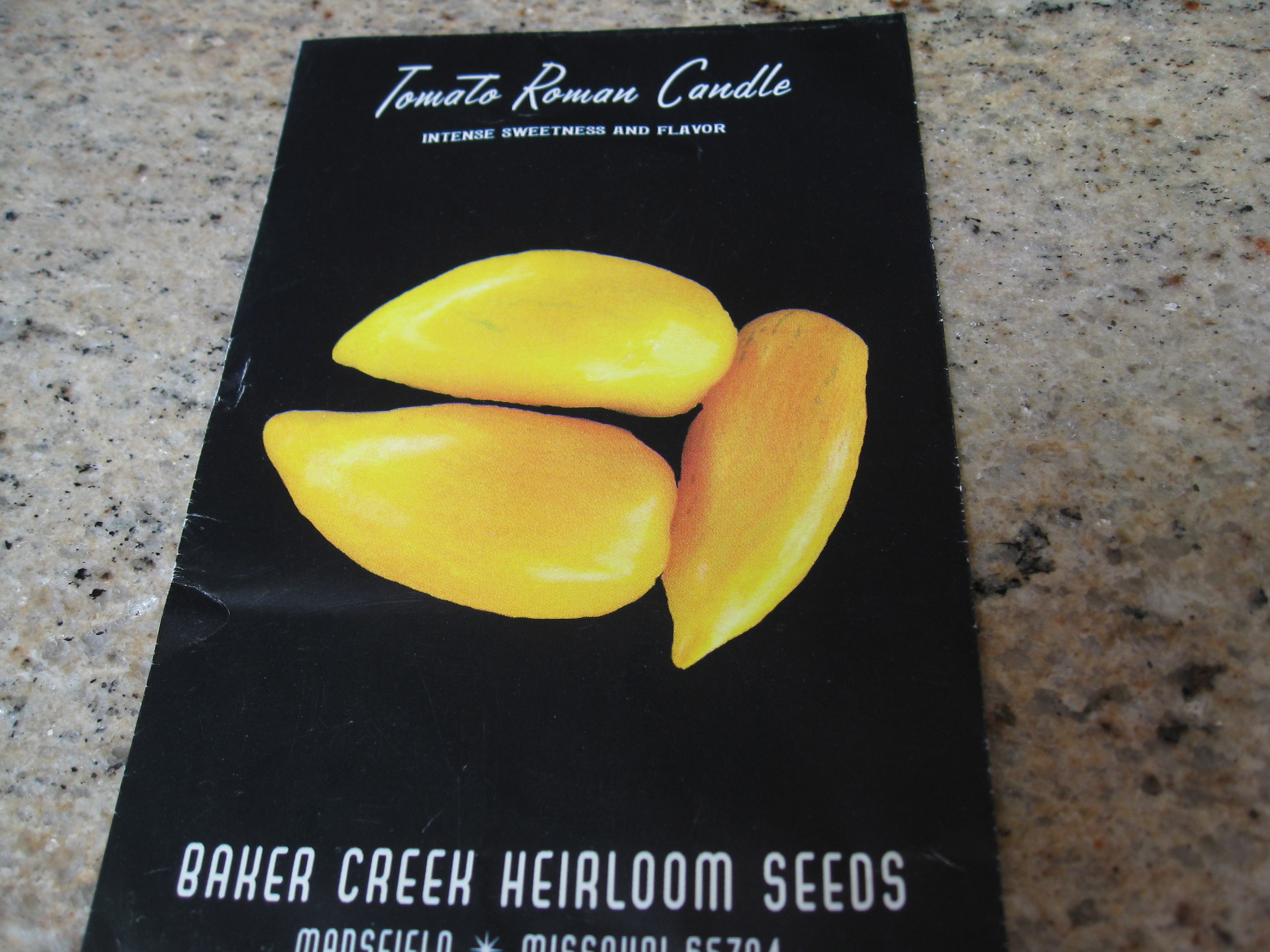 We'll plant them next to our Striped Roman tomatoes and see how they do.
Basil Aurelia
Renee's Garden Seeds always offers members of the Garden Writers Association the chance to pick out free seeds to trial each year. We picked two that looked really exciting, the first being Basil Aurelia.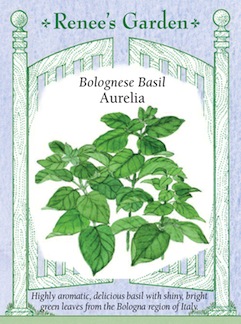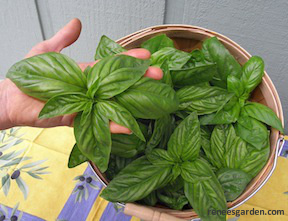 Baby Honey Nut Squash
It's a mini butternut squash with beautiful coloring in a personal size. We've enjoyed growing Waltham butternut, but we're ready for a change.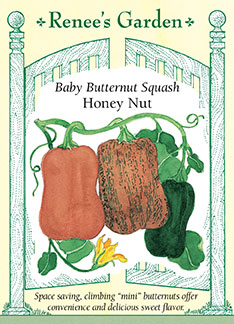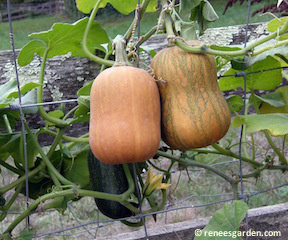 We actually have more new seeds we're trying out this season, but we'll leave this list alone here. What new seeds are you trying out this year? Post your favorites below in the comments section.