Spring is coming, and with it comes garden pests. Be ready for spring by signing up for one of 3 Live Virtual Pest Control Masterclasses with Christy.
This time of year, we gardenerds have completely forgotten the woes of last year's garden – the pests, the damage, the lost harvests. It doesn't have to be that way. Plan ahead this year, and feel more confident and empowered for your next garden. Join us for…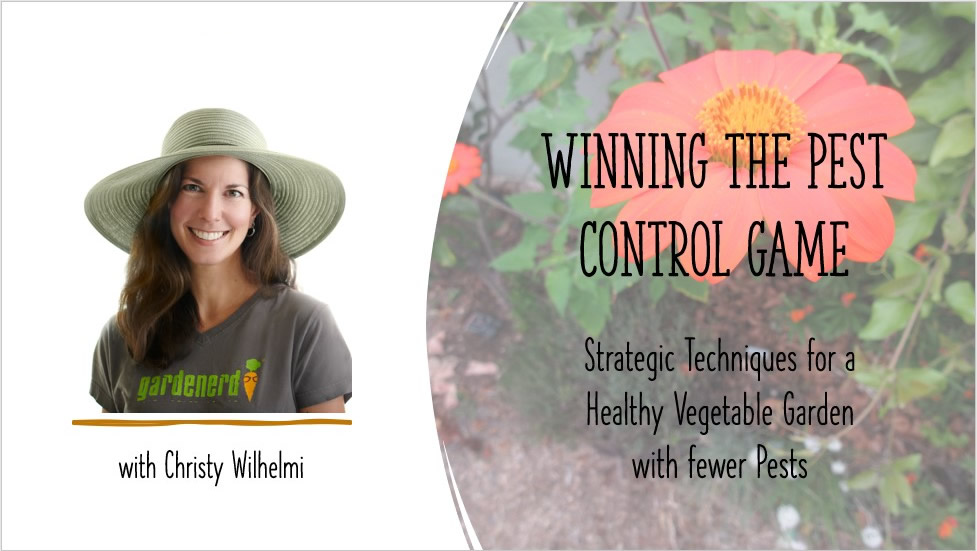 In this LIVE pest control masterclass Christy will share:
A 5-minute Garden Check-In Exercise you can do in your own garden.
The Best Physical Barriers that you can use to keep your plants safe from marauders.
Nifty Researched Solutions you can count on this spring and summer.
Plus, a LIVE Q&A after the pest control masterclass is finished. Bring your burning gardening questions! AND, we'll also reveal details about our upcoming Online Pest Control Course.
Choose the best date and time for you:
Tuesday, February 22 at 6 p.m. PT / 9 p.m. ET
Wednesday, February 23 at 4 p.m. PT / 7 p.m. ET
Wednesday, March 2 at 10 a.m. PT / 1 p.m. ET
If the technology gods are with us, we'll also stream this LIVE on the Gardenerd.com Facebook page. But don't miss the chance to join in and ask questions live (we won't see your questions on Facebook). RSVP to one of the dates above.
Start off the spring season with confidence and the knowledge you need for a successful garden. We hope to see you there!