Today's post is from guest blogger Randy Schultz from American Meadows. Butterflies need our help and in this article he suggests plants that provide habitat for these beautiful creatures. Take it away Randy:
Essential Plants for a Great Butterfly Garden
Everyone loves butterflies. These delightful insects are like flying flowers, adding color and
movement everywhere they go. Unfortunately, these beautiful insects are in trouble. The populations of many species, including the monarch butterfly, are dwindling due to shrinking habitat. But there is plenty that gardeners can do to help ensure the health and safety of local butterflies.
Start by adding a water feature. A small pond is a butterfly magnet, but so is a shallow dish filled with rocks or gravel that gives butterflies a safe place to drink.
Butterflies also need shelter. Their delicate wings don't hold up well in wind or rain. Provide shelter with thick shrubs or a brush pile to give them a place to hide and rest. Native bees and butterflies may also choose to hibernate in these places.
Perhaps most important of all is growing butterfly-friendly plants. Add flowering plants that provide butterflies with the nectar and host plants they need in their larval (caterpillar) stage. Monarch caterpillars, for example, eat only native milkweed. Other butterfly species prefer different flowering plants.
Many of the native plants and flowers that butterflies depend on have been paved over to make way for urban development. To turn your garden into a true butterfly sanctuary, add some of the native and adapted perennials described below. Butterflies will thank you, and you'll enjoy how easy these plants are to grow and enjoy.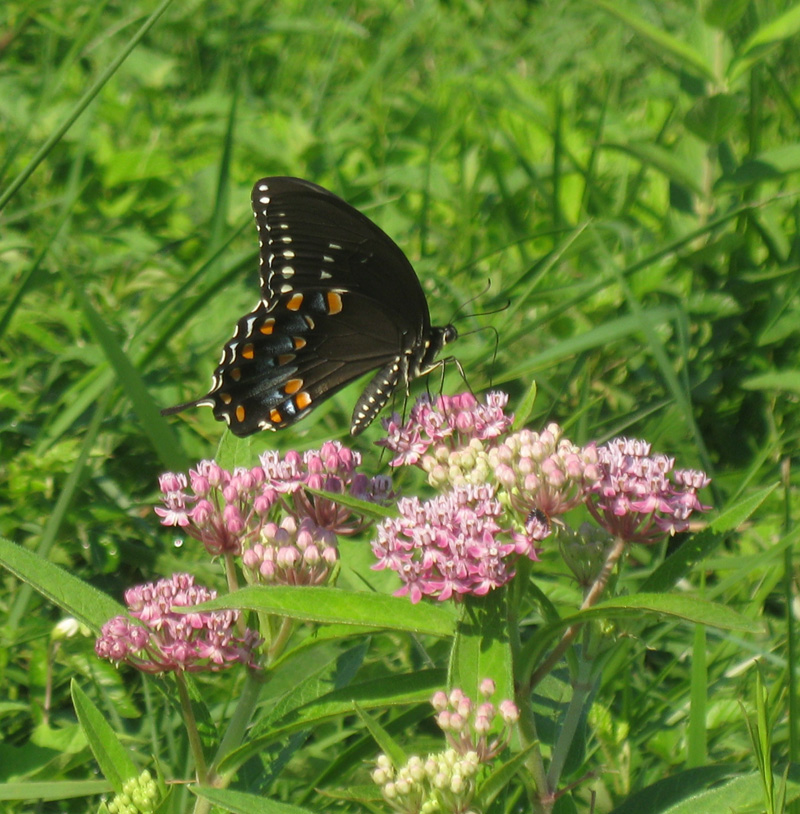 Butterfly Weed and Milkweed
(Editors note: make sure any milkweed you grow is native to your area to prevent pathogens from killing butterflies instead of helping them).
Native milkweed, many species of which are called butterfly weed, is a must-have in every
butterfly garden. It is the host plant of the monarch butterfly, and is an important source of food for other butterflies as well. Native milkweeds are easy to grow and come in a delightful array of colors.
Asclepias tuberosa – 'Western Gold' butterfly weed is ideal for western gardens. It can  tolerate heat and drought, and the large, bright golden-orange blooms attract many
different species of butterflies from miles around. This is the perfect host plant for monarch butterfly caterpillars, and its nectar feeds other butterflies.
Asclepias 'Western Gold' plants are available at HighCountryGardens.com. An excellent choice for wetter climates is swamp milkweed (Asclepias incarnata), a compact perennial that's cold hardy up to USDA zone 3. Its cherry-pink flowers with white centers emanate a sweet vanilla fragrance that attracts a wide variety of pollinators. Swamp milkweed fits perfectly in smaller garden spaces, and like all native milkweeds, is a vital host plant to the monarch caterpillar. It's also a great garden choice because it is deer resistant. Seeds are available at AmericanMeadows.com.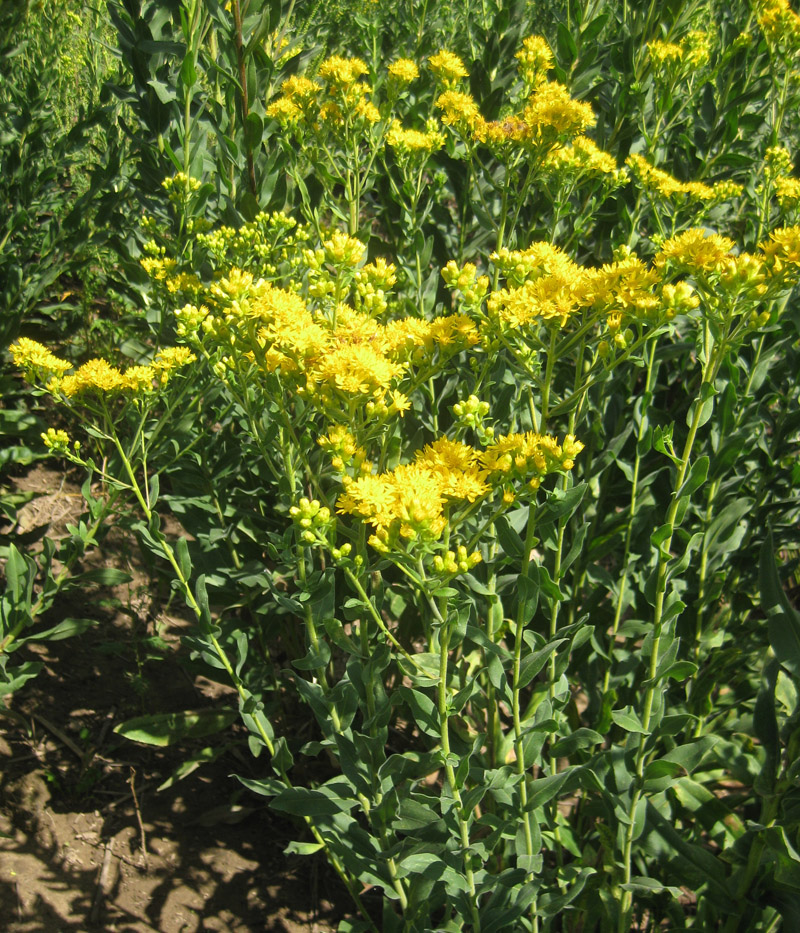 Goldenrod
Who can resist the bright yellow spikes of native goldenrod? Certainly not butterflies and other pollinators. Rich in nectar, goldenrod is a great choice for butterfly gardens. It pairs beautifully with purple-flowering shrubs and perennials and has a long bloom time, from summer into fall.
'Wichita Mountains' Goldenrod is a great choice for backyard gardens. This new native Solidago variety has yellow flowers that resemble bottle brushes. It is extremely heat tolerant and more drought tolerant than other goldenrod varieties. Try planting it next to ornamental grasses, purple penstemon or coneflower for a striking combination. Plants are available at HighCountryGardens.com.
Another variety, Stiff Goldenrod, features tall, upright flowers that are a magnet for bees and butterflies. Able to reach up to 5 feet in height, it makes a bold statement when in full bloom. Widely adaptable, Stiff Goldenrod is very heat-resistant. Seeds are available at AmericanMeadows.com.
Coneflower
Coneflower varieties (Echinacea) are very popular choices for butterfly gardens. Featuring lush green foliage and big beautiful flowers, these summer bloomers wow butterflies and people alike. Coneflower is an easy to grow, dependable perennial that provides an abundance of beauty without asking much in return.
The classic lavender-flowered purple coneflower (Echinacea purpurea) is a garden favorite and a butterfly magnet. It grows 2-3 feet tall in average, well-drained soil throughout USDA zones 3-8. Seeds are available at AmericanMeadows.com.
To make a bold statement, add some of the newer coneflower varieties. Echinacea 'Sombrero Sandy Yellow' has the familiar shape of a coneflower, except its petals are yellow. This longblooming new variety is vigorous, and the petals hold their color
even in full, bright sun. Another yellow coneflower is Echinacea paradoxa 'Ozark Coneflower.' Its petals are sunshine yellow with large, distinctively coneflower centers. Plant Ozark Coneflower in groups of three to dramatize their impact in the garden.
Plants of both of these yellow coneflowers can be found at HighCountryGardens.com.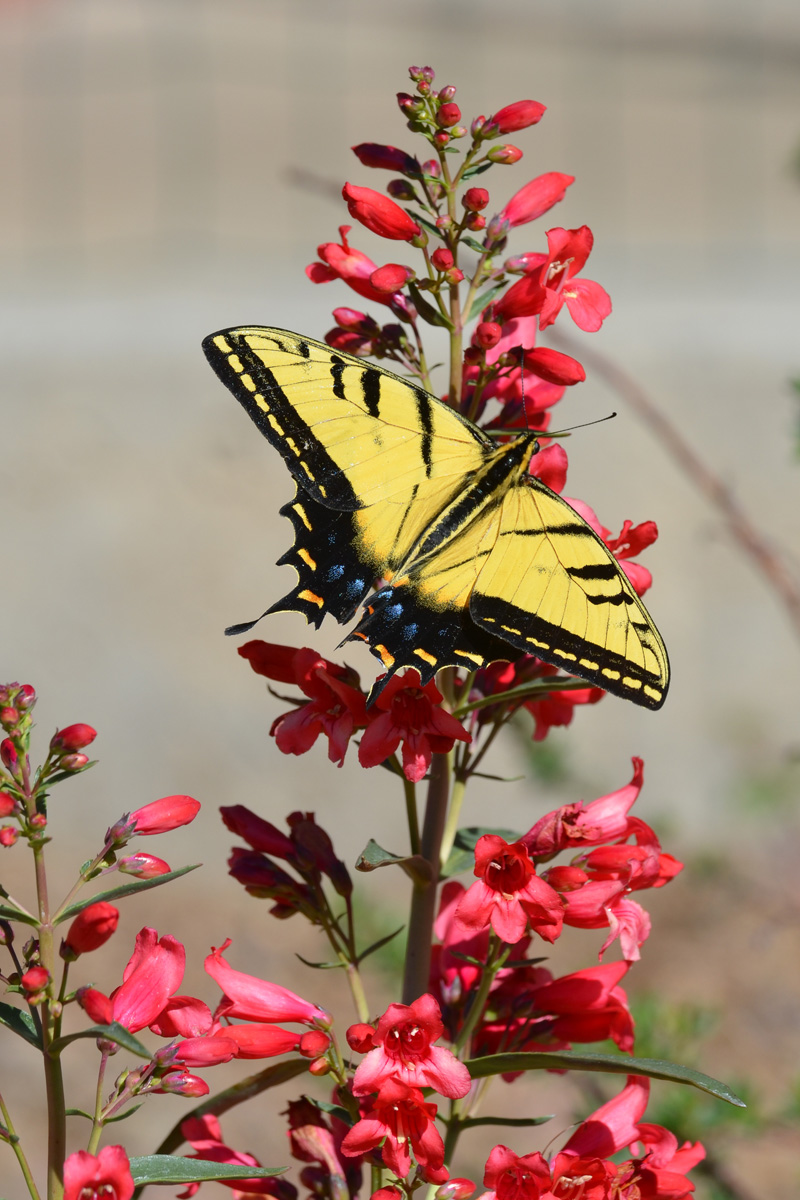 Penstemon
Penstemon, sometimes known as "beard tongue," is a butterfly garden staple, especially in the western states and Mexico where over 200 native species have been identified. This tough perennial can be found blooming in shades of blue, purple, pink and red from
the desert plains to mountain meadows.
The bold orange flower spikes of Pineleaf Penstemon (Penstemon pinifolius) are gorgeous. Its upright habit makes it perfect for viewing the hummingbirds and butterflies that are attracted to its nectar-rich flowers. This variety is available at HighCountryGardens.com.
For a penstemon with bright red flowers, try 'Red Riding Hood.' Bold, cherry-red spikes are formed on compact, upright foliage and act as magnets for hummingbirds and butterflies. Plants are available at AmericanMeadows.com.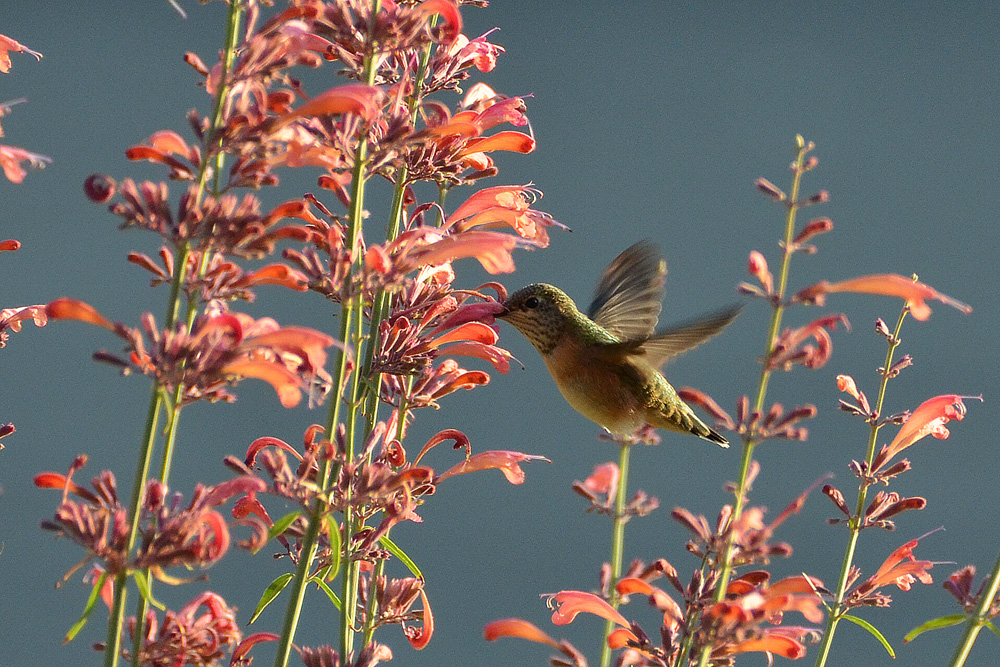 Agastache
Adaptable and very easy to grow, agastache (also called hyssop) is a flowering perennial that's famous for its fragrant foliage and cheery flowers. All hyssops are magnets for pollinators and flower profusely throughout the summer. Agastache are extremely tough—capable of handling both heat and cold. As a bonus, all hyssop are deer and rabbit resistant.
'Glowing Embers' is a licorice mint hyssop, which is also aptly known as "hummingbird mint." The licorice-scented foliage and red-orange flowers are a delight, and hummingbirds and butterflies love the rich nectar. 'Glowing Embers' has a compact, rounded shape, and is very heat and drought tolerant once established. It also thrives in containers – perfect for a sunny deck or patio. The classic Agastache rupestris (Licorice Mint Hyssop) has smoky orange and lavender flowers that pollinators love. Agastache rupestris loves hot and sunny conditions in well-drained soil. Both of these agastache varieties are available at HighCountryGardens.com.