One of my Santa Monica College students wanted to put in a starter garden to try out her new found skills on a small scale. She didn't want to invest in landscaping or permanent raised beds just yet. After a consultation and some thoughtful deliberation, we landed on a patio garden with a pre-fab raised bed.
The patio was level concrete and brick, eliminating the need to level out uneven ground (saving on labor costs). There was no grass to remove either and no irrigation to re-route.
She also didn't want to have to bend down, so we found a raised planter with a false bottom. It stands waist high, but only requires 10″ of soil in depth. That satisfied her desire to spend less money on materials for the time being as well.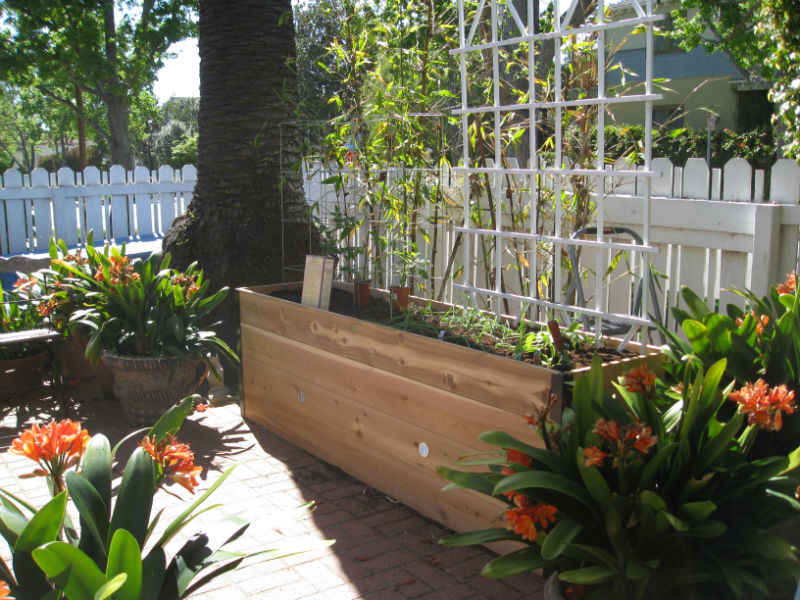 Once the bed was set in place and filled with soil, we packed it full of spring goodies: lettuces, chard, onions, peas, cucumbers, tomatoes and even a melon. It's amazing how much you can fit in a garden bed using biointensive planting methods.
We installed inexpensive cages for the tomatoes and sturdy trellises for the cucumbers and peas made from composite wood. It took a few hours in total (not counting the planning stage) to bring this garden to life. Now our new gardener can grow food successfully before investing in a permanent garden.