It was a hot and sultry day, and someone was hungry.  The freshly picked tomatoes were staring at us from the counter saying, "MAKE SOMETHING with me!"  We had no choice but to answer the cry.  Within a few minutes, the oven was as hot as the weather outside, and those tempting tomatoes were headed toward their destiny.  What happened next, no one could imagine….
Okay, so it's a little dramatic, but you'll see why in a minute.
We've got piles of tomatoes in bowls in the kitchen just waiting for something to do. Beefsteak, salad, and cherry tomatoes need not be relegated to sandwiches and Caprese salads alone. If you're looking for something new, nothing uses up cherry tomatoes quicker than a recipe I found through Evan Kleiman and her Pie a Day experiment last year. Tomato Cobbler with Gruyere Crust.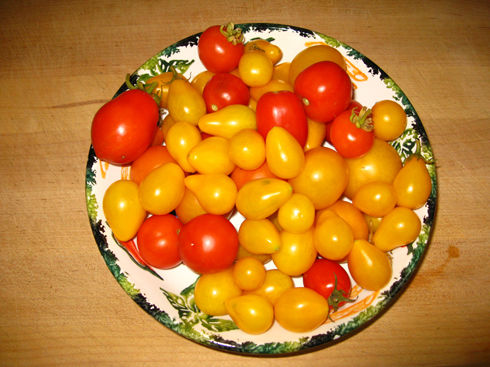 I used not only cherry tomatoes, but the smaller tomatoes from the garden like Yellow Pear, Stupice, and a few Roma tomatoes. They get washed and patted dry, then tossed in a bowl with flour, salt and a little sugar (I left out the sugar because my tomatoes are very sweet varieties). Add in some basil and some sauteed onion and garlic. The whole thing gets poured into a 9″ pie pan and covered with a crust that was made the day before (or chilled for 1 hour at least). The crust has a cup of Gruyere cheese mixed in, and lots of butter.
The whole thing bakes for about 50 minutes at 375 degrees and comes out golden brown and gorgeous!
Here's where the vanishing part come in. The pie was so beautiful, so stunningly beautiful that I neglected to take a picture of it. We just dove right in to eat it instead. Here's what's left: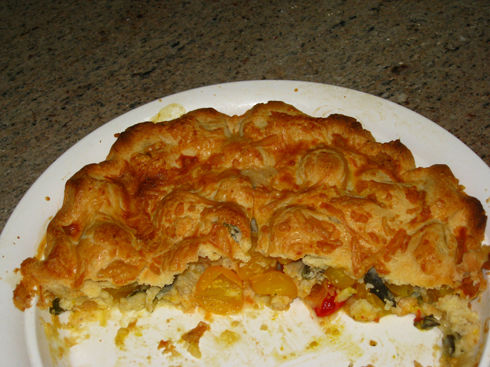 Half-eaten Tomato Cobbler – the picture can't possibly do this pie justice.
Don't take my word for it. Make it yourself and see how fast it disappears. Here's the recipe:
Mixed Tomato Cobbler with Gruyere Crust – Martha Stewart, 2000
http://www.marthastewart.com/recipe/mixed-tomato-cobbler-with-gruyere-crust
Serves 8
2 3/4 cups plus 2 tablespoons all-purpose flour
2 1/2 teaspoons salt
2 1/2 teaspoons granulated sugar (I left this out)
1 1/4 cups grated Gruyere cheese
1 cup (2 sticks) plus 1 tablespoon unsalted butter, cold, cut into
pieces
1 large onion, diced
3 cloves garlic, minced
2 pounds assorted cherry tomatoes
1/2 cup chopped basil
Freshly ground black pepper
1 large egg
Directions
In the bowl of a food processor, combine 2 1/2 cups flour, 1
teaspoon salt, 1 teaspoon granulated sugar, and 1 cup Gruyere cheese.
Add 1 cup butter; process until mixture resembles coarse meal, 8 to 10
seconds.
With machine running, pour ice water (about 1/4 cup) little by
little through feed tube. Pulse until dough holds together without
becoming wet or sticky; be careful not to process more than 30 seconds.
To test, squeeze a small amount together: If it is crumbly, add more ice
water, 1 tablespoon at a time.
Divide dough into two equal balls. Flatten each into a disk; wrap
in plastic. Transfer to refrigerator; chill 1 hour.
Melt remaining tablespoon butter in large skillet over medium
heat. Add onion and garlic. Cook, stirring occasionally, until
translucent and softened, 5 to 7 minutes. Transfer to a bowl to cool
slightly.
Place tomatoes in a large bowl. Toss with remaining 1/4 cup plus 2
tablespoons flour, 1 1/2 teaspoons salt, and 1 1/2 teaspoons granulated
sugar, and basil and pepper. When onion mixture is cooled, add to
tomato mixture, and toss to combine. Transfer mixture to a deep 9 1/2-
or 10-inch pie dish. Set aside.
Heat oven to 375 degrees. Roll out half the dough into a circle 1
inch larger than pie dish. Remaining dough may be frozen up to 1 month.
Transfer rolled dough to top of dish; tuck in edges to seal. Make three
to four small slits in crust; form a decorative edge if desired. In
small bowl, mix egg with 1 teaspoon water. Brush egg glaze over crust;
sprinkle crust with remaining 1/4 cup cheese. Place pie dish on a baking
sheet to catch drips; bake until crust is golden and insides are
bubbling, about 50 minutes. Let cobbler cool before serving.
Let us know how it goes for you – or share your favorite thing to make with tomatoes here.