In the never ending quest to find new and tasty ways to consume zucchini, this week we're featuring another great recipe from Rose Elliot's Vegetarian Fast Food.  It's the Summer Frittata, which uses asparagus, zucchini, sun-dried tomatoes, eggs and Parmesan cheese.
Not only does this dish showcase zucchini, but it also gave us a chance to feature our home-grown asparagus.  We've been collection spears each day through summer and although it's hard to resist the urge to just serve home-grown asparagus plainly cooked, this frittata does a nice job of highlighting the produce.
The recipe comes together in under 30 minutes, which means the zucchini still has some crunch to it.   Here's how it goes:
Summer Frittata (from Rose Elliot's Vegetarian Fast Food)

8 oz. asparagus spears
8 oz. zucchini
8 sun-dried tomatoes in oil, drained
4 eggs
1/3 cup grated Parmesan cheese
2 Tbs chopped fresh parsley
salt and freshly ground black pepper
2 Tbs Olive oil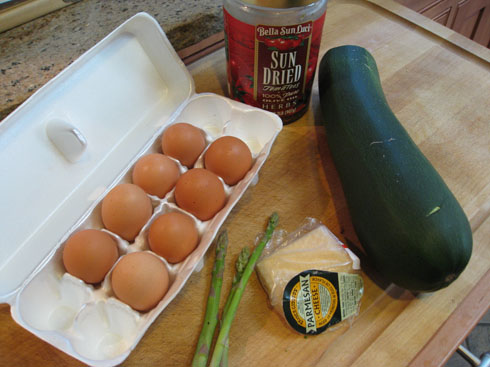 This is the perfect dish for that zucchini that got away
1) Trim the asparagus and cut the zucchini into 1/4″ slices.  Cook the vegetables in a little boiling water for a few minutes until tender but slightly crunchy.  Drain immediately.
2) Heat the broiler.  Chop the sun-dried tomatoes.  Whisk the eggs lightly, add the cheese, tomatoes and parsley and season with a little salt and pepper.
3) Heat the oil in an 8-inch skillet, add the vegetables, then pour in the egg mixture.  cook for 4-5 minutes, until the bottom of the frittata is set and golden brown,…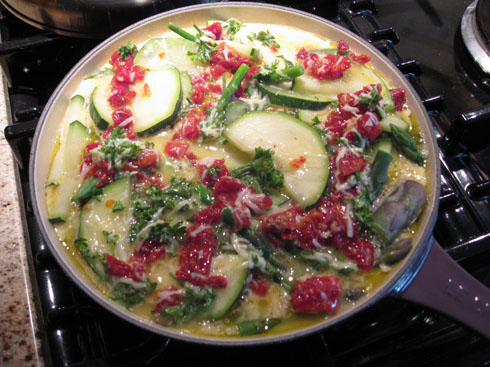 Eggs not quite set, the bottom is cooking. The top will be puffy and golden brown once placed under the broiler
then put the skillet under the broiler and leave for a further minute or two to set the top.  Serve cut in half or in thick wedges.
Serves 2
I think this dish would also work really well with basil, and a little more cheese on top. We used curly parsley because that's all we had on hand, but it was fresh and delicious.  Try this quick meal any night of the week, or for Sunday brunch.