We had a flurry of jackhammers and 3-foot deep trenches in recent weeks.  New plumbing (for proper drainage away from the house) and a sump pump were installed.  We also had irrigation to all the major watering areas installed.
Here's something very nerdy and exciting: My raised bed garden now has drip irrigation in each of the raised beds, each with a separate zone and the capacity to set different watering times for each bed!  Fancy and possibly unnecessary, but we couldn't resist the chance to experiment with such a personalized watering system.  There is a spigot in each bed, with a regular hose thread on the end, so we can attach a soaker hose, drip irrigation or anything else that attaches to a regular hose spigot.  We love options!
Below you see the spigot with a shut off valve (another option to control volume and allow us to shut off watering to one bed if we don't feel like reprogramming the system.  There is a 1/2″ to 1/4″ adapter connected to the 1/4″ drip line.  Eventually the soil level will be raised enough to cover the spigots and we will paint the red shut-off valves so that we don't keep running out there thinking that we have strawberries to pick.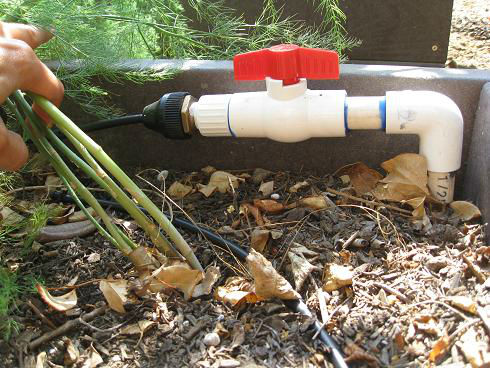 Here's a shot of the 9 station irrigation control box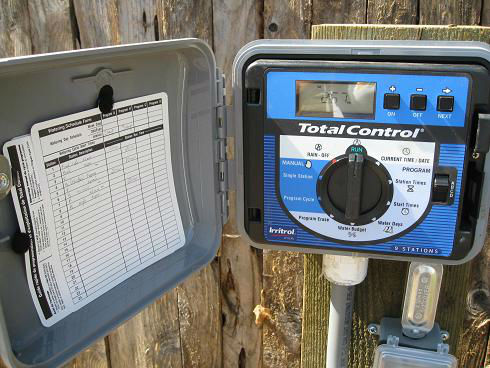 When I first programmed it, it ran through the whole program of cycles 4 times without stopping. Luckily nothing died.  It took me a little while (and the help of my fabulous brainiac husband) to figure out what I did wrong.
The other exciting news is that we now have a pathway to the front door comprised of decomposed granite. It was fun to draw on the ground with spray paint, designing the path exactly as we wished.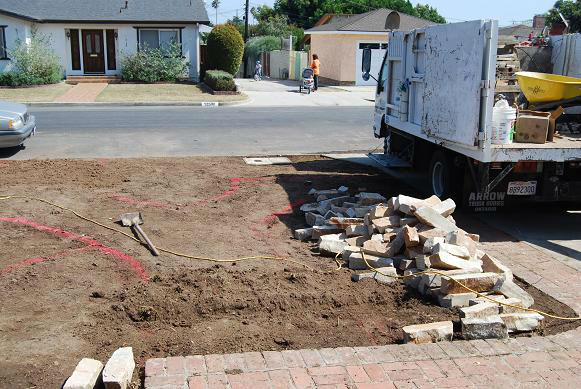 They lined the path with stones and leveled them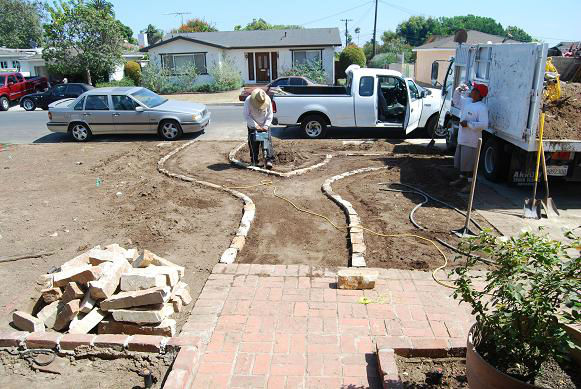 Then they filled in the path with DG – decomposed granite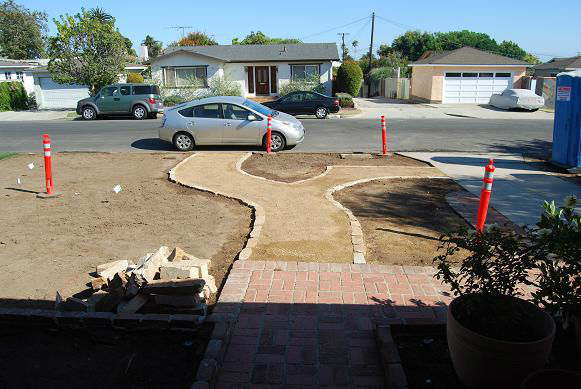 It's a thing of beauty.
Now we are ready to put in plants as soon as fall hits (at least in the front yard).  To be continued…