The tell-tale credit card statement reveals that yours truly has been shopping for gardening tools.  It's spring – can you blame me?
While up north at the San Francisco Garden Show I stumbled upon the Lee Valley Tools booth.  Oh dear, be still my heart. Before I knew it, my hands were wrapped around a Clarington Forge digging fork.  Sturdy, rugged, hand-made, and for those of us who appreciate a good tool when we see one, beautiful.  It was the easiest sale of the day.  It arrived in the mail this week.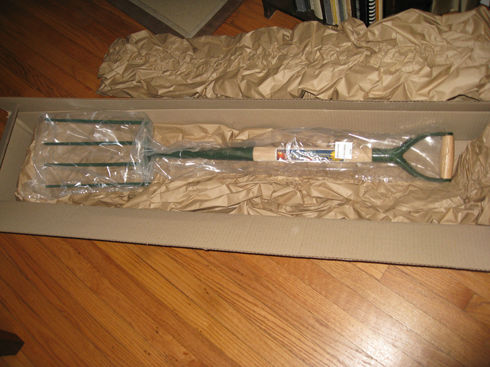 Behold the Clarington Forge Digging Fork
I broke my fiberglass digging fork about a month ago trying to uproot the Christmas Lima Bean that had grown all through summer…and winter… last year.  Just the wrong application of pressure and I heard a snap.  Since the digging fork is one of most valuable tools in a gardener's tool shed, I couldn't go for long without one.
I vowed that my next purchase would be a hand-made tool of wood and metal – no plastic.  The Clarington Forge Digging Fork fit the bill.
Clarington Forge is a British company that has been making high-quality garden tools since 1780, as evidenced by the label below: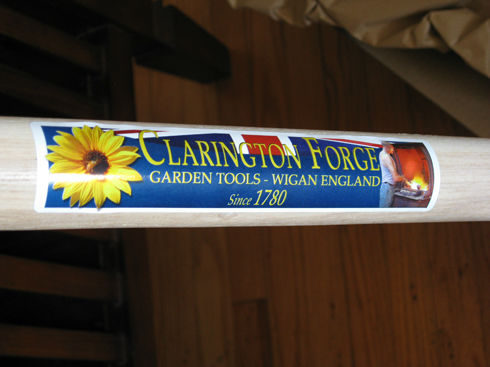 My fiberglass and plastic fork from Home Depot worked fine (except when it broke) but there's something about having a tool that is hand-made by crafts people who have been doing it for 231 years.  Yes, you'll pay more for craftsmanship like this, but much like my Felco Pruners, I don't expect to be buying another one for at least 15 years.  BTW – it has a lifetime warranty.

For what do we use a digging fork?
Loosening soil at the beginning of the season
Working compost into a bed
Turning a compost pile (our main use)
Aerating a compost pile
Double digging a new bed
I'm sure I missed a few things, but you get the idea.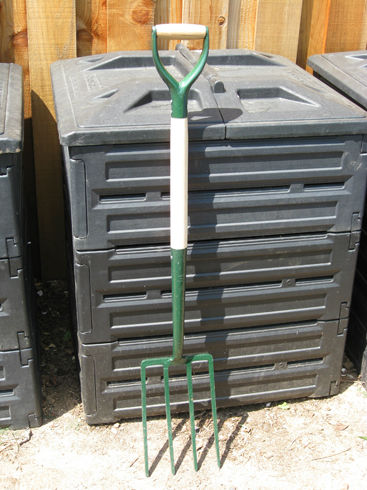 It's only been a few days, but I've already formed a bond with my new digging fork.  Want one?  Visit Lee Valley Tools to see the stunning assortment of options.