Last weekend, for the Mayor's Day of Service, I attended a 100 Mile Meal.  The challenge is to make a dish using only ingredients that can be sources from within 100 miles. In talking with many of the participants, they realized how hard it can be to remain true to the cause. 
Imported olive oil, toasted sesame oil, and cashews are just a few of the staple ingredients we often have on hand, but these are not locally produced.  We're fortunate here in California to have access to local olive oil (Santa Barbara and northern California are great olive producing regions), but there is still a challenge to make a meal with 100% local ingredients.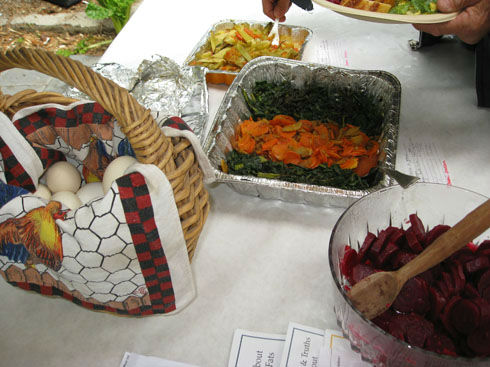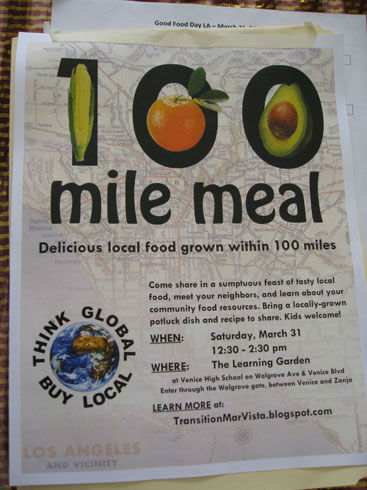 Locally grown meals shared amongst the community at this 100 mile meal
So, what did people come up with?  Some succeeded better than others, but all the meals were put together with love in the spirit of the event.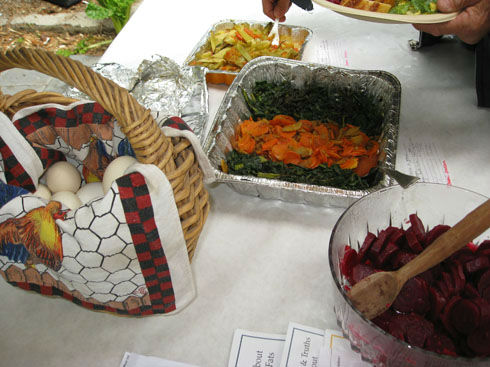 A view of the buffet table
Home-raised eggs, hard-boiled to perfection, were shared along with home grown beets and sauteed carrots and greens.  Each person was enticed to list their ingredients on slips of paper in front of each meal.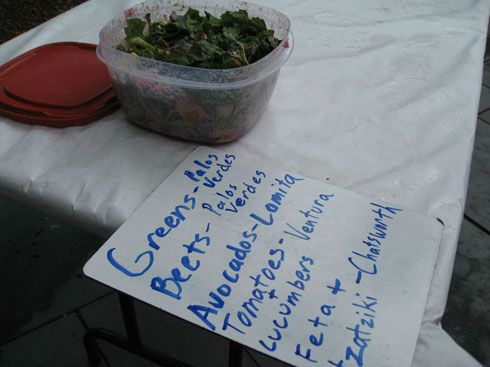 This beet salad succeeded in providing 100% local ingredients
Beet salads, bruschetta, noodle salads, and rice dishes were gobbled up by happy participants.  The owners of items made with flour, like bread for the bruschetta and noodles, confessed that they were not 100% local, since grains are usually sourced from outside California.  It's not a failure, but it sure does bring awareness to how much we depend on trucks to bring our food to us.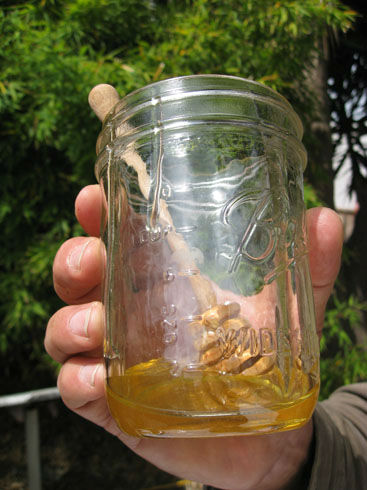 David King (Garden Master at the Learning Garden) presents his
home raised honey for guests to sweeten their meals.
All in all, the point of the event was to raise awareness of just how far our food travels, and to help guide people toward more local choices.  Barbara Kingsolver made a year-long choice to eat locally, and it is wonderfully illustrated in her book Animal, Vegetable, Miracle.  If you haven't read it, make it your spring read – it's a real eye opener.