Once again, it's confession time.  I've killed a lot of dill in my day.  You name it – transplants, from seed, little hopeful plugs – I've killed them all.  I was beginning to wonder if dill was just a houseplant in disguise (I can't keep those alive either), but new hope has sprung from the garden this year. 
From everything I've read, dill grows best when directly seeded in the garden.  I've done that, but the little bugs have always come to devour the tiniest little sprig before it stands a chance of survival.  So I've purchased transplants.  Also a failure – the grasshoppers seem to find it delectable.  For some reason, this year, they are leaving me alone.  Maybe it's because I planted it right next to my tomatoes, which put off that strong tomato smell. I don't know, but here's what I did to make it work:
I started with fresh seeds.  Dukat dill was my choice.  I started from seed under grow lights in trays and crossed my fingers.  About 15 days later (after the germination date had passed) a little sprout emerged from the soil.  A hopeful beginning in two cells of my growing tray.
Rather than transplanting them into bigger pots, I decided to transplant the starts into the garden, since dill apparently likes to be direct seeded.  I figured that I'd transplant them before the roots got any bigger and maybe they wouldn't know the difference.  Apparently that worked… for one of the two sprouts.
One died from lack of water (my fault – I got busy, what can I say?!) The other hung on through a nibble here and there from some local night crawler.  Now it stands about 9 inches tall and I'm pleased to say that we will soon be enjoying a meal with dill.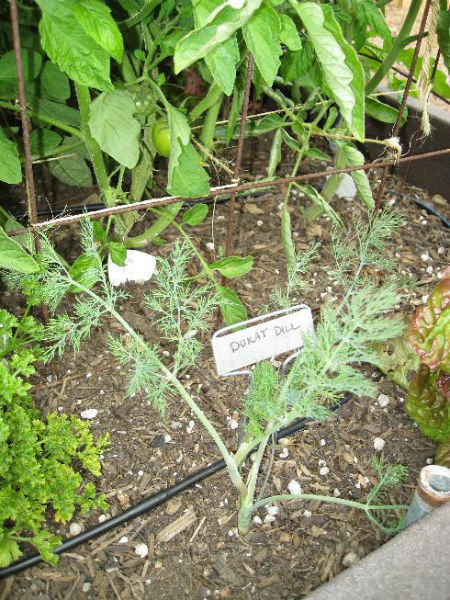 Not to brag, but please note the Jaune Flamme tomato in the background
Now the big challenge will be to find a recipe to use fresh dill.  As a vegetarian, the usual use of dill in seafood is not appealing, but the idea of potato leek soup does make my mouth water.  My favorite use of dill to date is this great recipe I found on Epicurious:
It's so flavorful, I almost ate the entire pot of it by myself.
Then, of course, there's tzatziki:
Kalyn's Kitchen: World's Best Tzatziki
If you have a favorite way to use dill, please let me know.  Share it here!