I just completed a 5-day composting intensive workshop presented by Alane O'Rielly Weber. Much like my experience with Jon Jeavon's Grow BioIntensive workshop, this intensive class has re-swizzled the way I think about everything underground.
I knew about the Soil Foodweb, the intricate web of microbial life that exists in the soil and facilitates nutrient uptake in plants (which was first written about by Dr. Elaine Ingham), but I didn't quite have a handle on how to create a healthy environment for those microbes to co-exist in my garden or compost bin.
5 days is a long time to be talking about compost, and I could go on for hours about what I've learned, but here are my major "a-ha!" takeaways from the course: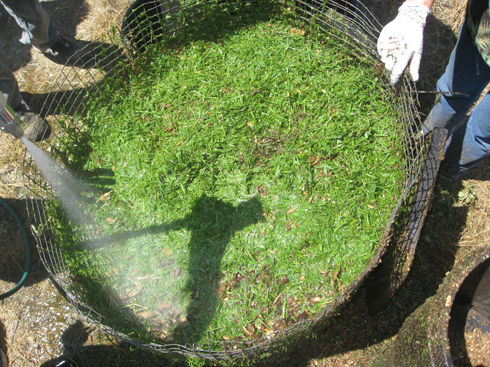 1) Use More Water – A LOT More – when building a compost pile, we've all been told to water it well.  "Wet like a rung out sponge" is the guideline to use. When building a pile, have the hose on with a sprayer nozzle and water each layer thoroughly. Sure, I knew this, but nothing prepared me for the amount of water Alane used to build her compost pile.
CompostTeana's truck was on site, complete with a holding tank full of water. We used about 75 gallons to build our first pile. When we finished building the pile, Alane had us immediately turn the pile and water it again as we did, just to insure that it was wet enough. The next day, she took a handful of steamy compost material from the pile and squeezed it. If she was able to squeeze a drop of water from the material, it was wet enough.  If not, we needed to add more water. It was astounding. My takeaway: I haven't been using nearly enough water – no wonder my compost is not biologically active.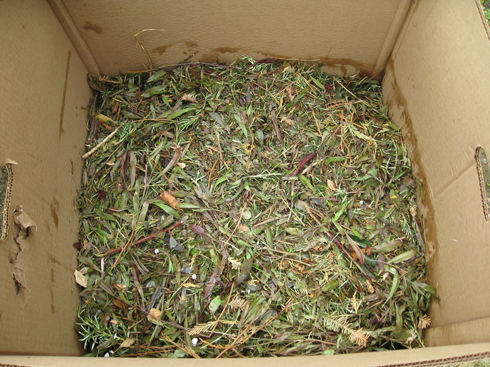 2) Nitrogen is Still Nitrogen, Even When Dry – when we grow compost crops and chop them down to put in the compost bin, even if those nitrogen-rich crops dry out after they are cut down, they retain the same amount of nitrogen they had when you cut them. This solved a dispute in our household about using garden trimmings immediately vs. letting them sit until we need them. So grow those cover crops, prune those hedges. It's okay to let them dry out before shredding them and adding to the compost bin. They will always be nitrogen crops. Crops that dry while in the ground are carbon – just to clarify.
3) Anaerobic Bacteria Sucks – again, this is something I already knew, but to hear the science behind it was fascinating. Once deprived of oxygen, anaerobic bacteria multiply, causing the stinky smell in your compost bin. The interesting thing is that it goes dormant once the pile dries out, and wakes up again when wet. Using compost that has gone anaerobic is basically like using contaminated soil. Alane suggests only using it as a mulch so that it is constantly exposed to air, keeping those nasty bacteria dormant.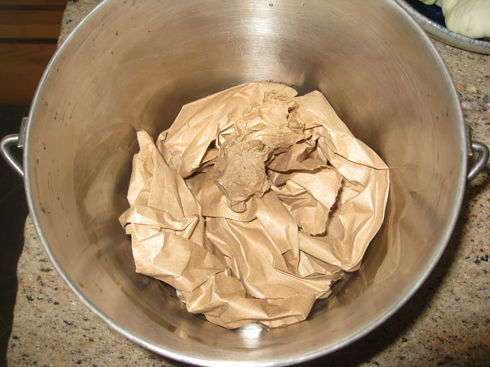 So, if you collect kitchen waste in a bucket in your kitchen, you've most likely experienced the whole container going anaerobic – stinky, foul smelling glop. Yes? Here's the solution we discussed to prevent this from happening, so you aren't adding bad bacteria to your compost pile. Crumple up pieces of newspaper or cardboard at the bottom of the bucket (shown above). Then the liquids will fall through and be absorbed into the paper, rather than breeding anaerobic bacteria. You can also freeze your scraps, which ruptures the cell walls, making it easier for healthy bacteria and fungus to start breaking food scraps down when you put them in the compost pile. Good tips all around!
So much became clear during my 5 days of immersing in compost. I hope to share more with you again soon.