Have you ever tried to replicate a restaurant meal at home?  It's part adventure, part science project around here.  In our effort to eat from the garden as much as possible, we attempted to re-create, or at least give a nod to, the Poached Eggs and Asparagus dish on Venice Beach's GJelina brunch menu.  Here's how that went. 
Let me start by saying that I've never poached an egg before.  I've heard that it can yield scary results, but I threw caution to the wind (after a quick viewing of a how-to video on YouTube) and jumped right in.  What could go wrong?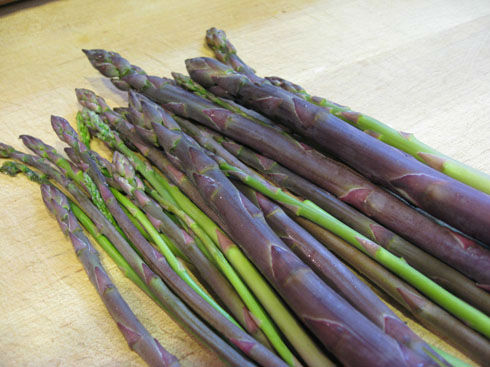 Asparagus from our garden – saved up over several days until we had enough
Poached Eggs Over Asparagus – VT March, 2012
We started with eggs from our hens – freshest you can get – and placed them in ramekins that could be lowered into the water bath.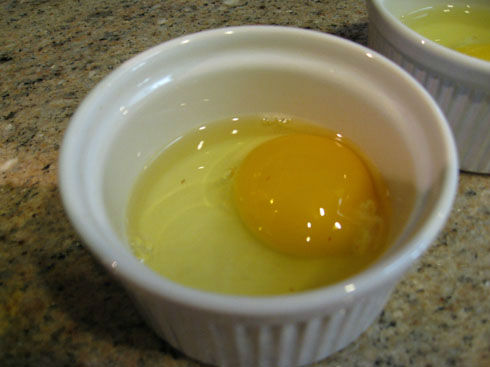 Next we sliced up some homemade bread and toasted it in the oven for a little too long, then rubbed the slices with fresh cut garlic (also home grown).
While the bread is toasting, we put on the asparagus in simmering water on the stove.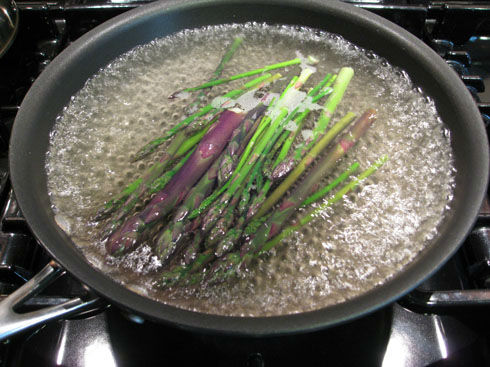 Cooked until bright and crisp – it only takes about 3-5 minutes
Now the eggs – okay, I didn't photograph the process because I was concentrating so hard, but it went well.  Lowered the ramekins into the water, spooned the stragglers into place, set the time and crossed my fingers.  Yes, there were egg whites floating all over the place, but the end result was actually pretty good.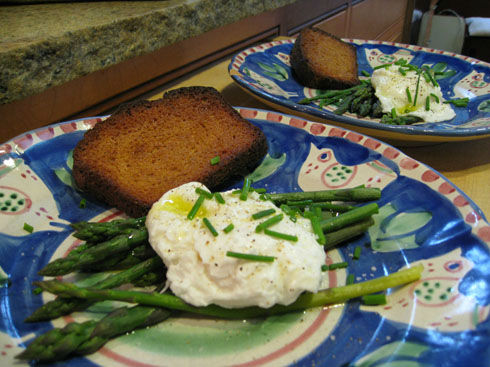 Finished poached eggs over asparagus with garlicky toast
It all finishes cooking around the same time,  so you  have to work quickly.  Asparagus down on the plate, toast slid into place (burned around the edges, oh well, still good), and poached egg nested on top with a drizzle of olive oil, a few snips of chives and some cracked pepper.
The whole thing took about 15 minutes.  Delicious!  Does this make you want to grow your own asparagus?   Here's how.