Sometime in late spring, I planted a handful of sunflower seeds along with some cosmos in hopes that they would fill in the blanks spots as the Dog Days of summer set in. True to form, the cosmos took over an entire raised bed and the sunflowers sent up two huge stalks with glorious flowers bigger than dinner plates. I wondered if we'd be able to harvest the seeds for snacking or if the birds would get them all. I've never harvested sunflower seeds successfully before, and I was determined to change my track record.
I did a little research and found that the birds and squirrels usually know when the seeds are ready
before you do. Sure enough, one morning the tale-tell signs of scavenging were all over the ground.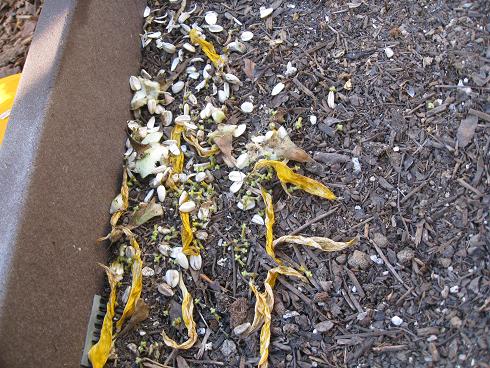 But when I looked at the seeds, they weren't ready. The stripes were still very faint and the shells were soft. Supposedly when sunflower seeds are ripe, they release from the flower head easily. These weren't going anywhere. (You can see in the lower left corner where the critters helped themselves.)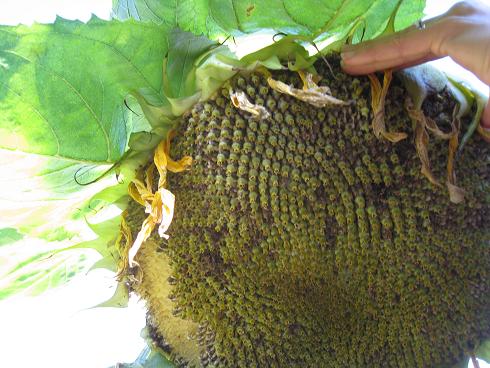 So I followed some advice I had seen on several websites – to cover the seed heads with paper bags or burlap. I had paper bags, so it would have to do. One seed head was too large for a regular grocery bag, so I had to use something a little more deluxe – a Sur la Table bag. It did the trick.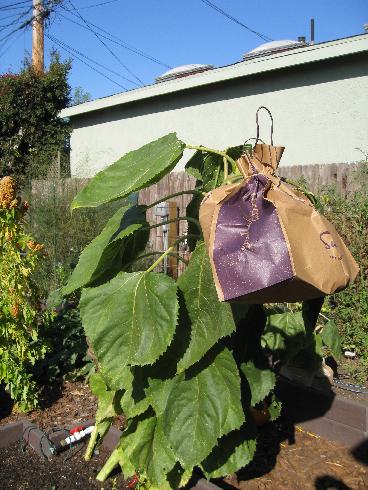 Within hours, however, we had visitors. HOURS!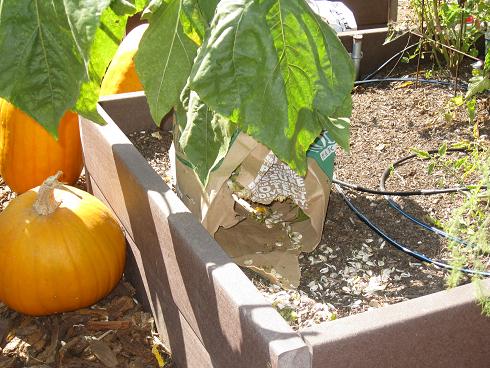 They tore through both bags and helped themselves to more seeds. So we had to take the next step: cutting off the heads. Leaving about a foot of stem to allow for hanging, we hung the cut heads up to dry, still in their bags. The seeds have been darkening and drying and loosening from their seed head. They still have a little ways to go, but you get the idea from this picture: