"Eat your greens."  How many times did you hear that as a child?  If I had a dime for every time I sat in front of a cold plate of broccoli in protest as a kid, I'd be a wealthy woman.  Now, that has all changed.
I love Swiss Chard!  I admit, the residual resistance to wilted green things put me off trying Swiss chard until someone gifted me with a bouquet of it a few years ago (yes – it was a recent occurrence).  Along with the gift came a recipe, and after that I was hooked.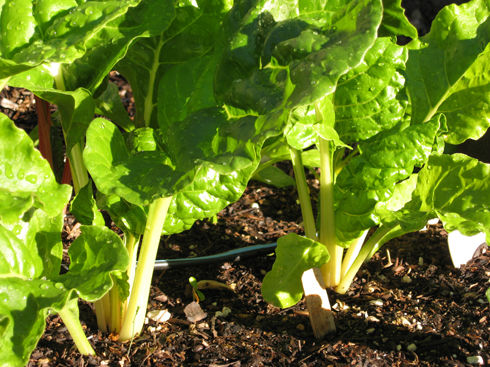 White stalks of rainbow chard
Each year we now grow about 16 Swiss chard plants, either direct-sown or started indoors, in 4 square feet using Mel Bartholomew's method of Square Foot Gardening.  16 plants is enough to get you nice and sick of chard by the end of the season, but luckily, here in Southern California we can grow it in either spring or fall, so we can take a break and grow more the next season.
About Swiss Chard: Chard is a member of the beet family, along with …well… beets, and radishes.  It basically is a beet that is grown for its leaves rather than the root.  The stems, which taste like beets, can be eaten or removed  – depending on how you feel about beet flavor.  (I cut out the stems.)  The plants will last more than a season and in some climates have been known to last over a year and a half!  Swiss chard contains vitamins C, E, K and B6, as well as protein, chlorophyll, fiber, potassium, magnesium, folic acid and a ton of other good stuff.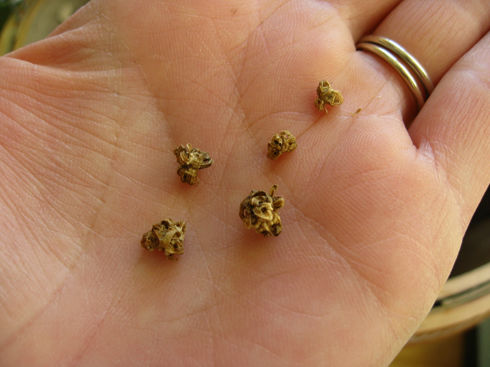 Swiss chard seeds
Seeds – Swiss chard seeds, like other beet family members, are cluster seeds that contain many seeds in each cluster.  They look like Grape Nuts, as you can see in the photo above.  When you plant one seed, you'll get several sprouts.
Germination – Chard seeds prefer to germinate in soil above 45º and like full sun, but can tolerate partial shade.  Germination takes 6 – 10 days.  Most people grow chard in the spring, but as mentioned above, warmer climates can grow it in the fall as well.
Pests/ Diseases – Swiss chard can be attacked by snails and slugs, but daily inspection will usually keep them at bay.  As plants get mature or weaken, aphids can come in to make a home.  Diseases include Cercospora Leaf Spot , which shows up as small brown spots that eventually consume the leaves.
Harvesting – Begin harvesting the outside leaves when the green parts are 8 to 10 inches long.  Cut or snap the stems off near the soil level.  Leave enough leaves to generate new growth from the center.
Of course, the whole point of growing chard is to eat it, so here's a link to some of our favorite recipes for Swiss Chard:
Question: Do you taste a difference in the different color stems?  What's your favorite: white, golden yellow, red, pink?  Share your answers with us here?