Water, water, everywhere…well, not so much anymore. States like California and Texas are suffering severe drought conditions and gardeners are rising to the occasion by swapping out thirsty lawns for drought tolerant plant material. A new phrase, "drought shaming" is making the rounds–ratting on neighbors who water between 9 a.m. and 4 p.m., let their irrigation run down the sidewalk, or wash their cars in the street or driveway.
I fully admit I'm one of those tattlers. I've got the city's water waste hot line on speed dial. If I see your sprinklers on at noon, I'm calling you in. This is serious. Why? Because here in Los Angeles, we live in a desert, and lawns don't make sense. Sure if we got 50 inches of rain per year it would, but we get 12-15 inches on average, and this year we received just about 9 inches. So what can we do? Swap those lawns out for drought tolerant landscaping choices. Here are a few we've done here at Gardenerd: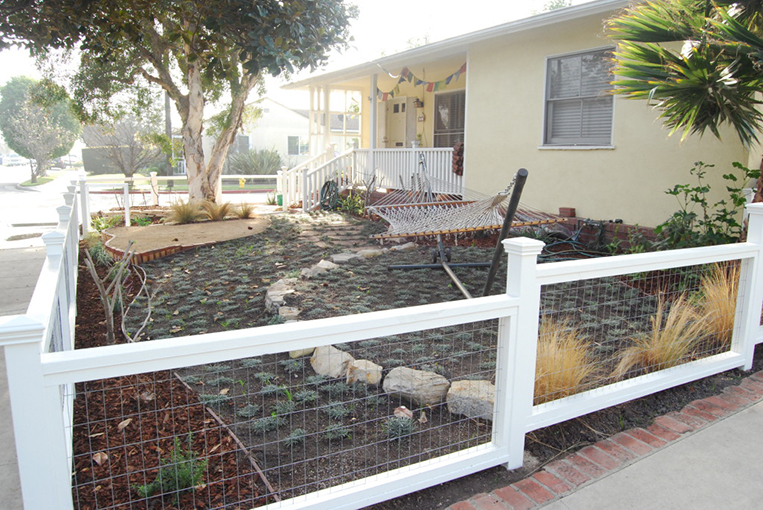 A front yard lawn becomes an oasis (complete with hammock) with low-water and native plants like ceanothus, dymondia, dwarf mondo grass, Jerusalem sage, California bush anemone (for shady spots). It will grow in to completely cover exposed soil and save the homeowners money in water bills.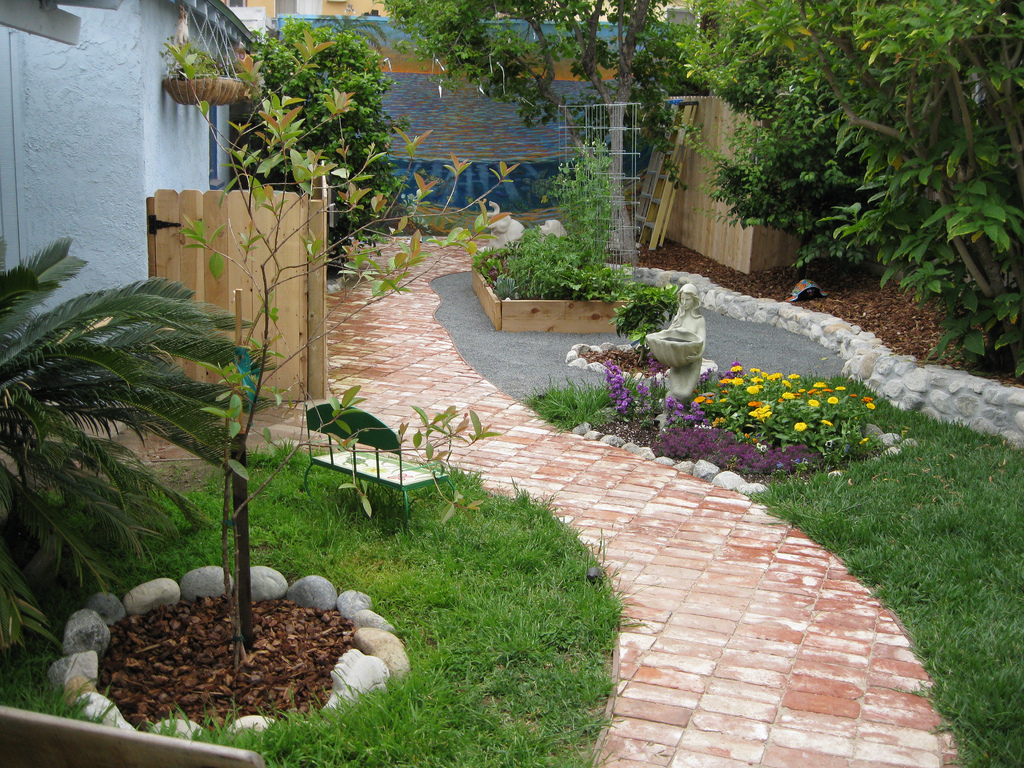 If you can't go full tilt on removing your lawn, you can reduce it like we did in this garden. A brick pathway and fruit trees eliminated some lawn. The rest was removed entirely while adding a vegetable bed, a beneficial flower bed, and decomposed granite ground cover.
We're currently working on a few new designs that will eliminate huge lawn and parkway turf, replacing with flowering California natives and other drought tolerant plants like yarrow, Fox tail agave, New Zealand flax, ceanothus, Cleavland sage, Seaside daisies, lavender, sea lavender, day lilies, sedums, kangaroo paw, red buckwheat and more…
Pictured above: Ceanothus, Cleavland Sage, Sedum, Fox Tail agave, Yarrow, Kangaroo paw, Sea lavender, Aeonium
These plants, among others, can be watered with drip irrigation and once established they will need far less water than thirsty lawns. Ground covers like fescues, festucas, dymondia, and mondo grasses can be partnered with decomposed granite, flagstone or gravel to reduce water even further.
If you must have a lawn, choose low-water options like UC Verde or buffalo grass. Check out High Country Gardens for plenty of lawn alternatives for desert climates.
The new drought landscape looks efficient, lush and colorful. Bees are happier with this new landscape as well. They have more to forage from and they don't have to deal with weed killers.
Start a trend in your neighborhood. Go lawnless. Find ideas for your new garden by chatting up your local Native Plant Society (So. Cal. locals can visit Theodore Payne.)