We usually leave crafts to Martha Stewart, but this week we were invited to teach a class at the Habitat for Humanity ReStore to show people how to turn just about anything into a garden planter. It's simple, just think outside the planter box.
A walk down the isles  of Habitat's ReStore was all it took to find household items that could be repurposed as a container. This amazing organization removes construction materials from homes as they are being demolished (they also take donations). In addition to finding your next set of kitchen cabinets, a new door, or tile for your bathroom, you can find wicker baskets, glass lamp shades and yes, even the kitchen sink.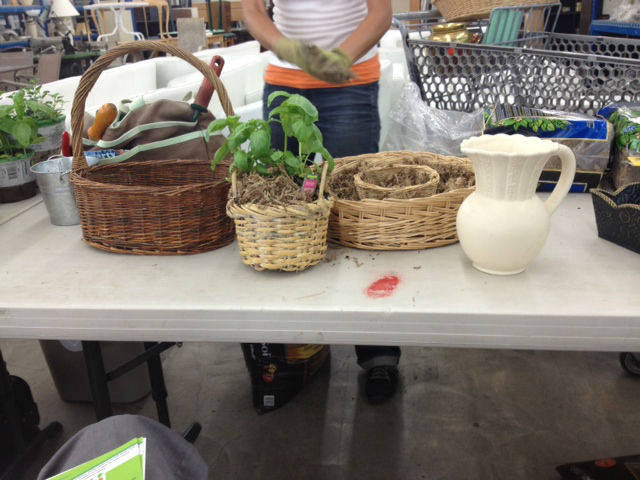 Wicker – just line a basket with sphagnum peat moss to keep soil in place. Water still drains and plants enjoy the extra insulation. We planted a 4″ basil plant in a cute wicker basket with handles and covered the soil with a little more moss.
Pitchers – turn an old pitcher into a vase for forcing bulbs. The narrow neck is perfect for nesting an Amarillus bulb this fall. Fill the pitcher with gravel and water, set the bulb in place and watch it grow.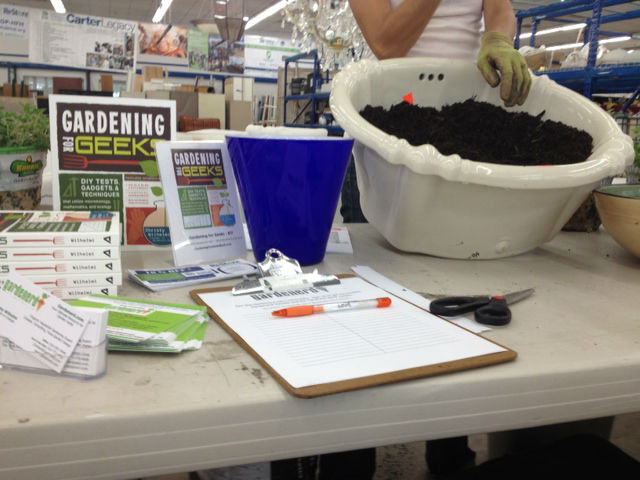 Lamp Shades – We found a gaggle of glass lamp shades on the shelf that made perfect pots – drainage hole included! Fill with light cactus mix and plant succulents for a great color pop in the garden.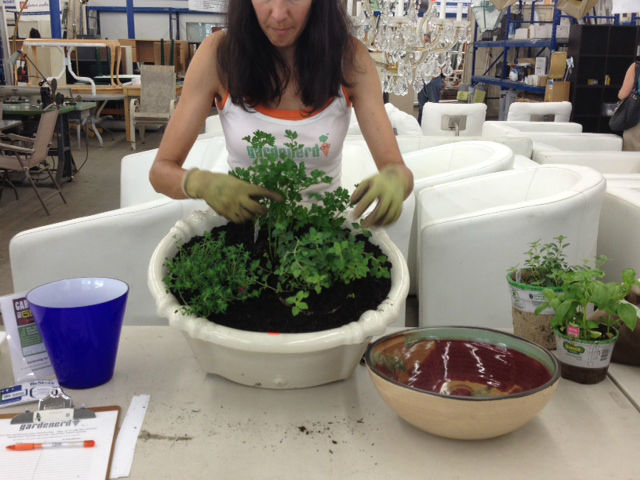 The Kitchen Sink – We have a friend who planted a "bathroom garden" on her patio. She placed an old claw foot tub, a pedestal sink and toilet against a wall and hung a colorful shower curtain behind the whole thing. She planted tomatoes in the tub, herbs in the sink and succulents in the tank of the toilet. It was the classiest bathroom we'd ever seen.
On this sink pictured above, we left the drainage pipe attached to the bottom, so the sink naturally tilts forward, showing off its contents of kitchen herbs.
Drainage – Anything that doesn't have a drainage hole can be made to have one. You just need the appropriate drill bit and a little courage. Masonry and ceramic drill bits are available at hardware stores, and some nurseries will do it for you. For safety, wear goggles and tape over the area you plan to drill to prevent shards from flying around. Work slowly and soon you'll have a working container. Here's a helpful video to get you started.