Back in July we were up to our eyeballs in Santa Rosa plums raining from our front yard tree. We ate as fast as we could, but still there were about 60 plums on the counter at any given time. Drastic measures needed to be taken. Enter Plum Skillet Cake.
Martha Stewart is good for one thing if nothing else: ideas for excessive amounts of fruit. Her recipes for plums run the gamut, offering a plethora of options for the fruit-ladened gardenerd. We featured her list of 42 plum recipes in a recent Tip of the Week podcast. Shortly after that, Mr. Gardenerd (AKA the husband) donned an apron to make several sweet treats featuring our bountiful harvest.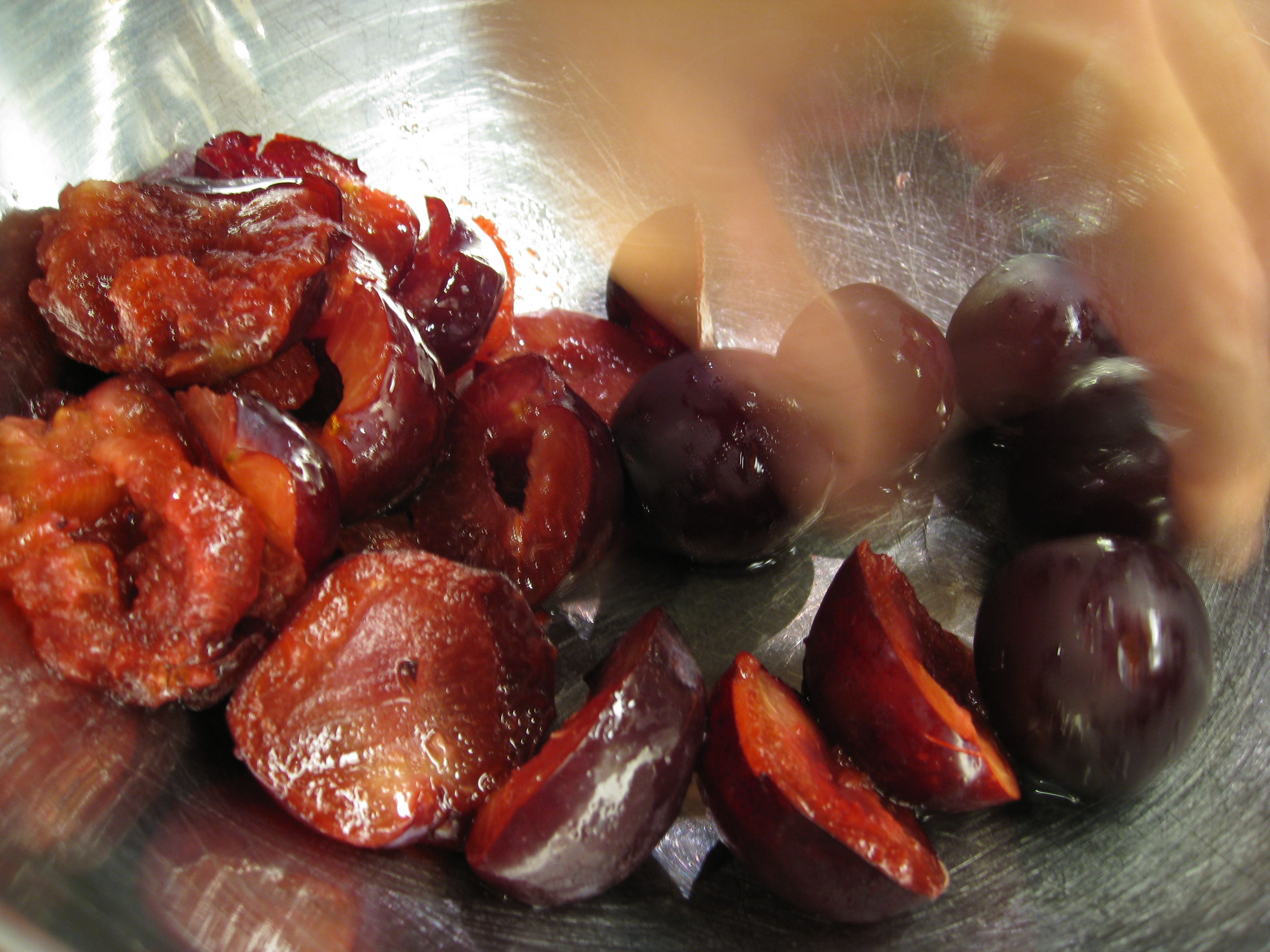 The recipe is pretty straight forward: make the batter, pour it into a buttered & floured skillet, layer to top with plum slices, sprinkle with sugar, bake.
We neglected to photograph the batter as it was being made, but consult the recipe below for full instructions. It's basically tastes like a giant pancake with a sponge cake texture, with crunchy sugar dusted on top. The sweetness counters the plum's tart skin beautifully. What's not to like?
It bakes in an 8″ skillet, cast iron or not. As mentioned earlier, coat the skillet with butter and flour. Then mix together flour, baking powder & soda and salt and set aside. In a bowl, beat butter and sugar until fluffy, then whip in an egg. Next add the flour mixture gradually and blend in the buttermilk.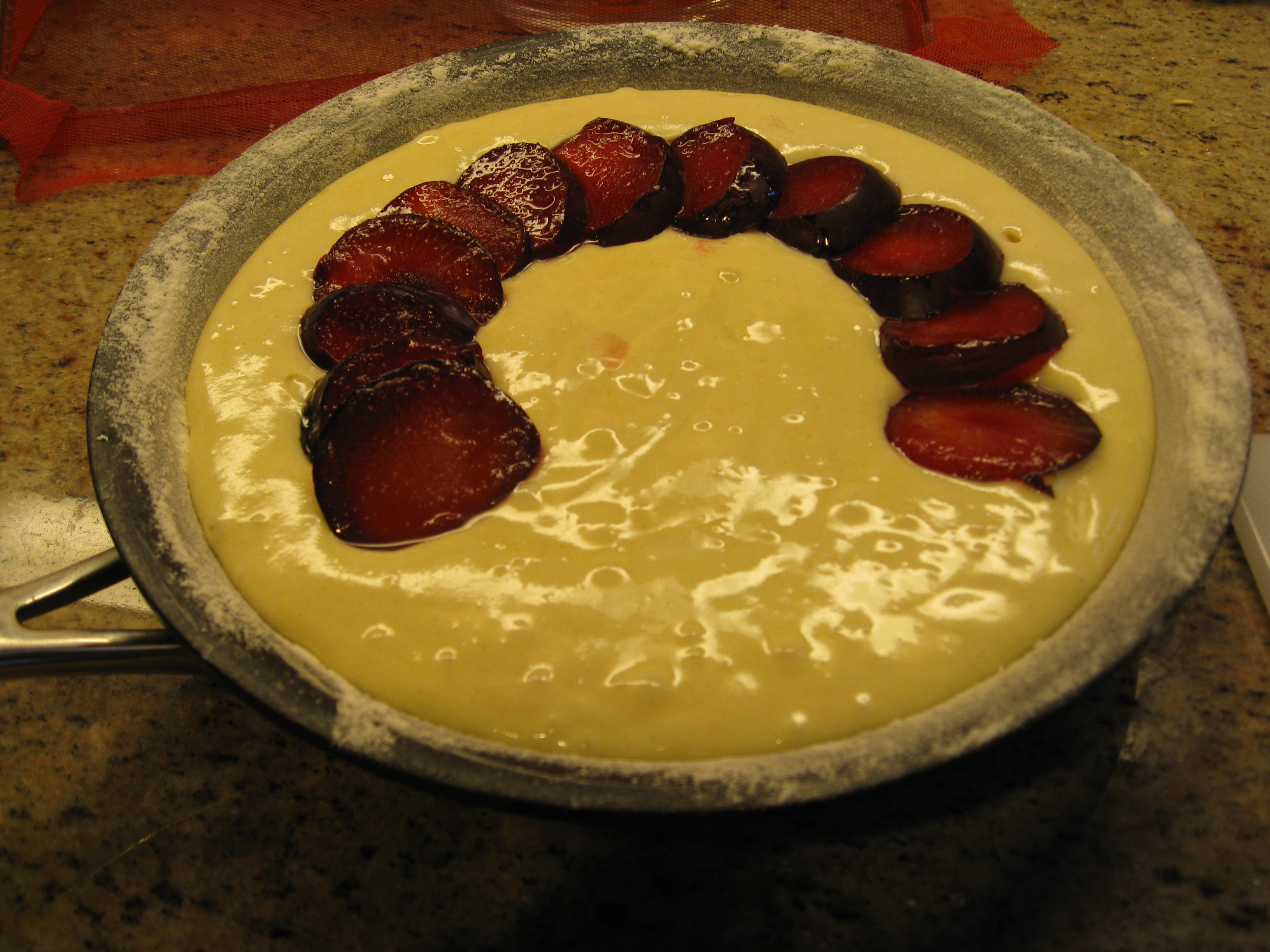 Pour the mixture into your skillet, then decorate the top with plums (it only calls for two, but the husband colored outside the lines on this one).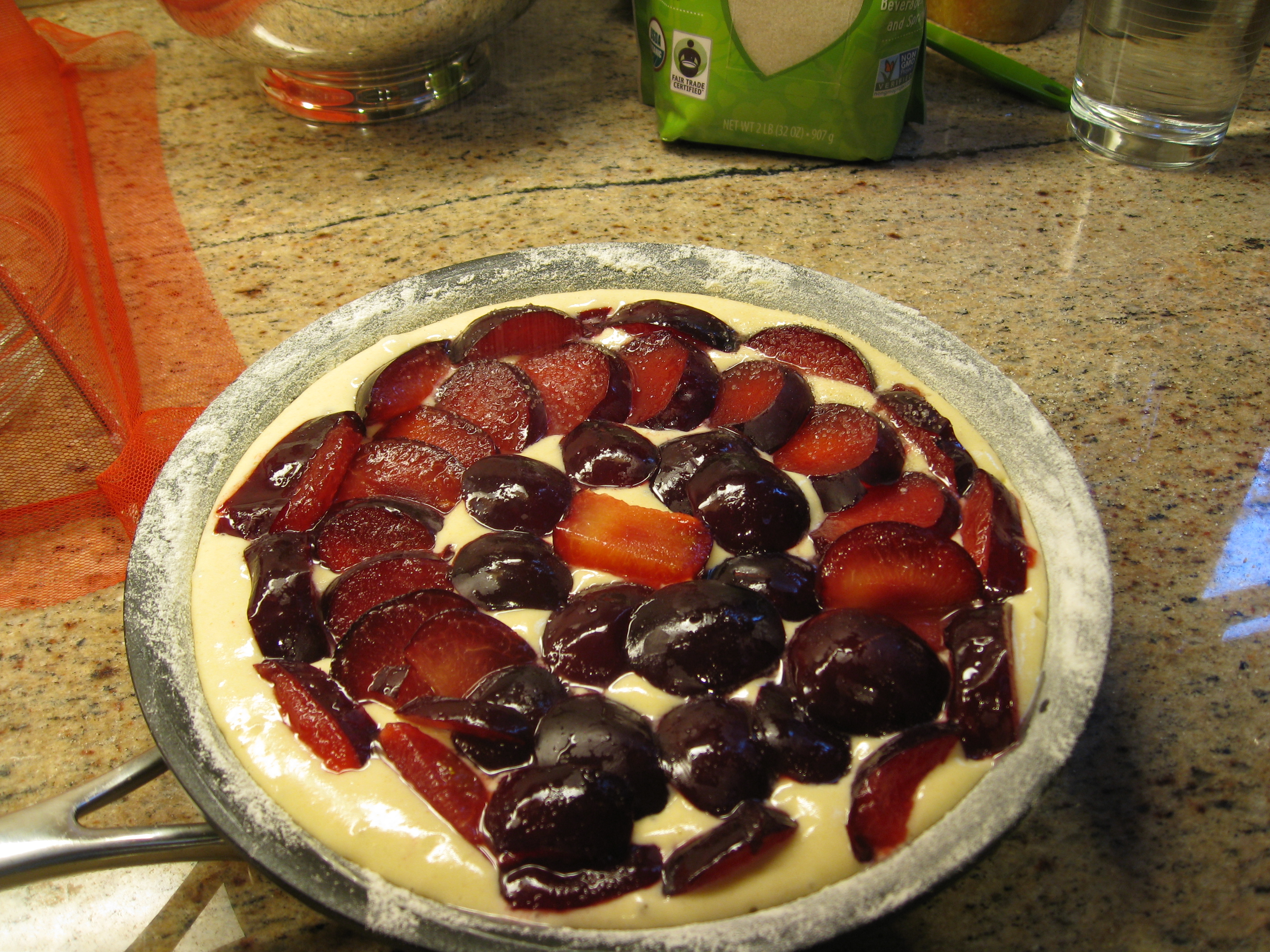 Next sprinkle with sugar to coat the plums.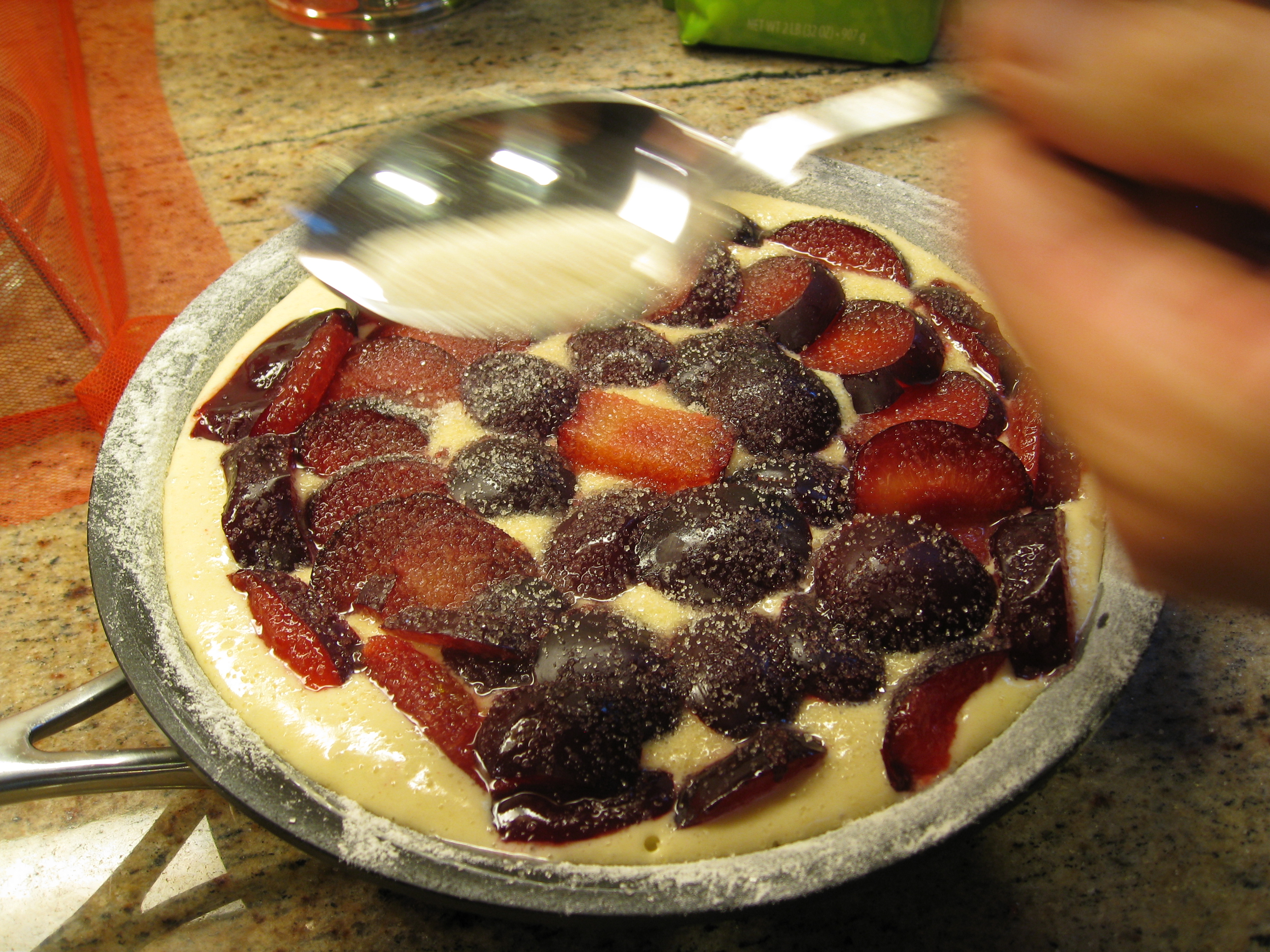 Bake at 375° for 35-40 minutes, until a toothpick comes out clean. We used a non-stick pan so it was easy to un-mold the cake from the skillet. Let it cool, then lift it out with a spatula onto a plate.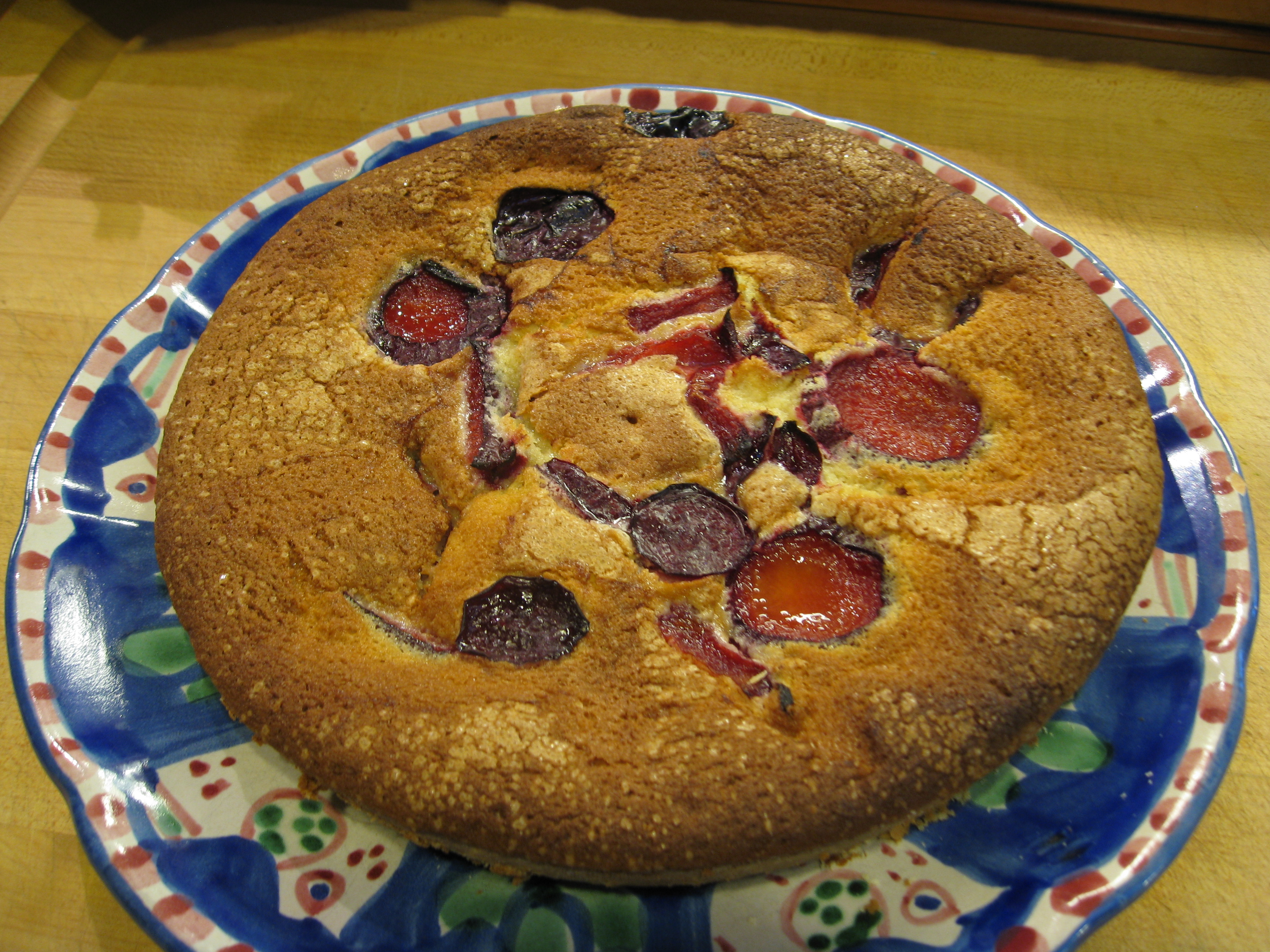 4 tablespoons unsalted butter, room temperature, plus more for skillet
1 cup all-purpose flour, plus more for skillet
1/2 teaspoon baking powder
1/4 teaspoon baking soda
Coarse salt
3/4 cup plus 2 tablespoons sugar
1 large egg
1/2 cup low-fat buttermilk
2 ripe medium plums, thinly sliced
Directions
Preheat oven to 375 degrees. Butter an 8-inch ovenproof skillet (preferably cast-iron); dust with flour, tapping out excess. Whisk together flour, baking powder, baking soda, and 1/2 teaspoon salt. Beat butter and 3/4 cup sugar with a mixer on medium speed until pale and fluffy. Beat in egg. Add flour mixture in 3 additions, alternating with buttermilk.

Pour batter into prepared skillet, and smooth top with an offset spatula. Fan plums on top, and sprinkle with remaining 2 tablespoons sugar. Bake until golden brown and a toothpick inserted into the center comes out clean, 35 to 40 minutes. Let cool slightly.
Now, go make this while plums are still in season!