For winter gardeners, kale is a staple crop that we have the pleasure of harvesting all season long. It grows well in spring in cooler climates, so for those covered in snow, you have that to look forward to. While there is no shortage of kale recipes to try, the goal, in fact, is to try as many as possible. Salads, soups, stews and main dishes; the possibilities are endless.
This week we made the Northern Spy Kale Salad from Food 52. It came together in less than half an hour (despite the fact that the instructions say to cook the squash for 40 minutes). Here's how it goes: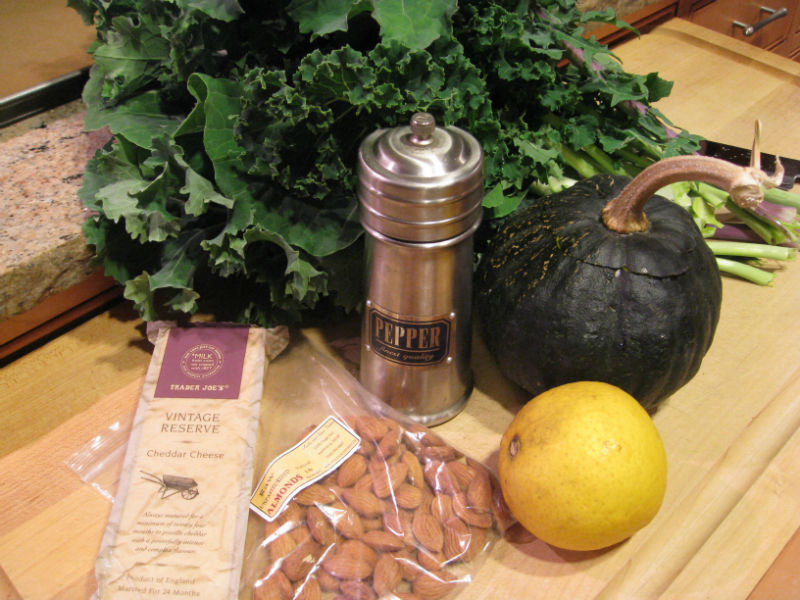 The author prefers lacinato kale, but we used a combination of Siberian, Red Russian, Lacinato and Vates Blue curly kale. It worked great.
Chopped almonds and crumbled cheddar cheese at the ready. As we roasted the squash, it was easy to prepare the rest of the ingredients.
Our kabocha squash cooked in about 15 minutes, contrary to instructions. The almonds get thrown into the oven with the squash in the last few minutes.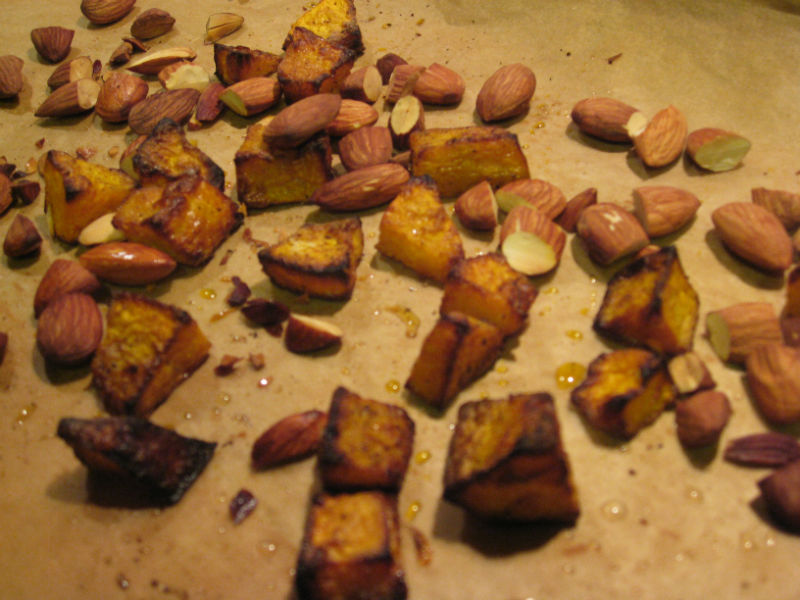 During that time we thinly sliced the kale and prepared the lemon juice.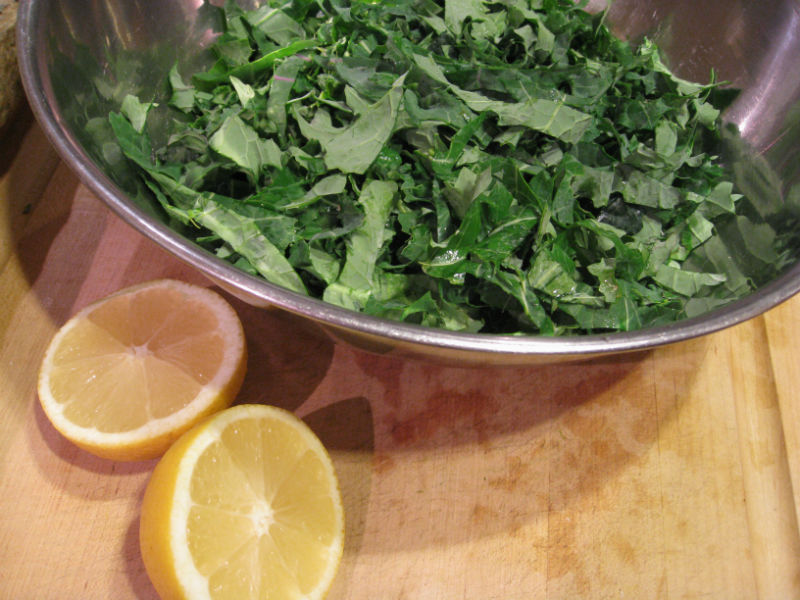 Mix it all together: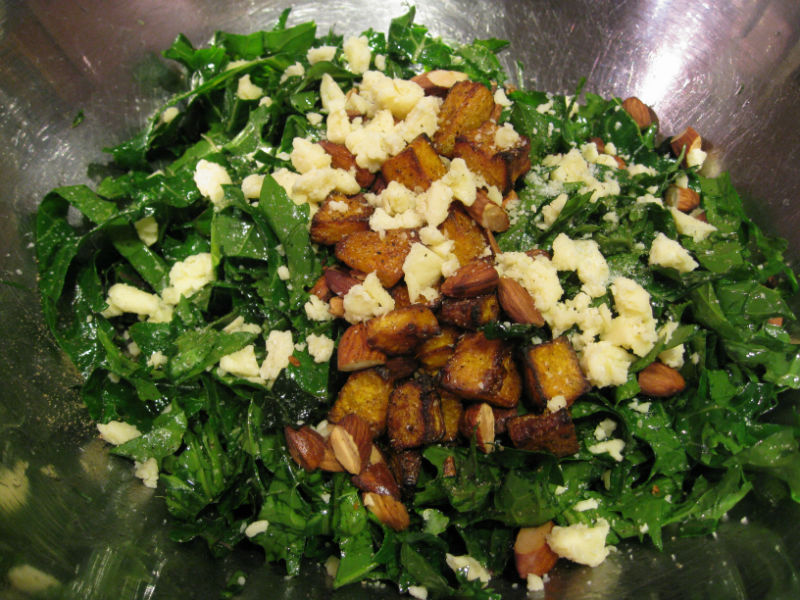 And serve.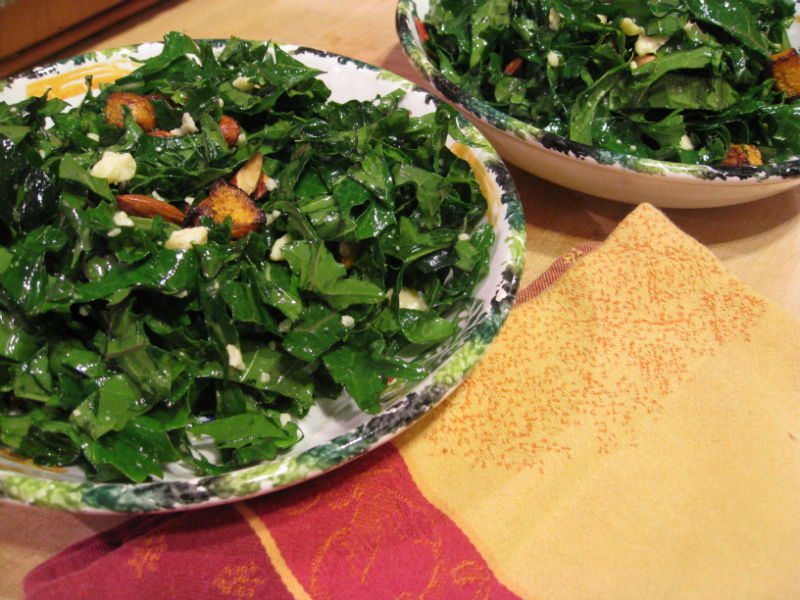 Northern Spy's Kale Salad
Serves 2 (definitely true!)
1/2 cup cubed kabocha, butternut, or other winter squash
Extra-virgin olive oil
Salt and freshly ground pepper
1 bunch kale (preferably lacinato or dinosaur kale), ribs removed and finely sliced, about 2 1/2 cups
1/4 cup almonds, cut roughly in half
1/4 cup crumbled or finely chopped Cabot clothbound cheddar (or any good, aged cheddar — if you can't find aged cheddar, use parmesan)
Fresh lemon juice
Pecorino or other hard cheese, for shaving (optional)
Heat oven to 425° F. Toss squash cubes in just enough olive oil to coat, and season with salt and pepper. Spread on a baking sheet (lined with parchment for easier cleanup), leaving space between the cubes. Roast in the oven until tender and caramelized, about 40 minutes, tossing with a spatula every 10-15 minutes. Toast the almonds on a baking sheet in the same oven until they start to smell nutty, tossing once, about 10 minutes. Let cool.
In a large mixing bowl, toss the kale with the almonds, cheddar and squash. Season to taste with lemon juice and olive oil (approximately 1 tablespoon lemon juice and 2 tablespoons olive oil). Season to taste with salt and pepper.
Divide salad between two plates or shallow bowls. Garnish with shaved pecorino cheese, if desired, and serve.