You can enjoy a rainbow of colors in your meals if you grow carrots. What? You mean they're not just orange? Let us explore.
They may take awhile to grow, but carrots can be one of the most satisfying crops to harvest. That's mainly because you never know what you're really getting until you pull them out from the earth. But what if you discovered this when you did: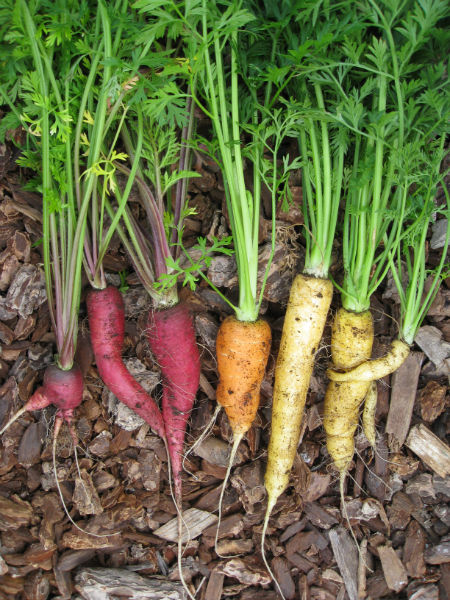 Funky shapes and colors are part of growing carrots at home. The varieties account for color. Above you can see (left to right) Cosmic Purple, Scarlet Nantes, and Yellowstone carrots. The shape is another story.
When planting carrots, we are supposed to thin out seedlings that are too close together. If you don't, they tend to mingle, like the "mother and child" carrots on the right. Compacted and clay soil, as well as root nematodes can also cause misshaped root crops.
Nutrients also account for shape. Too little phosphorus or potassium and you get stunted growth. That said, carrots are fun no matter what shape they turn out. They're a root, after all, and roots are obviously adaptable to their surroundings. Carrots are a survivalist crop!
Choose interesting heirloom and open pollinated varieties to grow. Our favorites, in addition to the above mentioned varieties are:
Tonda di Parigi – round and orange
Little Finger – 3-inch deep orange carrots
Atomic Red – red orange, long and pointy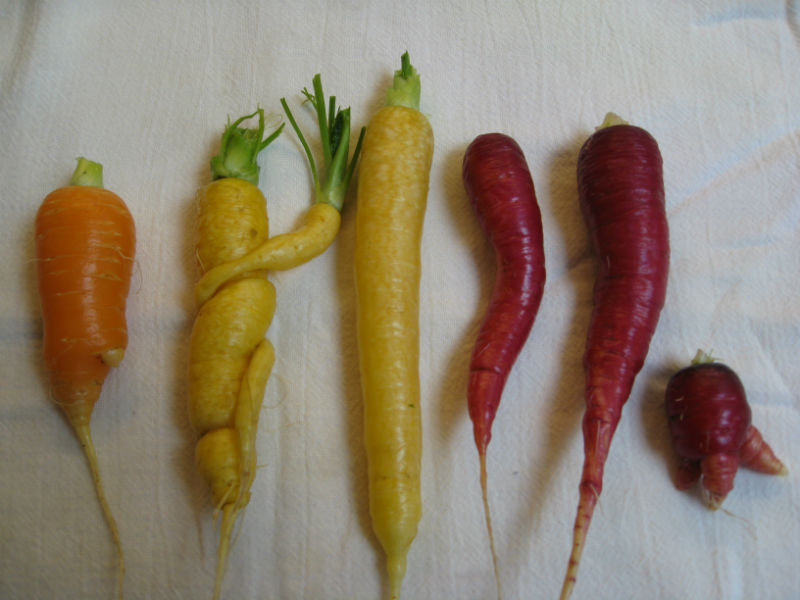 Have fun growing a rainbow of of carrots in your garden this spring!