Last week we shared what's growin' on in our Test Garden. Now let's look at what the fall garden looks like over at our community garden plot. In just a few weeks it's transformed from the dry, spent garden of summer to an active cool-weather garden with oodles of potential.
Lettuces, broccoli, cabbage, chard, garlic, shallots and root crops are all making way in the garden. Cilantro, parsley, mache (a.k.a. corn salad) and arugula will keep salads interesting this winter. Mustard greens, radishes and kohlrabi add color and interest to our raised beds.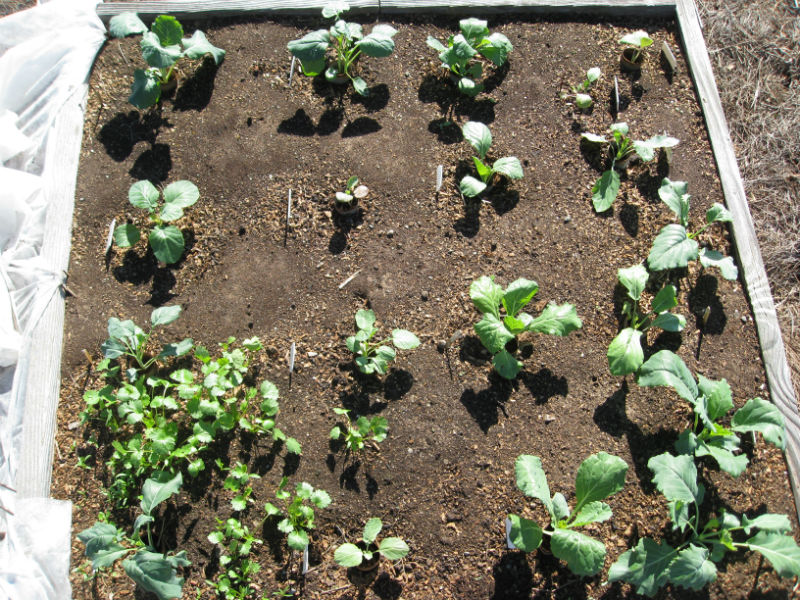 We're using floating row cover (shown off to the left) to keep cabbage moths from laying eggs on the young plants. Works like a charm! After each visit, we drape the fabric over the plants, pin the corners down and rest easy.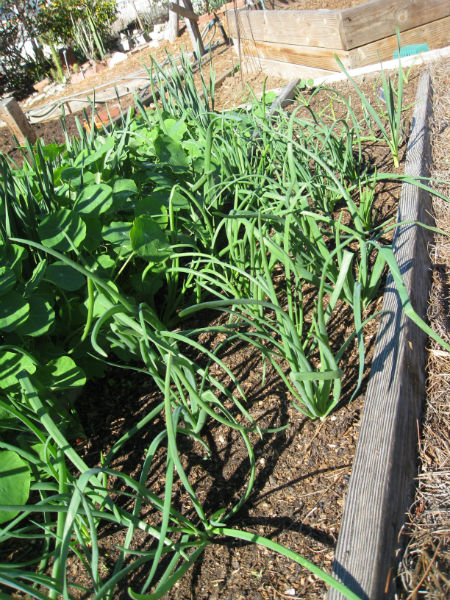 Our allium patch is bordered by a flower bed of nasturtiums (a beneficial insectary) and paperwhite narcissus. Garlic and shallots will grow through winter and will be harvested next May.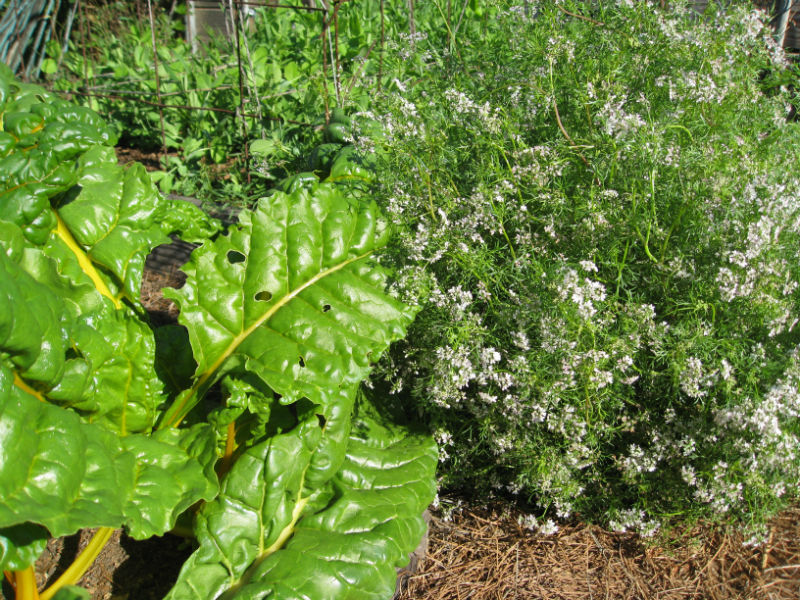 We've already been picking from the rainbow colored chard bed. So satisfying!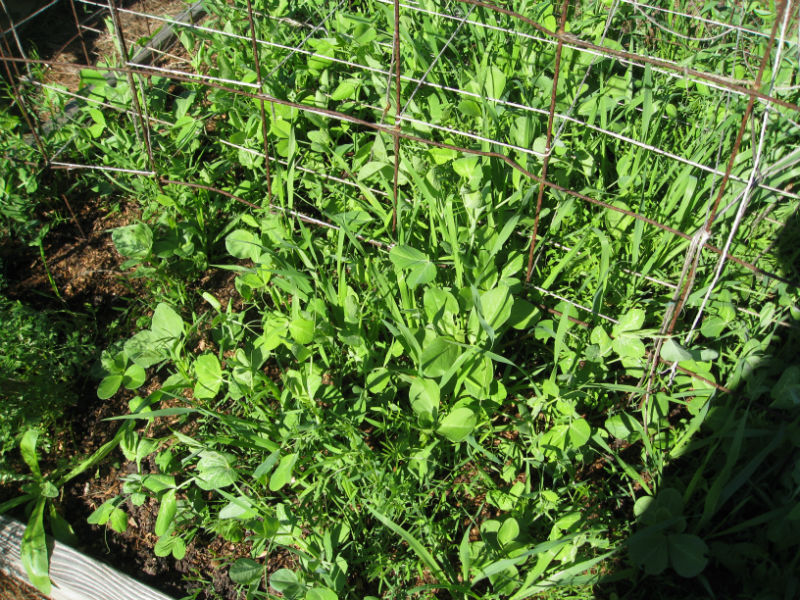 To enrich the soil and grow biomass for the compost bin, we grow a cover crop of peas, vetch, oats and fava beans. It will be cut down when about a third of the flowers open, and we'll bury the roots with a layer of compost. As the roots break down, the nitrogen nodules will release into the soil. Cool stuff!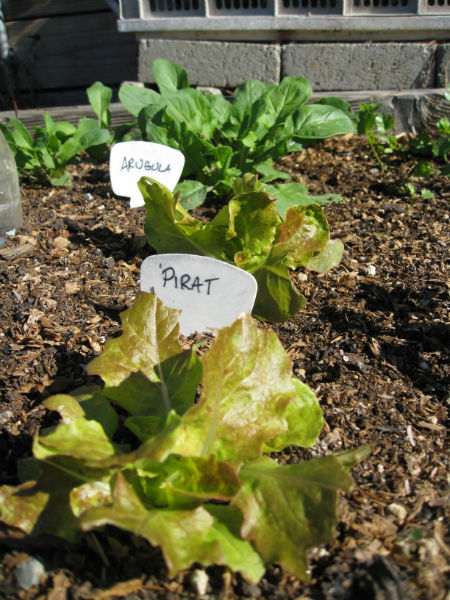 Pirat lettuce was new to us last year, but arugula is an old favorite. We've added wild arugula, parsley, 14 types of lettuces, mache and spinach to keep us in greens all winter.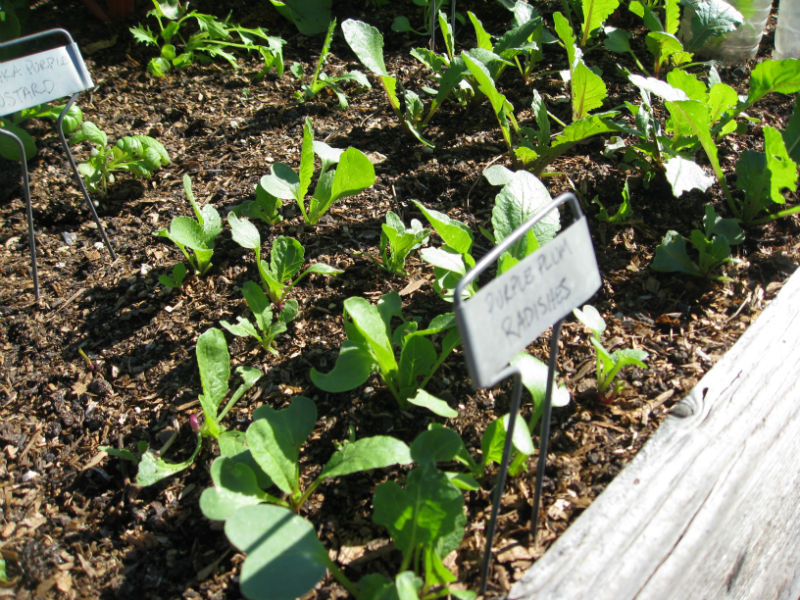 Purple plum and watermelon radishes grace the fall garden. The sprout quickly and can be harvested in just a few weeks after planting. We'll be roasting them this winter.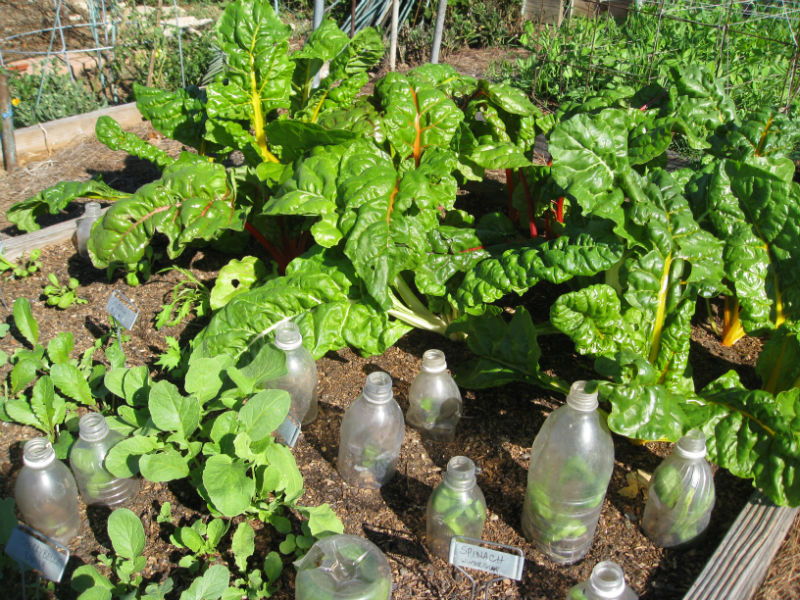 Spinach and mustard greens have been protected by cloches to keep the bugs from nibbling at them in their infancy. Once they're big enough to fend for themselves, the cloches come off. Regular watering with kelp emulsion or compost tea help them grow big and strong.
Do you have a fall garden growing? Share your favorite crops here.