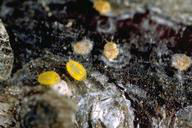 A question came in this week about scale:

"I have two large tree mallows (grown as shrubs) with a very heavy scale infestation. A local nursery recommends using a petroleum oil spray. Is there another effective, greener solution?"

Yes, I can definitely suggest an alternative to petroleum sprays, but first - a little understanding about what scale is:

Scale is an insect, but it looks and behaves more like a mollusk. There are soft ...