Here's a question that came in last week:
"How can I speed up composting without spending a lot of money. Cover itwith a tarp?  Helga"

Hi Helga,
There are a few things you can do to try and speed up your compost production, and none of them cost money: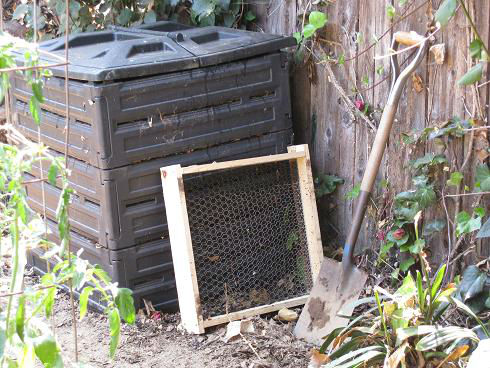 The first is to build a bigger pile – at least 3 x 3 x 3 feet.  The larger pile mass will generate heat faster and cause the breakdown of your browns and greens much faster than if you had a pile half that size.  Most compost bins are almost big enough to create some heat, but technically they still use what is called Cold Composting.  The bigger the pile, the hotter it will get, in general.
The second thing you can do to speed things up is to turn your pile every month.  I have a three-bin system and by the time the batch in the first bin get turned in the second and then the third, it's time to fertilizer for the season – every three months basically.  You can turn your pile more often, but you need to allow the temperature to rise and fall between turnings. If you have a compost thermometer, you'll be able to test the heat in the center of the pile to know when it's time to turn it.
At first the pile will climb to between 100-110 degrees (in cold composting) right after turning.  Then over the next week or so, it will cool down.  After a few weeks you can aerate it by turning it again to get the heat started again.
But before all of this you can help your compost pile out by cutting everything into small pieces as you put it in.  You're creating more surface area for the microbes to act upon, which helps break down the material faster.
There are plenty of theories out there about adding enzymes to heat your pile, but it's mostly a load of malarkey.  Don't waste your money.  Covering your pile with a tarp will help prevent evaporation, so it's not a bad thing to do.  Keeping your pile moist like a rung-out sponge will ensure that the microbial activity is consistent and your pile will break down. 
Thanks for writing in, and good luck with your compost!
If anyone has any quick composting tips to share, feel free to post them here.