Every fall I grow several heads of cabbage to enjoy in winter and spring as the rest of the garden gets going.  But year after year, I find myself wondering what to do with the cabbage I've grown.  Sound familiar?  Well, I've found a few great ways to use cabbage that I thought I'd share here.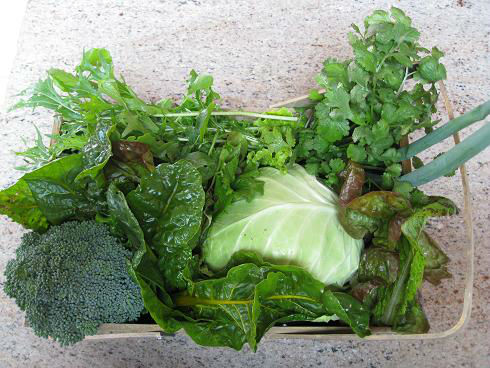 Cabbage, chard, broccoli, green onions, cilantro, arugula and mustard greens make up the winter harvest
Aside from the obvious "wrap" idea, where you steam cabbage leaves for a few minutes and then wrap whatever you can think of in the leaves (raw foods enthusiasts will tout the benefits of not steaming the leaves as well), you can also try these cool ideas:
Corned Beef and Cabbage – St. Patty's Day is just around the corner, and you can indulge in this traditional Irish celebratory feast – Wait a minute!  Did you know that corned beef and cabbage is NOT a traditional Irish feast?  It's not – it's completely American, and it's what the Irish immigrants used to make when they moved to America.  Read more on the history here and try a recipe here.
I'm going to try my hand making this recipe from the Practical Encyclopedia of Whole Foods by Nicola Graimes:

Mixed Cabbage Stir-Fry
1 Tbsp peanut or sunflower oil
1 large garlic clove, chopped
1-in. piece fresh ginger root, chopped
5 cups mixed cabbage leaves, such as Savoy, white, cavalo nero, or bok choy, finely shredded
2 tsp soy sauce
1 tsp clear honey
1 teaspoon toasted sesame oil (Optional – by it's so good, why leave it out)
1 Tbsp sesame seeds, toasted
Heat the oil in a wok or large, deep skillet, then sauté the garlic and ginger for 30 seconds
Add the cabbage and stir-fry for 3-5 minutes, until tender, tossing frequently
Stir in the soy sauce, honey and sesame oil, and cook for 1 minute
Sprinkle with sesame seeds and serve.
Vegetarian Times has a couple cabbage recipes this month (March 2010) that aren't yet posted to their website, but Little Blue Hen has taken the time to prepare the recipe and share it here:
If you care for something in the Indian curry palate – try this one:
Do you have a favorite way to prepare cabbage?  Share it with us here.