Near the end of our tour of Ireland, we made a stop at Strokestown House and Gardens. This was quite possibly the most influential part of the tour, historically speaking. Strokestown House is where you will find the Famine Museum. Now, most everyone knows that there was a potato famine that swept Ireland in the 1840's, but what I didn't know was the horrific treatment of farmers that came with it. Here's a short summary:
Irish farmers had their land taken away from them by British rulers. British landlords who were put in place would then rent the land back to those same Irish farmers, making them tenant farmers. When the famine hit, the farmers, who paid their rent in crops, had nothing to pay with, so the landlords evicted them. That was not the end of this story. The landlords would storm the farmers' property, pull everyone out of the home and then burn it to the ground, leaving them not only without land to make their living, but without a roof over their heads or possessions. The country's entire population then reduced by half either by deaths or emigration.
For me, learning about this historical tragedy really made the connection between land and life. We take the ground we walk on for granted in so many ways. Those of us who grow in it – not just walk on it – appreciate the land a bit more than others, but I personally can't imagine having it taken away from me against my will. My livelihood may not be tied to my garden, but my soul certainly is. One more reason I am grateful for gardening.
Strokestown House had an ironically placed restaurant at the end of the Famine Museum, where I had the most satisfying bowl of lentil soup ever. Perspective is an amazing thing, isn't it. The rain started trickling down and time was ticking away before we would need to get on the bus again. My husband ran out to the Garden to take pictures while I meditated over each delicious spoonful of soup. I would join him in time to see a beautiful garden, just past it's prime.
This is the entrance to the formal gardens. Nice, huh?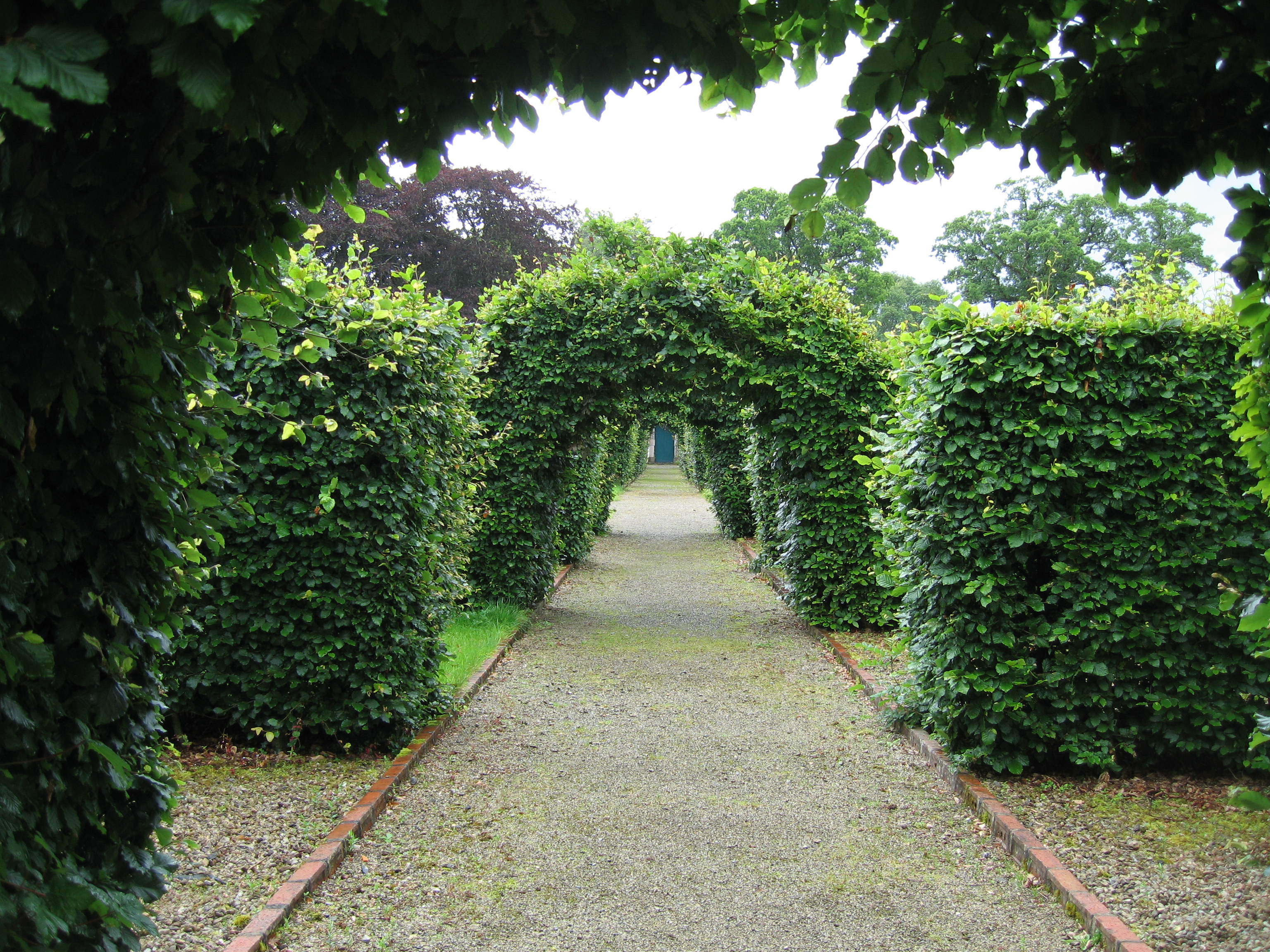 This is the rose garden with boxwood hedges that keep them so neat and clean looking.
I love this stuff!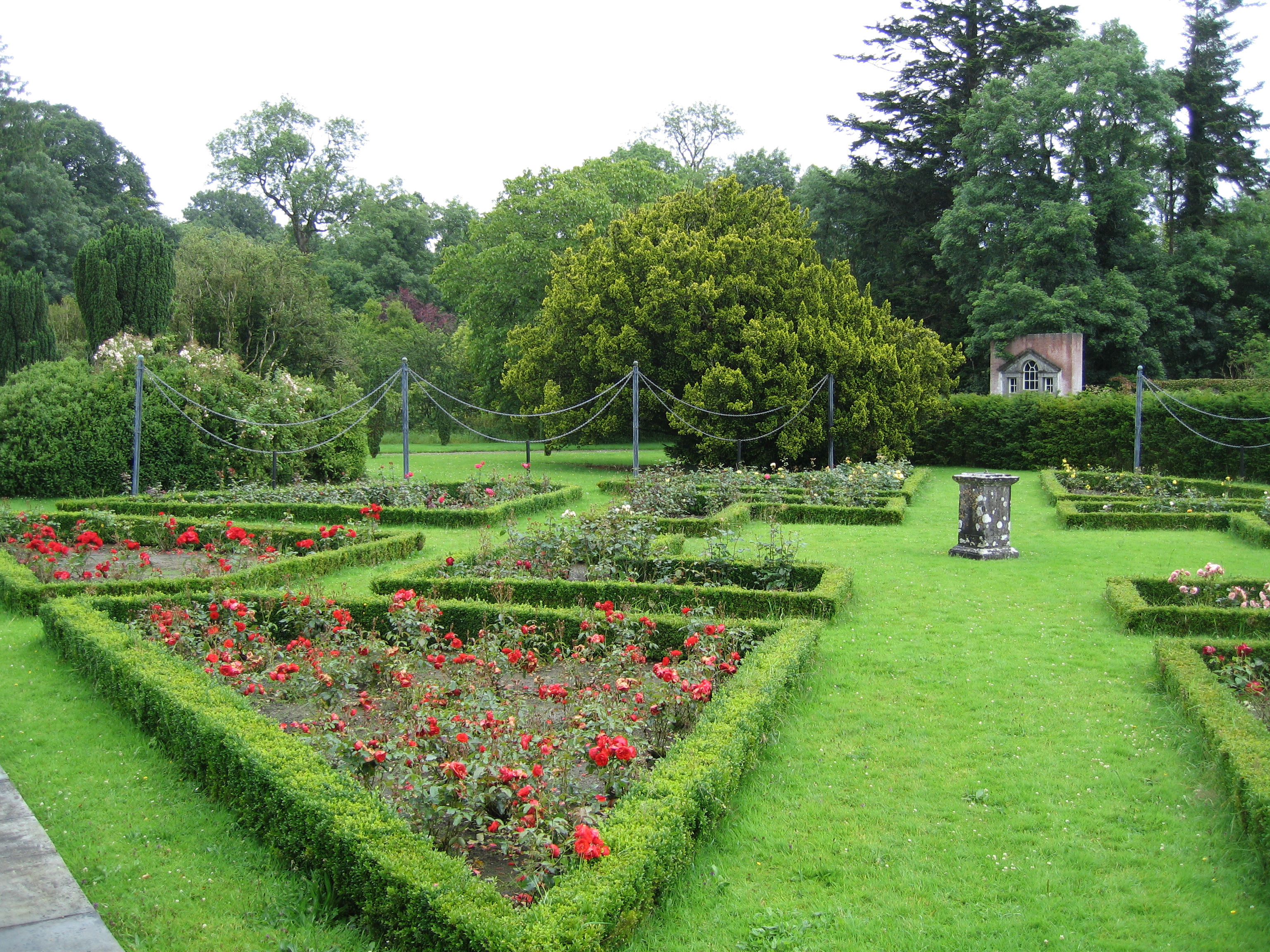 To the right was a Glass House loaded with orchids and tropical plants. I believe they called this the Fernery. The front hedge was planted with Irises and Agapanthus. We didn't have time to go in, unfortunately.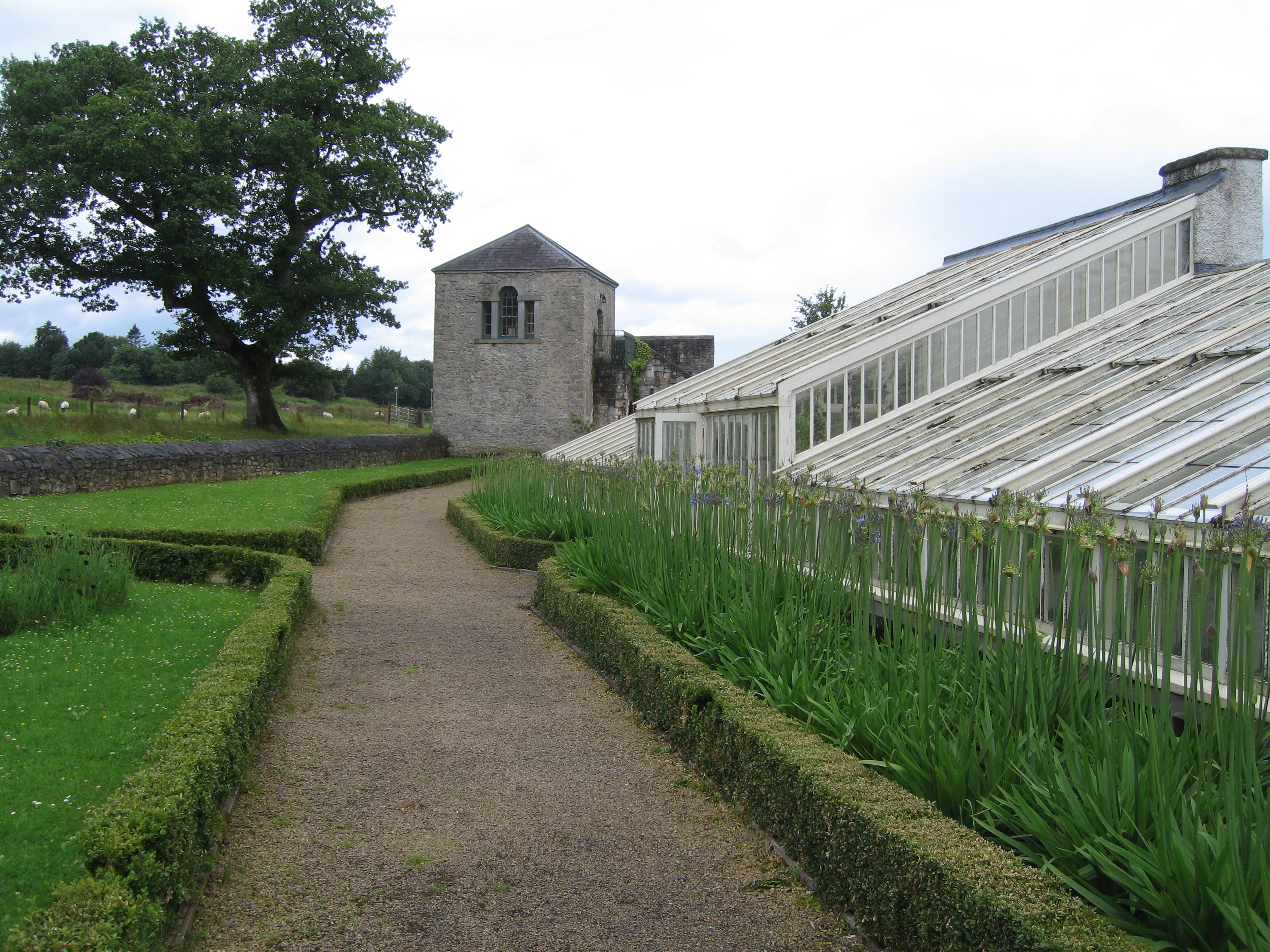 The fruit and vegetable garden was still going strong, but was looking a little tired. Someone had begun to dig up the back rows for next season's planting. In the background you can see brassicas – cabbages and such – giving the garden some
color.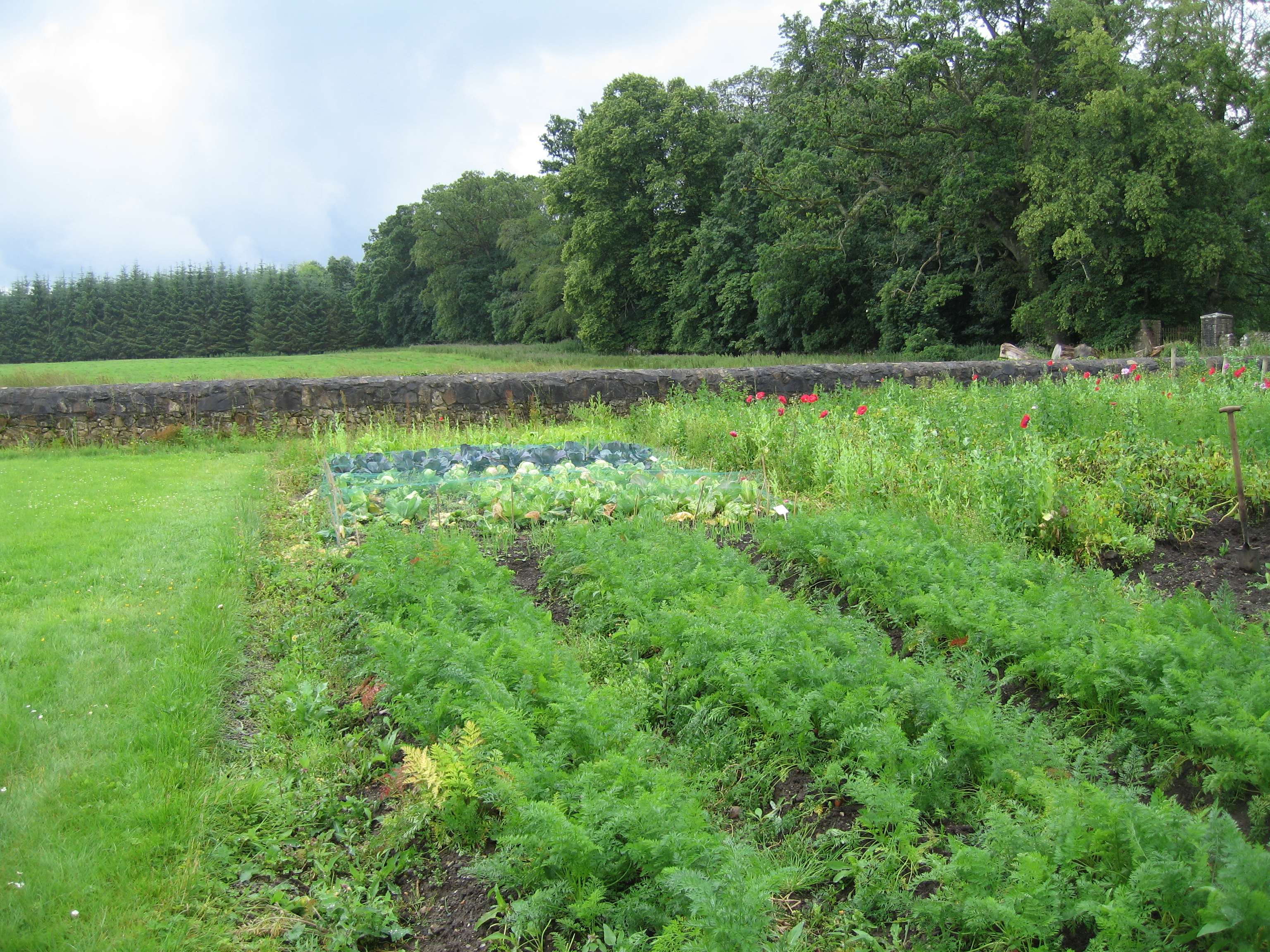 Much like in the northwest part of the United States, we saw berries going gangbusters in Ireland. These raspberries, planted in rows without much staking, were a sight to see.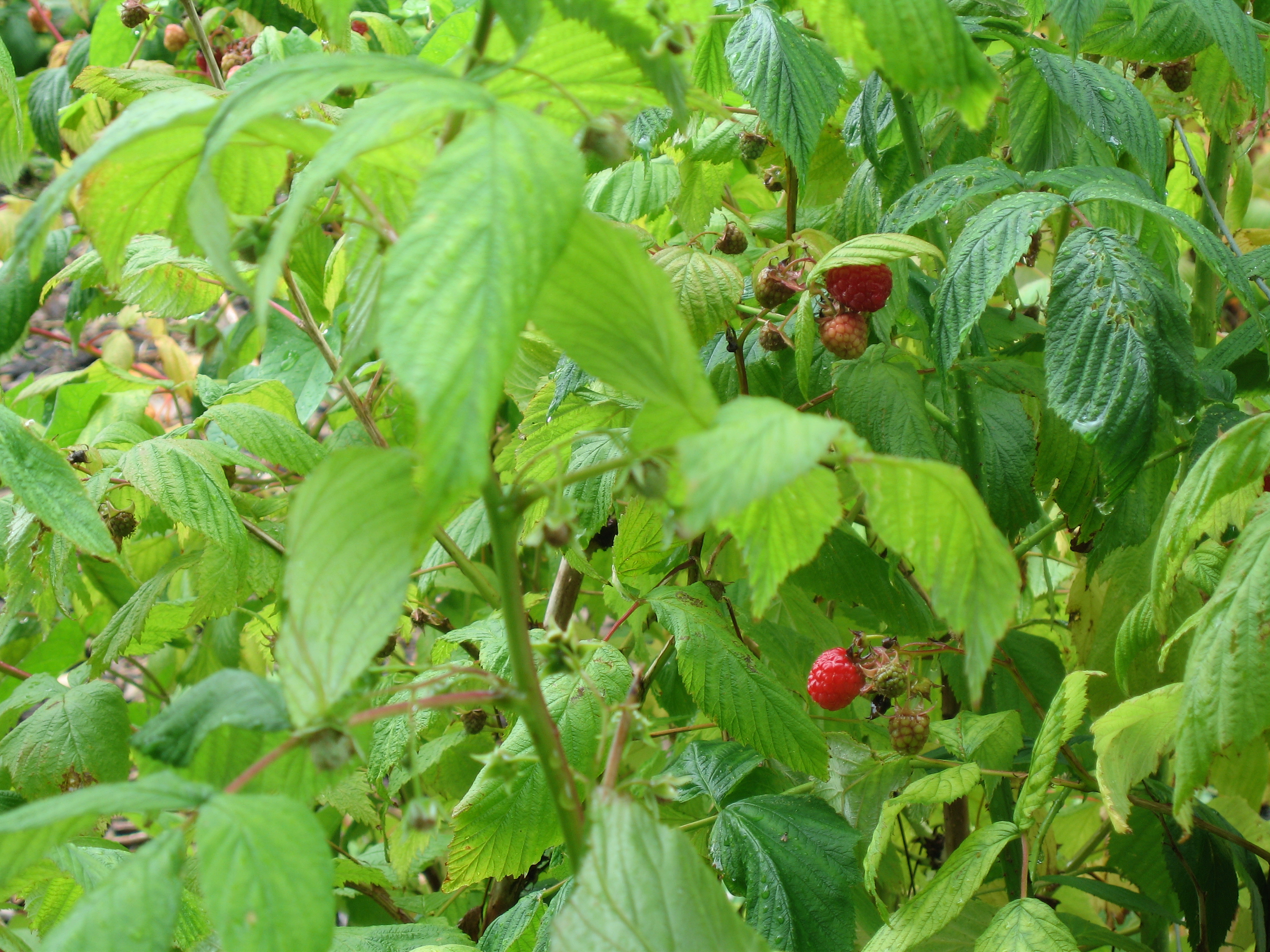 I must admit that the juxtaposition of this garden with the Famine Museum was a somber experience, but also one of overarching appreciation and gratitude for working the land. I know that the next time I'm complaining about weeding a patch in my backyard, this little history lesson will help me focus on the bounty this earth has to offer.
For more information about Strokestown House and Gardens visit: http://www.strokestownpark.ie/introtext.html